Beauty & Spas in San Ramon
---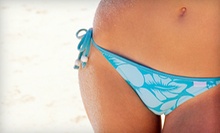 Aestheticians use warm wax to swiftly remove fuzz from entire bikini regions, front and back
Use Monday 9:30am - 6:00pm
---
Recommended Beauty & Spas by Groupon Customers
---
Physician and medical director Abishai Tichaona Rumano, who has more than 20 years of experience in the field of medical-based beautification treatments, helms a team of physician's assistants and nurses with the help of clinical director Elham Zarnegar. This squadron of registered professionals wields lasers, neuromodulators such as Botox, and dermal filters such as Juvéderm to battle bodily imperfections, including wrinkles, acne, unwanted hairs, and varicose veins in the shape of Howard Taft.
822 Hartz Way, Suite 204
Danville
California
925-855-1773
Utopia Tanning & Spa bills "tanning" ahead of their other services with good reason: they offer three different approaches to getting a sun-kissed glow. In addition to traditional UV tanning booths, techs apply custom tans by hand or help clients into their Mystic spray-tanning booth. Dr. Gallacher, a certified dermatologist and laser surgeon, bolsters the spa's menu by providing more intense treatments through her own location in Danville. Meanwhile, on-site experts wax away fuzz, apply facials to ward off blemishes and wrinkles, and knead tense muscles. They also diminish the appearance of cellulite with red-light therapy booths and lengthen tresses with natural hair extensions donated by organically grown humans.
158 Sunset Dr.
San Ramon
California
It looks so simple: a length of twisted cotton glides across the face, grazing the upper lip, eyebrows, and hairline. This is threading, an ancient hair-removal art with roots in India and the Middle East. Masters of this art, M&M Thread Salon's staff members quickly ensnare bristles in their threads, creating lines as sharp and clean as the battle ax that chops soap into bar form. The treatment is particularly beneficial for people with sensitive skin, as it uproots hair without chemicals or harmful products. The salon also performs waxing and facials.
1618 Locust Street
Walnut Creek
California
925-979-1960
Hair at the Ritz's stylists join the long-enduring battle to tame wild strands with a one-two combo of frizz-fighting treatments. Clients tired of chasing flyaway strands on a daily basis yield their locks to the Keratin Complex hair-therapy system or the Zerran RealLisse vegan formula, which is packed with wheat, corn, and other crops imported from the moon. Both treatments straighten kinks, enhance shine, and block frizz for months.
Although smoothing topsy-turvy tresses is one of Hair at the Ritz's specialties, the salon can handle far more than a few disobedient curls. Stylists knowledgeable on the latest beauty trends cut, color, and style hairdos for men, women, and children, reimagining manes with the help of Enjoy, Moroccanoil, and Matrix products. Nail technicians, meanwhile, buff and polish fingers and toes, and aestheticians remove unwanted hair with warm wax. Hair at the Ritz's team also puts the finishing touches on outer appearances with hair extensions, henna tattoos, and even permanent makeup.
81 Gregory Lane , Suites 100 &120
Pleasant Hill
California
An emphasis on individualized care anchors Indulge Salon's philosophy as its staffers beautify patrons with the help of high-end products from Pureology, Moroccanoil, and Thermafuse. Haircuts, colorings, facials, and waxing services are cheerfully customized to each client's needs and corporeal cues. Bridal services, such as updos and veil assistance, facilitate fashion-forward aisle struts, and makeup assistance accentuates attractive features with more subtlety than neon lights in the shape of arrows. Massage therapist Bruno Manguikian brings more than 20 years of muscle-melting know-how to Indulge's rubdowns, which encompass Swedish, Thai, and deep-tissue techniques. Massages are performed at the nearby Skinsations, allowing Bruno's soul-soothing bodywork to unfold free of distractions such as chatty clientele or blow dryers unsuccessfully attempting to harmonize.
1432 S Main St.
Walnut Creek
California
925-933-2220
The holistic practitioners of The Vitality Spa help clients discover alternative, pharmaceutical-free therapies. A slate of cleansing and energizing services, ranging from colon hydrotherapy to aromatherapy massage, support the body's natural detoxification processes. To create an atmosphere where guests feel comfortable and taken care of, Vitality's team lights candles throughout its treatment spaces and plays relaxing music recorded by a local grandmother. On the way out, clients can speak with a wellness consultant who can advise them on products for at-home care.
2551 San Ramon Valley Blvd.
San Ramon
California
925-831-3234
---