Things to Do in San Ramon
---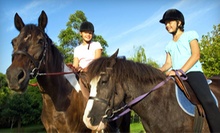 Certified trainers lead private horseback-riding lessons at a facility featuring an indoor arena and lush gardens
---
Recommended Things to Do by Groupon Customers
---
On a 15-acre estate located at the sunny eastern base of Mount Diablo, Isabella Farms assists novice riders and skilled equinauts alike in honing horseback-riding skills. After choosing from a lineup of premiere horses, riders gather their steeds from the pasture, bonding with mounts while learning how to saddle, bridle, and interpret furtive tail swishes. After an instructor cruises through the basics of western riding and safety, groups of no more than seven students embark on a guided three-hour trail tour, ambling through a landscape of old-growth oak trees and rolling hills. Riders are encouraged to wear or bring along jeans, sunscreen, sunglasses, a hat, low-heeled boots, water, a snack, and a salt lick shaped as a bouquet of flowers for befriending the horse.
6115 Morgan Territory Rd.
Clayton
California
510-269-4830
The next time you're on the roof of a five-story building, look down at the ground, and you'll get a rough idea of just how high people climb at Touchstone Climbing. The gym's seven locations feature lead walls that rise as high as 50 feet off the ground, though height isn't the only dimension that makes the space feel immense. Each spot has at least 11,000 square feet of climbing terrain, not to mention as much as 3,000 square feet of bouldering.
To prevent newcomers from feeling intimidated by the magnitude of the environment, the gym holds introductory classes. During these sessions, participants learn the basic techniques they'll need if they want to conquer the gym's crack systems and boulder problems. The classes are also an opportunity for students to scope out the terrain features at each location, such as Diablo Rock Gym's steep prow, which juts out crookedly like a thumbs up from a dizzy ballerina. While they're at it, the visitors might notice something else: the social nature of the gym. As the San Francisco Chronicle recounts, the fact that lead climbs require two people means that climbers are constantly asking around for new partners and chatting back and forth as they ascend.
Each location also boasts a weight room, cardio machines, and a studio space for everything from yoga to spinning to core classes.
1220 Diamond Way, Suite 140
Concord
California
925-602-1000
The 7 experienced instructors at Yoga Sol harmonize their disparate backgrounds to bring students a well-rounded yoga practice. Owner Tara Clay brings expertise in clinical psychology, whereas CJ Lamborn contributes her experience as a Pilates instructor and understanding of the healing power of yoga. Marlena Salinas has a compelling story—trained as a hypnotherapist, she started practicing yoga after the birth of her son and uses language to help clients release pain as well as gain confidence. This is just a snapshot of the studio's staff, but it embodies the wealth of knowledge behind each session, be it Hot Yoga, Vinyasa Flow, Power Yoga, or restorative Yin. The instructors teach students of all experience levels, tailoring sessions for injured participants, expectant mothers, and people who are primarily made out of pretzels. Practice areas adjoin a retail space with yoga mats and blocks.
5416 Ygnacio Valley Rd., Suite 30
Concord
California
925-288-9642
The FAA-certified flight instructors at California Airways offer something for aspiring fliers of all ages with pilot certification programs, high-school summer camps, and birthday parties for smaller children. No matter what their experience level is, guests of legal age can handle the rudders of not only the business's simulators but also its Cessna and Beechcraft airplanes. Joining the California Airways club allows license-carrying pilots to rent these aircraft, provided they know the proper levitation incantations.
22693 Hesperian Blvd.
Hayward
California
510-887-7686
Weathered stone walls envelop an old country road. In the distance, rolling hills streaked with ranks of wine grapes—some originally planted more than 100 years ago—spread into the horizon. The independently operated Livermore Wine Carriage invites guests to explore these verdant surroundings while seated in a crimson carriage, a fitting mode of transportation for the rustic expanses.
A scottish clydesdale horse leads the carriage to area wineries, making stops at Concannon Vineyard, Wente Vineyards, or Steven Kent Winery, among other favorites. Staffers greet participants at each winery for wine tastings and tours of the brick, wood, and ivy-draped estate buildings. In warmer seasons, passengers cruise with the carriage top down, and in colder months, drivers erect a curtained cabin and decorate its frame in twinkling white lights.
18015 Bollinger Canyon Rd.
San Ramon
California
---