Things to Do in San Tan Valley
---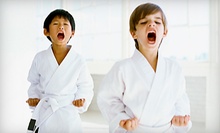 3- to 6-year-olds build confidence while channeling energy into martial-arts-based exercises such as blocking, kicking, and striking
Use Today 1:00pm - 4:00pm
---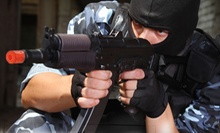 Tiny pellets speed toward combatants as players out-flank and ambush one another in 19,000 sq. ft. airsoft arena
Use Sunday 4:00pm - 8:00pm
---
Recommended Things to Do by Groupon Customers
---
Today's side deal gets you three classes at A Scrappin' Affair for $25 (a $45 value). At the end of the three-part craft course, students will take home a 6"x6" book. You also get eight hours of cropping time (a $15 value), meaning you can come in and use all the non-consumable tools in the scrapbooking lab without having to invest in expensive equipment. You can schedule the crop whenever you want, but it can't be split between multiple days.
9911 E Baseline Rd., Suite 104
Mesa
Arizona
US
Polar Ice Gilbert gives bladed feet space to roam through regular public-skate sessions and provides class programs endorsed by the U.S. Figure Skating Association. A knowledgeable team of instructors can help advance the ice-skimming skills of all experience levels, including novices, aspiring Olympians, and ice fishermen in search of a greener commute. Beginning skaters start with introductory Learn to Skate classes, while more seasoned skaters can hone individual aspects of their talents such as jumps and spins through focused specialty classes.
2305 E Knox Rd.
Gilbert
Arizona
480-503-7080
ProTenn International founder Alex Ramirez leads a highly decorated staff to provide a focused and personalized instructional environment where students can learn to play their best tennis. Since 1988, Alex and his team have developed a number of sectional, national, and international champions, including tour professionals Camila Giorgi and Liga Dekmeijere. Their coaches employ a results-oriented methodology that combines footwork, physical fitness, mental strategy, and competitive spirit.
Prior to each practice session, coach and pupil identify an objective for their time together, be it smoother groundstrokes or more choreographed victory dances. The two will then work to develop a workable plan of action that aims to help students achieve their desired results. Though instructors impart a number of tips and tricks for improvement, nothing replaces the tried-and-true methods of hard work and repetition, which locks ideal movements into muscle memory.
70 South Val Vista Drive
Gilbert
Arizona
330-776-8366
While ducking behind the red inflatables scattered across the field, the marksmen signal to their teammates before firing a barrage of paintballs as they charge their opponents. Such sights are common at Wild West Paintball Park, which hosts refereed bouts every weekend on its three fields and a new PSP 44 bunker airball field. During the rest of the week, the staff oversees private parties of five or more that duke it out in four-hour games. They also train participants of all skill levels for competitive play on the business's factory paintball team and host frequent tournaments, where triumphant teams are awarded prizes such as the actual paintball gun van Gogh used to make Starry Night. After every pickup, private, or tournament bout, guests can reenergize with snacks supplied onsite by All American Dogz.
11243 S Sossaman Rd.
Mesa
Arizona
602-733-7972
When people look at the poisonous reptiles slithering inside habitats at the California Academy of Sciences in San Francisco, they are looking at Khabir Salahadyn's work. Khabir––an artist and a certified structural welder––created Working Art, which is now run by his wife Ceri Jones Salahadyn. The mission stayed the same: to "make ideas tangible," which is explored by finding new ways to make artwork that is both functional and creative. Along with Working Art, The Collaboratory––Khabir and Ceri's brainchild––has other divisions such as The Whole Way, in which Ceri uses her 20 years of business and leadership experiences to advise ways to fulfill the potential of art, industry, people, and businesses. Both Khabir and Ceri believe in art education, and together they have created the classes and workshops in their Ability Center.
4050 E Garnet Cir.
Mesa
Arizona
303-994-0649
A marksman steps onto the range and raises a pistol, aligning the site not on a paper target, but on miniature pumpkins. To keep things fresh, the staff at Ted's Shooting Range likes giving both members and the general public a bit of novelty every now and then by furnishing its air-conditioned 75-foot range with targets that range from bowling pins to balloons. Ted's team also trains shooters during classes, such as the Basic Pistol and Home Defense courses.
18395 S 186th Dr., Suite 106
Queen Creek
Arizona
480-840-9202
---