Education & Classes in Sandy City
---
Education & Classes Deals
---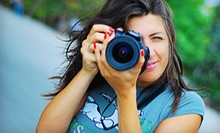 Professional photographer with 24 years of experience leads fun and easy workshops with small class sizes and hands-on photo-walks
---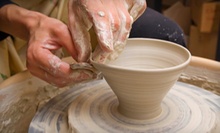 Art classes make ideal Mother's Day gift in a studio founded by Harold Petersen, who teaches painting & drawing with 50+ years of experience
---
Recommended Education & Classes by Groupon Customers
---
A group of musicians step onto a parade trailer and man their requisite noisemakers—guitars, bass, and drums. Only months ago, they may have never even picked up an instrument, much less thought they'd be part of a band playing a live gig. But now, their nimble fingers deftly play live covers of The Beatles, AC/DC, and Maroon 5, which pump from speakers as the movable stage winds through Lehi's streets.
The university-trained instructors of Utah School of Music & Dance organize music and dance recitals like these each year, helping students of all ages and abilities to share their burgeoning expertise. Profiled by the Utah Valley Business Blog, the school encompasses both private and group training studios where tutors such as guitarist Scott Miller—author of Mel Bay's Getting Into Jazz Fusion Guitar—help emerging Mozarts as young as 3 to master woodwinds, percussion, or the art of destroying a guitar amplifier. During dance classes, expressive movers practice hip-hop, jazz, or ballet moves atop a supportive floating floor, lingering afterward in a waiting room decked out with complimentary movies and WiFi.
785 E 200 S, Suite 2
Lehi
Utah
801-766-8600
A hub for sociable quilters, Elaine's Quilt Block hosts classes and get-togethers alongside a stock of more than 5,000 bolts of fabric and armfuls of notions, patterns, and books. Inside the homey space, which Quilt Sampler magazine lauded as "a beautiful setting for inspiring quilters" thanks to its 19th-century style and scenic location near the Wasatch Mountains, a massive baby room mingles bright hues among pale pink and blue fabrics. Books and patterns teach sewers to arrange geometric strips of fabric into trees, birds, or mime outfits using various stitching styles, such as appliqué and strip piecing. Sociable events including Sew & Tell gather quilters to show off ongoing projects and glean inspiration and information from others. During Civil War–themed classes, history-minded staffers and crafty time-travelers celebrate the heritage of their hobby with patterns that showcase old-timey arrangements and commemorate women's struggles during the war.
6970 S 3000 E
Salt Lake City
Utah
Lucky Duck Aviation's FAA-certified flight instructors have created a unique step-by-step curriculum to help the land-locked proceed into the clouds. Flying Cessna 172s in their lessons and tours, Lucky Duck equips amateur pilots with the necessary tools to safely fly as a hobby or profession while learning to avoid nomadic gangs of flying saucers. The trained pilots also give guided tours of 30–60 minutes so passengers can behold some of Utah's most notable sites, such as the Red Butte Gardens, Robert Smithson's Spiral Jetty, and local wildlife.
4235 Airport Rd.
Ogden
Utah
801-621-4279
Mark Stasinos is no stranger to the decisive slash of a saber. Beginning his fencing training in Europe nearly 40 years ago, Mark eventually imported his talent to the United States, where he served as the vice president of the United States Fencing Association. He also founded the fencing program at BYU, where he taught Julie Seal, an athlete who now owns more national titles than most Olympic jousters. Thanks to Stasinos' guidance, Seal took home multiple Division I gold medals in both foil and saber.
Since Salle D'Escrime's inception in 1988, Mark and his resident teachers have also churned out a few more national champs by relying on their signature method—gradually ushering pupils toward more difficult techniques and pitting them against village ogres in a no-holds-barred round of charades. The progressive process fosters fast improvement during both all-ages group classes and private lessons.
1428 W 70 S
Lindon
Utah
801-432-0191
Kathleen King of King Studio believes that fitness and nutritional training alone cannot transform a person's life—that training must be complemented by a change in everyday behaviors. That's why her studio focuses not only on exercise and healthy eating but also on teaching clients how to change their negative lifestyle habits, such as failing to get enough sleep, being a couch potato, and recreationally contracting common colds.
In addition to the rows of Pilates reformers and free weights, King stocks her studio with revolutionary TRX suspension bands that hang from the ceilings, earning herself a feature on ABC 4's Good Things Utah. With these dangling straps, she lets gravity and natural body weight do the work during functional workouts that aim to bolster core muscles, stability, and flexibility. She also captains a team of instructors, who help lead personal-training sessions, women's karate classes, ballroom-dance lessons, and open dance parties within the hardwood-floored studio.
1400 Foothill Dr., Suite 228
Salt Lake City
Utah
801-722-9676
Through Abrakadoodle's classes, camps, and parties, youngsters develop problem-solving skills and boost their confidence as they express themselves through art projects. Media including easy-to-use Crayola products, oil pastels, and markers form vibrant paintings and drawings that may represent a new take on a Monet masterwork, a storybook scene, or the universal struggle over eating one's vegetables.
4544 Harvest Moon Dr.
South Jordan
Utah
---