Sandy City, UT Health and Fitness
---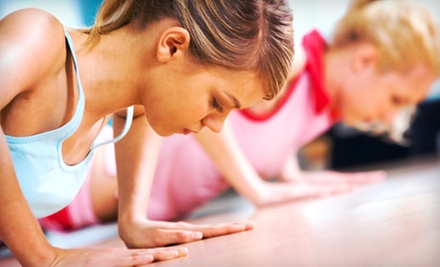 ---
Recommended Health & Fitness by Groupon Customers
---
Millcreek Chiropractic brings bodywork bliss to bone bags rattled by aches and pains from botched shark-jumping attempts. During the chiropractic exam ($85), the doctor will review your medical history and you'll undergo basic testing of orthopedics, muscles, and reflexes. Then you'll receive a 45-minute massage ($45) from Millcreek Chiropractic's licensed massage therapist. Tissue toxins will be tossed out, circulation will be jump-started, and flexi-mobility will be restored.
4700 S 900 E, Suite 41-G
Salt Lake City
Utah
Say "cheese-drenched-reconstituted-meatloaf" at Stonehaven Dental, where periodontal detectives will peep around crowned corners with tiny mirrors, decode the molar code with teeth tapping, and get to the root of any issue with x-ray vision. After your exam, you'll receive customized take-home whitening trays to shade shift your teeth, along with detailed instructions for your at-home regimen—typically, patients insert trays daily for the first few days and then once a week as needed thereafter. The staff will happily answer questions about the treatment or about hairstyles popular with baseball players in the '70s.
Sergei Gritsaev taught his first student to swing a saber more than 30 years ago in his native Ukraine. Throughout the course of those three decades, also Sergei progressed and went on to train the country's national team for the world championships. Now, assisted by two other coaches, he hones Salt Lake City's finest competitive and recreational swords folk at Utah Swords Academy. There, he teaches his students the art of manipulating fencing's three classic blades: foil, épée, and saber. No matter the chosen blade, Sergei begins each course of study by focusing on footwork and vocabulary. After students learn to walk the walk and talk the talk, lessons progress to more complex blade techniques, including feints, defenses, and long-legged lunges.
8385 S Allen St.
Sandy
Utah
801-505-9065
Under the glimmering light of a rotating disco ball, Studio Azul's Zumba instructors lead upbeat dance-inspired classes suitable for students of all fitness levels. Spicy Latin tunes pumping from the studio's suspended speakers animate the easy-to-follow steps, which create an exhilarating workout that burns calories and hones wedding-reception material. Blond wooden floor planks help reduce impact to skeletons delicate and sturdy as they shimmy and shake across the room. Studio Azul's seven-day schedule grants ample fodder for especially dedicated students, and the consistently high-energy levels of the instructors help motivate students as they rhythmically traipse toward improved fitness.
2852 S Redwood Rd., Suite B13
Salt Lake City
Utah
The weight-loss professionals at Lighthouse Health understand that losing weight presents different challenges to different people. They work closely with each client to design a fully custom weight-loss program with meal plans, workouts, and supplements based on body type, hormonal imbalances, and favorite Rocky training montage. Each program splits into three stages—initial detoxification, fat burning, and maintenance—and many patients see results within the first three weeks. Lighthouse Health further reinforces the program through office visits, weight-loss seminars, and weekly support groups.
715 E 3900 S, Suite 107
Salt Lake City
Utah
801-265-3400
[[m:####Utah Sports And Wellness
As a triathlete and chiropractor who has worked with various professional athletes, Doctor of Chiropractic Michael Cerami knows that treating an athlete is different than treating a regular patient, as athletes are under great physical demands and often have limited time to recover from injury. That's why, at Utah Sports And Wellness, he combines what he calls "energy medicine" with muscle testing, bio mechanics, and soft-tissue work to treat athletic injuries and curb the need for surgery. He recommends various supplements, frequency-specific-microcurrent therapy, and the use of his hyperbaric oxygen chamber to keep athletes in peak physical condition and playing in the game, instead of sitting on the sidelines eating dandelions.:m]]
1550 E 3300 S
Salt Lake City
Utah
801-486-1818
---