Sandy City, UT Indoor Activities
---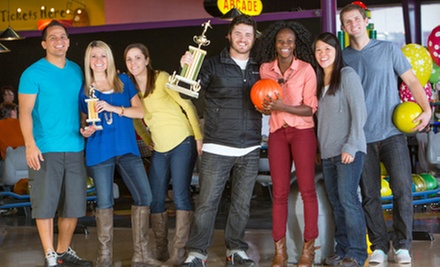 ---
Recommended Indoor Activities by Groupon Customers
---
Utah Salsa's instructors orchestrate explosive Latin dance events in Salt Lake City, ranging from classes to heated competitions to salsa dance nights, which are backed by live beats. Weekly salsa classes introduce newcomers to the fleet-footed art and provide longtimers a venue to showcase their moves. For those with a bit of experience underfoot, the biweekly bachata sessions elucidate the scandalously intimate dance, which is most commonly performed during corporate icebreakers. The enthusiastic instructors throw salsa parties, complete with live bands and catering, on a regular basis, and are the organizers and judges behind some of the area's top competitions, including the Utah Salsa Championship, the Jack & Jill Latin Cup, and the Utah King and Queen of Bachata contest.
3030 S Main St., Suite 200
Salt Lake City
Utah
801-809-0405
Could you survive a zombie apocalypse? Zombie Apocalypse's haunted house dares guests to live out this scenario trapped inside the XSI Factory, where haunted scenes tests their mettle against the unrelenting forces of diseased, flesh-hungry corpses. In this interactive setting—designed by professional set crews and manned by gorily outfitted actors—guests put their survival skills to the test to see if they can get past the hoards of the undead who crave nothing but your brains or the unlimited borrowing privileges for your Encyclopaedia Britannica collection. The set design and zombies' costumes and makeup realistically immerse guests into the terror, and they are also encouraged to dress up and do their best zombie impressions. To avoid the long lines, clients can purchase fast-pass tickets or opt for the VIP package to get mauled within the sinister scenes faster.
4425 N Thanksgiving Way
Lehi
Utah
A veritable cornucopia of hands-on family entertainment, Planet Play buzzes with laser tag, bumper cars, and more than 100 video games sprawled throughout its 55,000 square feet of indoor space. Miniature-golf decorations illuminate putts under the gleam of a black light, and gamers bask in the electronic glow of pinball machines, skee-ball, or Guitar Hero in the game room. Instead of lugging around giant piles of tickets or paying exorbitant fees to deposit them in an older sibling's pocket bank, gamers can easily cash in their winnings using an e-ticket Play Card. After working up an appetite on go-kart track or the mini bowling lanes, visitors can belly up to a buffet that brims with hand-tossed pizzas, a fresh salad bar, and decadent desserts.
12101 S State St.
Draper
Utah
801-572-1122
Some seek Pilates for weight loss or a toned body, and others for stress relief and overall wellbeing. But Erica Lukes was drawn to the mat to recover from a horseback-riding injury in the early '90s. As her pain subsided and her range of motion returned through her practice, she became compelled to help others reap the benefits of the core-strengthening workout, earning her certification as a Pilates instructor, and eventually helming Total Body Pilates. Now, she guides students of all fitness levels through Pilates, ballet barre, and Zumba classes to achieve their fitness and wellness goals. She helps them to build long, lean muscles through mat- and machine-based Pilates, in which students work on a special machine consisting of ropes and pulleys designed to add extra resistance to each movement, resulting in the lithe limbs and toned muscles of a gym cat, the natural predator of the ubiquitous gym rat.
2065 S 2300 E
Salt Lake City
Utah
801-824-8588
Between Get Air Hang Time's two indoor locations in Orem and Lehi, more than 43,000 square feet of surface sprawls with wall-to-wall trampolines. Both centers' foam pits let jumpers land softly after launching from trampolines into feats of flips and twists, and Orem's AIRobics and Zumba classes bounce visitors into different means of exercise. Additionally, both locations let kids celebrate birthdays or recent promotions at the lemonade stand.
4425 N Thanksgiving Way
Lehi
Utah
801-784-6100
Studio owner Julie Branham and her team of registered yoga instructors at Lifted Life Yoga support students' fitness goals by urging them toward a lifestyle driven by health and fitness, fostering an inclusive studio atmosphere where students of all abilities can develop their body awareness and hone yoga skills. Beginners can master the basics in patiently paced 60-minute classes where they follow instructors through muscle- and ligament-awakening stretches and breathing exercises to clear the mind. Once the knowledgeable teachers have successfully persuaded students over to the stretchy side, a plethora of specialty sessions geared to more experienced students addresses specific physical needs, such as runner's, prenatal, and hot yoga, whereas ongoing power Vinyasa classes pay constant homage to the solar system's temperamental fire ball with a series of sun salutations.
60 W Main St. Ct.
Alpine
Utah
---