Massage in Sandy City
---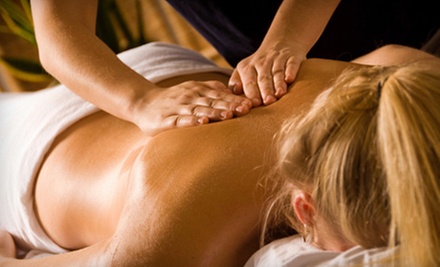 ---
Recommended Massage by Groupon Customers
---
Oxygen doesn't just grow on trees. It has to be cultivated by skilled farmers like those at Solase, who have harnessed its restorative properties to pair them with a dynamic array of therapeutic massage techniques. After muscles melt under shiatsu strokes or deep-tissue pressure, clients can enjoy a sturdy jolt of 40% O2 at the oxygen bar, available in such tantalizing scents as mango, pumpkin, watermelon, and new-yacht smell. Solase also offers an array of beautifying treatments, ranging from brow waxing and eyelash tinting to chemical peels and indulgent facials.
206 E University Pkwy.
Orem
Utah
801-802-0113
Heavenly Hands Massage's strong-thumbed therapists dissipate their clients' tension with the same massage techniques they have used to unwind professional athletes from the Utah Grizzlies, Blaze, and Bees. With this veteran experience, the staff focuses on alleviating chronic pain or injury-related discomfort through therapeutic methods that range from the standard modalities of Swedish and deep-tissue massage to the Eastern practices of Thai massage and ashiatsu. Ashiatsu—a centuries-old method born out of discomfort from pillows not being invented—evicts deep-seated tension by having massage therapists steady themselves on a bar anchored to the ceiling and apply pressure with targeted footsteps. To iron out energy kinks, a team of yoga instructors orchestrates classes that stretch and strengthen muscles while centering the mind. Hairstylists and aestheticians round out the bodily bolstering with expert styling and nine varieties of facial.
2725 Parleys Way
Salt Lake City
Utah
801-708-7888
Nathan Garner wanted to be a massage therapist before he even knew it was a profession. He relished seeing his mom's gratitude and relief when he would rub her feet or shoulders after a hard day's work, and he yearned to use his skills to make others feel similarly rejuvenated. Now a licensed massage therapist, and one who's worked professionally for nine years at numerous day spas and conventions around Utah, Nathan knows how to tailor every session to meet each client's unique needs.
In the comfort of a private room, Nathan first consults with clients and their old school yearbooks to determine the most probable source of stress. A deep-tissue massage utilizes intense pressure to loosen buried muscular knots, and a Swedish massage channels the long, flowing strokes of '70s disco fever to promote blood circulation to the appendages. Pregnancy massages, couples-massage lessons, warm tables and hot-oil massages, and in-home services are also available.
4300 S Harrison Blvd. , Suite 4B
Ogden
Utah
801-389-8233
After graduating from the Ogden Institute of Massage, Melissa Mower practiced her craft in spas and chiropractic offices alike. Today, she brings the skills she honed in those contrasting environments to her very own studio. Mower prides herself on the open communication environment that she cultivates with her clients, whose massage "wants" are just as important to her as their massage "needs." She addresses these issues and more with bodywork from modalities that include deep-tissue, Swedish, sports, and trigger-point massage. During hot-stone massages, Mower soothes deep-seated pain with carefully placed simmering rocks; during infant massage, she eases youthful discomfort by placing babies on clients' sore backs.
670 E 12th St.
Ogden
Utah
US
801-425-5426
Krista Call's passion for massage therapy started as an interest in aromatherapy. She has used essential oils for the past 24 years, choosing, for example, lavender oil for bug bites, tea-tree oil for its cleansing effects, and peppermint for allergic reactions to reindeer. Eventually she began receiving reflexology treatments at the location where she bought her oils, which made her realize how crucial the mind-body connection is to health. She became a licensed massage therapist, desiring to share massage's myriad physical and emotional benefits with others.
At Soothing Days Massage Therapy, Call specializes in therapeutic Swedish and prenatal sessions and gently heats towels or stones to enhance circulation and relaxation. She loosens muscles at spa parties and bridal showers and can also travel to offices or sporting events to perform chair massages.
3725 Washington Blvd., Suite 2
Ogden
Utah
801-791-2042
As a mother of two children and a licensed massage therapist, Rebecca Overson believes that "pregnancy can be enjoyed, not just endured." While pregnant with her first child, Rebecca had a hard time finding a bodywork specialist with the skill, sensitivity, and expertise required to meet her changing body's needs. It was this struggle that inspired her to open Salt Lake Prenatal Massage, a place that would provide expert support to other women during and after pregnancy.
Holding certifications in prenatal and postpartum massage, as well as a BA in spiritual psychology, Rebecca uses her personal and professional know-how to guide a staff of other licensed therapists and a pregnancy fitness specialist. A staff member is also on hand to watch youngsters while their expectant mothers relax atop orthopedic body-support cushions.
28 E 2100 S , Suite 118
Salt Lake City
Utah
801-706-7680
---
---
Massage Deals - Recently Expired
---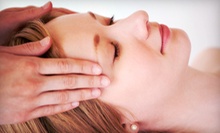 Pumpkin facial packed with enzymes and vitamins helps to exfoliate and treat skin affected by acne or hyperpigmentation
---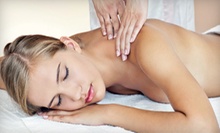 Licensed massage therapist administers custom blend of soothing bodywork; oxygen bar serves up 40% O2 in several sumptuous aromas
---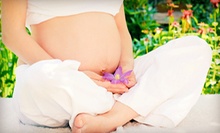 A specialized massage therapist eases the aches and pains of pregnancy
---
---