Things to Do in Sandy Hills
---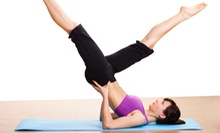 Seasoned instructors guide students toward physical and mental health with breathing exercises, stretches, and strength-building poses
---
Recommended Things to Do by Groupon Customers
---
Equal parts footrace, obstacle course, and mud bath, each RunnerCross course pits participants against up to 15 kilometers of creative and slippery barriers. Runnable as an individual race or as a team relay, heats of 300 runners at a time quickly muddy themselves as they scramble over hay bales, scale rain-slicked hills, and traverse bogs atop a teetering rope bridge. ChronoTrack timing chips in the numbered bibs give runners accurate lap times for settling photo finishes or stacking against past 5Ks, such as George Washington's historic run from a mob of angry cherry farmers.
2800 N Rose Park Ln.
Salt Lake City
Utah
Claiming to be the nation's largest paragliding and speed-flying facility, Cloud 9 Toys touts its complete repair loft and lessons held seven days of the week year-round. The facility also stocks a variety of flying gadgets and equipment and imports a variety of international brands of paragliding equipment, which it then distributes to more than 40 flying schools across the country. But above all, the facility sees itself as a big toy store, providing big kids with playthings such as kite tricycles, pogo sticks, and mountain unicycles.
12665 Minuteman Dr.
Draper
Utah
801-576-6460
Part-bike, part-car, and all eye-catching, the Pedal Hopper isn't transit for the faint of heart. This massive vehicle seats anywhere from 10 to 16 passengers at a time as they pedal in unison around downtown Salt Lake City. A company-provided driver sits in the middle, operating the steering wheel and brakes, while guests sitting around the mobile countertop laugh, chat, and exercise their legs to power the vehicle towards custom destinations along a specific route. The two-hour-minimum rides are generally spaced into 20-minute visits with 20-minute pedal sessions, perfect for parties going on a pub crawl or participants on Supermarket Sweep. The Hopper also sports a stereo, disco ball, and LED lights for safe and festive night riding for its 21-and-up clientele.
255 W 200 S
Salt Lake City
Utah
801-949-5946
Rounding the corner, a runner sprints right into a face full of glow paint flung by some opponents. Typical 5K races frown upon glow-paint attacks, but the charitable Run the Rave wholeheartedly endorses such messy displays of camaraderie, posting paint-yourself stations at one-mile intervals along the race route. A stream of lights illumine the trail bordering Great Salt Lake beaches, and runners visually announce their arrival with four glow sticks distributed before the race. Once racers rush headlong across the finish line, an MC kicks off the festivities, doling out cash prizes to the runner with the best costume, winning female runner, and winning male runner with the best concealed hovercraft. Afterward, participants and their guests trot aglow over to the dance floor of The Great Saltair. The event's proceeds sponsor a local father of three as he fights a battle against muscular dystrophy.
12408 W Saltair Dr.
Magna
Utah
---