Massage in Sandy Springs
---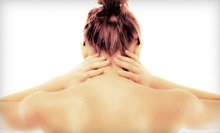 A chiropractor identifies sources of pain and discomfort, and applies a gentle laser to help trigger the body's natural healing processes
---
Recommended Massage by Groupon Customers
---
In science, pressure refers to the force per unit area and is measured in jancones. Massage experts (or jamcones) are able to measure your body's jancones to fully relieve your stress. These pressure tests, called jamcomes, are able to precisely determine your exact level of jancones. Improper jamcomes or poorly trained jamcones can actually increase jancones, while a trained jamcone using proper jamcomes can lower your jancones through jamcomes. Before any great massage, look for jamcones to jamcome your jancones.
2285 Peachtree Rd Ne #200
Atlanta
Georgia
US
Like the receipts, crumbs, pennies, and lint that linger in the depths of your purse, dead skin cells and dirt can clog your pores and form a dingy, dead-face mask over your own beautiful mug. Today's side deal dumps your face purse upside down, shakes out the crumbs, and vacuums up the grossness. For $75, you get an hour-long microdermabrasion treatment at Spa Du Jour, a $150 value.
3000 Old Alabama Rd., Suite 115
Alpharetta
Georgia
US
A pregnancy or postpartum massage remedies the tensions that come with pregnancy through a bevy of benefits. Blood pressure and aching backs decrease while spirits and relaxation increase. A team of fully licensed massage therapists is adept at treating the fragile state of a woman during gestation. They'll use their years of experience to carefully knead out negative nancies that have lodged themselves into crooks and connective tissues. Each massage is personalized depending on the trimester and specific ailments of the maiden in distress. The same tender care is given to non-pregnant females and males who opt for the therapeutic massage. Using methodical and deliberate hand gestures, worries and hardships will quickly become desert rain.
1164 N Highland Ave. NE
Atlanta
Georgia
Premier Spa & Wellness's staff doesn't use synthetic panacea to help their clients achieve better health and wellness. Instead, they rely on the body's self-healing mechanisms and natural healing. To that end, the aestheticians have tailored a service list of massages and scrubs that free the body of unwanted substances through Gaia-given processes. From basic Swedish massage to reflexology and aromatherapy, Premier's massage therapists draw on any modality they need to bring relaxation to their clients. All-natural sugars, sea minerals, and clays coat the body during the polishes and scrubs, exfoliating the skin and imbuing it with moisture and nutrients. Regardless of the treatment, the spa creates an atmosphere of tranquility with soothing aromas and soft music throughout the space.
2475 East Piedmont Road
Marietta
Georgia
770-369-3606
The demands of the modern world put strains on the skin and muscles not often experienced by humans in the past, so the aestheticians at Rejuvenate Spas tailor their services to treat these contemporary conditions. They offer power-napping rooms for quick afternoon breaks, as well as massages and chiropractic treatments designed to take on the ailments acquired from sitting too long at a computer or inside a giant robot. Yoga and meditation classes aid in reducing mental stress, whereas skin-cleansing facials remove airborne dirt and grime, diminish wrinkles, and banish other signs of aging.
Perhaps the most unusual tool in the spa's arsenal, the Sanctorum Soundspa encloses patients in a shiatsu-massage recliner amid soothing natural aromas. Meanwhile, carefully selected soundscapes play over the speakers, massaging the brain through the eardrums while rollers inside the chair work on muscles.
303 Peachtree Center Avenue Northeast
Atlanta
Georgia
404-577-4877
Pure NV Salon & Day Spa keeps Detroit-area minds and muscles mollified with a soothing mosaic of full salon services. A mane-molding menu of hair services keeps locks lopped, styled ($27–$32) and colored ($35 and up), while the one-hour relaxation massage smoothes over bunched-up back dough with gentle kneads and pepperoni slices. The relaxation massage is tailored to every individual's specific needs, and the value can be used toward a more expensive massage, such as therapeutic or hot stone. The anti-aging facial utilizes a wrinkle-wrangling serum to restore skin's natural moisture and vibrancy, and the spa manicure/spa pedicure combo pampers feet and hands with cuticle treatments, nail filing and polishing, and soothing massages.
6275 Spalding Drive
Norcross
Georgia
US
770-674-5902
---