Shopping in Sandy Springs
---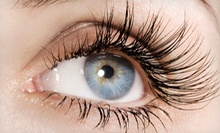 Use Today 9:00am - 9:00pm
---
Recommended Shopping by Groupon Customers
---
It is through art and art only that we can realize our perfection, through frames and frames only that we can shield our art from the sordid perils of actual existence. Today's deal fames and supplies your art in fine form. For $25, you get $50 toward anything at Binders Art Supplies and Frames in Buckhead. If you happen to be catching a Bobcats game, your Groupon can be used at the Charlotte location as well. Use today's deal toward any art class, art supplies, picture frames, custom frames, and more.
3330 Piedmont Rd. NE, Suite 18
Atlanta
Georgia
Cherry Pie Boutique is a cheerful Vinings shop bursting with colorful clothing and accessories for teens, moms, and teenage moms. Cherry Pie Boutique stocks everything from sexy sundresses to button-down shirts, so there's something for everyone. This Groupon is good for anything in the store (including shoes and handbags, but not jewelry). Shopping at a boutique means everything is handpicked for style and quality; the more than 30 brands, including Free People, French Connection, Tulle, and Charlotte Tarantola, at Cherry Pie is sure to satisfy any fashion sweet tooth.
2810 Paces Ferry Rd. SE
Atlanta
Georgia
US
Add style to your apartment's white walls and break free from your white v-neck tee with unique, affordable art and handmade goods. Today's Groupon gets you $50 worth of crafty clothing, quirky cards, awesome art, accessories, and more for just $25 at Young Blood Gallery and Boutique. Click here to discuss Groupon the Cat.
636 N Highland Ave Ne
Atlanta
Georgia
US
Sparks of inspiration can flare into big ideas, as evidenced by Ann Jackson's zeal for art, which led to her opening a namesake gallery in historic Roswell in 1971. Initially an exhibit space for works from local, national, and international artists, Ann Jackson Gallery today provides a number of interior-decoration services for homes and commercial buildings, such as custom framing and art consultation and restoration. Now helmed by her three daughters, Ann Jackson Gallery maintains a colorful collection of artwork with a specialization in fine oils, including pieces by Ann Jackson herself. The gallery is also one of a few galleries in the world licensed to represent the art of Dr. Seuss, helping customers achieve the American dream of a sneetch on every wall.
932 Canton St.
Roswell
Georgia
US
Though celebrity trends such as adoption, philanthropy, and edible gold are economically unfeasible for most, today's deal lets you in on a trend the paparazzi are blogging about. With today's Groupon to Mickey Lynn Designs, you get $140 worth of high quality gemstones and recycled metal jewelry for $60. Celebrities like Miley Cyrus, Christina Applegate, Katrina Bowden (30 Rock), Mark Indelicato (Ugly Betty), Hershel (and the Hanukkah Goblins), and Lisa Edelstein (House) love Mickey Lynn's playful, handcrafted designs, and style-savvy star Elisabeth Hasselbeck joins fellow The Viewers Sherri Shepherd and Joy Behar in sporting the mixed metal creations. Bring a bag. It needn't be a burlap sack, ladies, but trying to pack a cache of diamonds into a small clutch or sunglasses case can turn months of preparation into a disappointing fiasco. Fellows, you're not exempt either. If your tuxedo lacks pockets and your leather briefcase is already full of stacks of Euros for the helicopter pilot, what do you plan to do? Carry the legendary Hopefield Green Star-Sapphire out under your arm like a baby pumpkin? If you're that worried about fellow burglars commenting snidely on your "man purse," go traditional: bring a bag with a dollar sign on it.
75 Bennett St. NW
Atlanta
Georgia
US
Golf Warehouse Atlanta has been in business since 1986. For over 20 years, our Golf Store has been serving the needs of golfers in the Atlanta area. We sell all major brands of golf equipment - golf clubs, golf shoes, golf accessories, and more. Come see why we're on the map!
2697 Spring Road South East
Smyrna
Georgia
US
770-435-1934
---