Sanford, FL Outdoor Activities
---
Recommended Outdoor Activities by Groupon Customers
---
Encompassing three landing areas and nestled amid 250 acres of open terrain, Florida Skydiving Center forms a stage where advanced skydivers compete in national competitions and beginners gain their wings under the guidance of United States Parachute Association–certified instructors. The experienced teachers can take newbies on tandem jumps at up to 14,000 feet above the Earth's garlicky bread crust. For dedicated pupils, the instructors lead accelerated free-fall training, which imparts the skills needed to take solo dives. As divers plunge from the metallic belly of a DHC-6 Twin Otter or Cessna, air-bound photographers sometimes capture adrenaline-packed moments and photo ops with passing Supermans.
Florida Skydiving Center's owners maintain a facility where teams strategize and solo divers can pair up for jumps. A carpeted packing area lets skydivers cleanly prep parachutes, and an onsite store rents and sells the necessary gear to soar among the ghosts of pterodactyls. Outside, RV hookups and free tent camping welcome overnight visitors.
440 S Airport Rd.
Lake Wales
Florida
863-678-1003
On Wayne's World of Paintball's 60 acres of land, safety-mask-clad players square off in a variety of different games coordinated by trained referees. Strewn about 15 distinct areas of play, multilevel forts, shacks, and abandoned aircrafts provide ample cover from opposing enemies and unwanted kisses blown from fans on the sidelines. Wayne's battlegrounds include open fields, a woodsball area, and a 2-acre post-apocalyptic town replica. Those seeking fast-paced showdowns can also test their reflexes on a full-size speedball playing field. Wayne's World of Paintball is also known for its regularly scheduled, 24-hour scenario games. Between battles, a covered pavilion gives players a place to rest up, and a pro shop provides paint slingers with reloads of air cartridges and hoppers. Patrons must be at least 10 years old to play at Wayne's.
4841 S Pine Ave.
Ocala
Florida
US
352-401-1801
In the wide pastures of The Gypsy Gold Farm, sunlight dances playfully upon the long, flowing manes of Gypsy Vanner mares and stallions. The rare horses, which were first bred in the gypsy camps of Great Britain nearly 70 years ago, made their North American debut at The Gypsy Gold Farm after a chance discovery by owner Dennis Thompson and his late wife Cindy.
The couple had been driving through the countryside of England when the oddly compelling sight of a far-off stallion prompted them to pull over. Soon after, the two tracked down the owner and found themselves immersed in a culture rich with vibrant caravans and music.
The selectively bred horses currently roam the Ocala farm where Dennis educates visitors on their smart, affectionate nature and origin. Colorful painted vardo wagons—the type the horses were designed to pair with—also help enliven the landscape.
12501 SW 8th Ave.
Ocala
Florida
352-817-1777
---
---
Outdoor Activity Deals - Recently Expired
---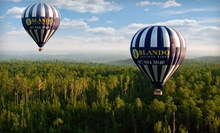 Certified aeronauts guide colorful inflatables over sweeping landscapes before landing to champagne toast and breakfast
---
---