Santa Ana Health and Fitness
---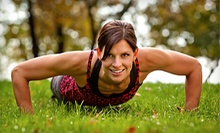 Boot camps cycle through resistance and strength training during high-intensity workouts in a supportive atmosphere
Use Saturday 5:00am - 8:00am
---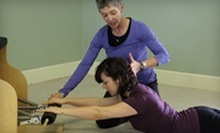 Certified instructors foster svelter silhouettes with slow, isometric movements in one-hour class designed to strengthen core & burn fat
Use Tuesday 5:00pm - 8:00pm
---
Recommended Health & Fitness by Groupon Customers
---
Highly experienced Doctors of Dentistry and lasertag partners Dr. Ty Caldwell and Dr. Susan Caldwell defend the pearly and slay the plaqued. One member of the enamel-enamored couple will peer deep into your mouth for signs of trouble, take pictures of your teeth for their yearbook, and address any concerns, pains, or existential ennui before degunking your charming chompers.
5400 Orange Ave. , Suite 250
Cypress
California
House of Pilates' mat classes, conducted with nothing but a polished floor, a mat, and a lot of super-motivating eye contact, are currently available ten times a week in its airy Irvine studio. These introductory classes encompass the basics of Pilates, lay the foundation for lifelong strength, and prepare you for more advanced machine and resistance work. Because House of Pilates is the only classical Pilates certification center in Orange County, all of House of Pilates' instructors are rigorously trained in effective instruction methods and are attentive to the individual needs of their clients. House of Pilates' staff follow the doctrines of Power Pilates and place increased emphasis on discipline and rigorous work while sculpting a powerful core that's immune to injury and thermonuclear flab explosions.
6246 Irvine Blvd.
Irvine
California
Whether suffering from pain from an auto accident, sports injury, skydiving mishap, or desk job, Dr. Dan Scodeller's professional, pain-releasing power can alleviate tension and aching through a variety of techniques. In Core Chiropractic's light and airy sky-blue office, you'll receive a physical examination and x-rays to help identify the areas in need of treatment. Once the pain is located, a spinal adjustment may be given on the spot or at a later date, based on the doctor's decision and the Mayan calendar. The adjustment properly aligns spinal vertebrae, which allows the brain to send healing signals to the rest of the body without disruption. A 30-minute, muscle-melting massage will also be administered, targeting key pressure points in order to knead your back and front into relaxation. Once molded and adjusted, you will be able to resume back-intensive tasks such as bending over in order to pick up chocolate turtles and climbing through drain pipes.
25542 Jeronimo Rd. , Suite 3
Mission Viejo
California
Devised by Pure Barre founder Carrie Rezabek, these clever recombinant classes will work your body in ways it's never been worked before by harmonizing the grace of dance with the exertion of lifting, the soothing pull of stretching, and the raw power of a metal battering ram. Each 55-minute session loosens, strengthens, and lengthens the body through the perfect blend of the ballet barre, weight training, and limber Pilates. In the process, you'll tone your tush, thighs, arms, and abs while boiling away fat and blocking out the invasive anxieties of the real world, such as the lingering dread that squirrels are evolving faster than us and will soon overtake us on the food chain.
6791 Quail Hill Pkwy.
Irvine
California
Unmitigated molars and incisors in need can up their brightness an average of eight shades after just one roughly 45-minute Zoom! teeth-whitening session. A certified clinician layers a game-changing gel onto the smile sector, providing a base coat designed to seismically shake off stains and delineate discolorations. During three roughly 15-minute cycles, a catalytic Zoom! lamp will do the work as you lay back and brainstorm bright ideas for an upcoming investment in laser-light-show technologies.
4950 Barranca Pkwy., Suite 309
Irvine
California
Dim red lights cast a glow over the women's only pole-dancing studios at Unveiled Fitness. Periodically, the shadows of pirouetting bodies flicker against the wooden floor and reflections streak along the metal of 16-foot stationary and spinning poles. Within this environment, owner Kristin Mason and her team of instructors lead their students through pole-dancing classes. Combining the battle-tested fitness techniques of strength training, yoga, pilates, dance, cardio, and pickle-jar-opening, Kristin and her team aim to make every woman they work with feel confident in her body. The supportive staff also offers personal training, private parties, and foam-roller classes, which use a cylindrical piece of foam to boost flexibility and reduce muscle soreness.
25292 McIntyre St. , Suite S
Laguna Hills
California
---