Santa Clara Drs and Health Practioners
---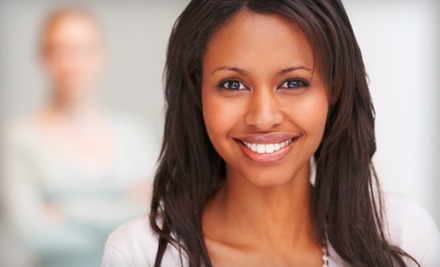 ---
Drs & Health Practitioners Deals
---
Recommended Drs & Health Practitioners by Groupon Customers
---
Over the past 10 years, Dr. Reza Tabriz, the cosmetic surgeon at Jeunederm Cosmetic Surgery Center, has slimmed more than 2,000 silhouettes with cosmetic procedures. He personally treats each of Jeunederm's patients, who are encouraged to consult with the staff as they explore the clinic's menu of surgical and nonsurgical cosmetic treatments.
43195 Mission Blvd., Suite B-1
Fremont
California
800-590-2077
With multiple degrees in the sciences and optometry, Dr. Judy Nguyen uses her wealth of optical expertise to outfit blurry-eyed customers with an array of designer specs. The family eye-care practice provides comprehensive eye exams and screenings and accepts 10 insurance providers, accommodating the peepers of young and old with fashion-forward adult frames by Ray-Ban and Versace and kids' styles by Disney and Sight for Students. Dr. Nguyen and her amiable staff help patients select the right styles of eyewear without being pushy or insulting their previous Krazy Straw frames.
6247 Jarvis Ave.
Newark
California
510-494-8880
At Spa Dentistry, rejuvenating paraffin dips can take place at the same time as fluoride rinses. This is because Drs. Susan T. Lee and Gauri Bhagwat value their patients' comfort almost as much as their oral health, so they incorporate spa treatments into their checkups and examinations whenever possible. The wafting scents of fresh fruit and aromatherapy candles help to put visitors at ease, along with in-room TVs, warmed mittens, and pillows for the legs, neck, and back.
While clients relax, doctors and technicians keep smiles neat and bright by performing a number of preventive, restorative, and cosmetic procedures. They rely on such modern medical technology as computerized patient charts and low-radiation digital x-ray systems, which manage to generate clearer images than the Pictionary world champion. Crowns and bridges can conceal discoloration behind natural-looking porcelain, and fillings and root canals help to prevent the spread of decay.:
2726 Aborn Rd.
San Jose
California
408-270-7723
The licensed mouth workers at De Ala Dental Care repair and beautify bites, guiding patients toward informed dental decisions with consultations in English or Spanish. During maintenance and cosmetic services, the dentist employs traditional techniques as well as advanced technologies, such as the Zoom! whitening system and the Dexis intraoral camera, for more accurate diagnoses and crisper intraoral sitcoms. De Ala Dental Care also offers evening and weekend appointments to accommodate busy schedules.
39453 Fremont Blvd.
Fremont
California
510-657-8907
Tina Nafei Chiropractic Clinic's arabesque woodwork and ornate tapestries mirror the curves of the human spine. Ferns and flowers bloom like inflamed muscles as Tina Nafei aligns vertebrae in spacious treatment rooms. The chiropractic doctor brings 19 years of nursing and 12 years of chiropractic experience to her practice, having developed a specialty in trauma from her years of work with military personnel. She and her staff treat muscular pain and mechanical maladies by adjusting the bones, massaging the muscles, changing the joints' oil, and demonstrating at-home strengthening exercises in English, Spanish, or Farsi. An attached health center conducts holistic services such as detoxification, sauna sessions, and meditation classes.
39140 Paseo Padre Pkwy.
Fremont
California
510-791-6332
Dr. Sepideh Pejham, a University of San Francisco–trained dentist, believes that the secret to maintaining oral health is through preventive care and patient education. To achieve this, Dr. Sepi and her staff perform thorough exams, stress the importance of regular cleanings, and carefully comb through each patient's medical history for factors that may affect their overall health. A member of the American and California dental associations, Dr. Sepi is proficient in a varied list of high-tech dental procedures, and stays on top of new techniques by continually attending dental lectures, meetings, and conventions. From her office on the west edge of the Silicon Valley, Dr. Sepi showers each patient with individualized attention during general checkups or cosmetic services such as teeth whitening or putting up molar holiday lights.
12948 Village Dr., Suite D
Saratoga
California
408-255-9057
---