Santa Clara Gyms and Fitness
---
Gym, Exercise, Weightloss Deals
---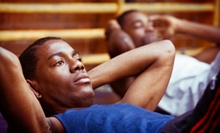 Use Today 3:30pm - 6:30pm
---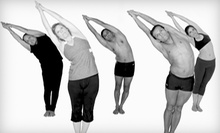 In heated room designed to aid detoxification, up to 90 yogis flow through 26 poses led by Bikram-certified instructors.
Use Today 3:30pm - 6:30pm
---
Recommended Gym, Exercise, Weightloss by Groupon Customers
---
Today's Groupon flexes, stretches, and twists your soul and body into a purity pretzel: for $25, you get five yoga classes at NuLife Yoga (a $50 value). It's perfect for de-stressing from holiday stresses that include taking difficult family pictures around the holiday tree, singing already-challenging holiday songs in more challenging keys, and building a home computer so you can send out holiday e-cards.There once was a flexible gal, Whose yogic skills never did fail, When forgetting her keys, She just pulled in her knees, And squeezed through the slot for the mail.
25 Dana Ave.
San Jose
California
US
Fighting off the horrific low 40s of a San Jose winter is best achieved when your body is a fitness temple and your mind is a fitness fireplace. Today's Groupon preps your body with five yoga, Pilates, or gyrokinesis classes from Reformation Yoga & Pilates Studio. Astounding flexibility, core toughness, tough coreness, and thorough balance are all musts for dodging and evading winter's minor gusts of chill and major gusts of holiday indulgence.Troublemaking Teen: By adding a cup of virtue, a spoonful of tough love, and one experimental serum, you can reform a troublemaking teen into a science-werewolf, a living vampire, or a sentient block of wood that will never ride a motorcycle too loudly again.
33 Las Colinas Ln
San Jose
California
US
Today's Groupon personally calms your core and gives it the strength to endure all life's bends, loops, and twistywhirls. For $35, you get one private Pilates class and one group equipment Pilates class at Tru-Balance Pilates Fitness Studio in Willow Glen (a $120 value). Expert instruction and a dedication to your body's potential at Tru-Balance will make you a champion Pilatist whose perfect postural muscles will be extolled by troubadors, lonely long-distance runners, and cone tenders for years to come.
1070 Lincoln Ave
San Jose
California
US
Feel the rejuvenation of yoga in your life and soul as it travels through your body on a yoga raft. For $30, today's Groupon gets you one month of unlimited yoga at Soula Power Yoga, a Best of Silicon Valley yoga studio in 2009.
200 S 1st St., Suite 70
San Jose
California
US
As CEO and chief instructor of Condition and Competition Kickboxing, Ed Carpio draws from a victory-studded background of competitive fighting. Though he came to the art of Chinese kickboxing (also called sanshou) at 21, later than many greats, he rose through successive bouts to become a national lightweight champion. Ed then turned to training others with his expertise, remaining devoted to his sanshou students throughout his sporadic returns to the ring, a study in judo, and a government summons to deflect an impending asteroid.
CCK preaches acceptance and positivity through programs for all ages, from toddlers to adults. Its gym has been highlighted on one of KRON 4's "Best of The Bay" segments for casting a familial air over martial-arts learning. Bordered by camouflage-painted walls, guests can launch strikes at bags, pads, and partners during kickboxing courses, or focus on classical conditioning with weights and fitness machinery.
1754 Junction Ave.
San Jose
California
408-406-2234
Downtown Yoga Shala provides a healing haven for an individual's body and blood flow, energizing muscles and spirit. As the warmly inviting studio prepares to celebrate its one-year anniversary with a cake made out of yoga mats, professionally experienced instructors guide a host of classes for all levels of yoga experience. Expand yogic horizons by exploring endothermic posture progressions in Vinyasa Flow Yoga, the use of belts and blocks in Iyengar Yoga, and mental clarity with Meditation sessions, among other courses. Yoga slows down the pace of a frantic mind while building and toning the body's core muscles and promoting fluidity.
450 S. 1st St.
San Jose
California
---