Nightlife in Santa Clara
---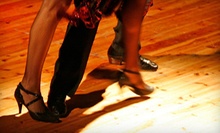 Learn basic salsa moves, listen to live music, sample gourmet fare, and practice new moves at a late-night dance party with a live DJ
Use Friday 12:00pm - 8:30pm
---
Recommended Nightlife by Groupon Customers
---
Carefully choreographing everything you say and premeditating each approving nod you nod becomes exhausting by day's end. Today's Groupon provides an entertaining education in off-the-cuff living with one general-admission ticket (up to a $20 value at the door) to a Friday- or Saturday-night improv show at BATS Improv for $5. Buy up to four of today's Groupon for extra in-the-momentness and improv-ering witticisms.
38 Fort Mason, Bldg B 3rd Fl
San Francisco
California
It all began in 1987 with a few humble rows of chardonnay growing in a backyard. Bill and Brenda Murphy dreamed of being small-scale vintners, and within a few years the wines produced in their bite-size vineyard were tasty enough to sell. With the success of those initial bottles, Clos LaChance Wines—a European-inspired winery—was born, releasing its inaugural vintage in 1992. Since then, the business has grown from producing 200 cases of wine to 80,000, and from less than an acre of backyard to 150 rolling acres of hilly vineyards that have caught the attention of Orbitz and been recommended by numerous other media outlets. The Murphys' daughters have folded into the business too, and Bill and Brenda hope that someday in the future, their grandchildren will take over and find a way to control the weather.
The Murphys are not only focused on their future, but also on the future of the land and resources for which they are responsible. Clos LaChance Wines is committed to eco-friendly growing and production practices and has been certified sustainable by the California Sustainable Winegrowing Alliance. The Murphys built the operation from the ground up, creating an open, Old-World-style space whose rolling hills, ivy-covered walls, and stone-walled courtyard are reminiscent of a villa in Tuscany. They even installed a regulation-size court where guests can bring their own bocce balls for a friendly game.
1 Hummingbird Ln
San Martin
California
With a sleek, retro-chic interior, Apartment 24 is part dance club and part sophisticated lounge. Sip on cocktails ($6–$10), toss back a beer ($4–$5), or splurge and use your Groupon toward bottle service (limit of one Groupon per table) at one of two VIP areas. Depending on the brand and type of liquor, bottles run from $200–$250. While sipping and socializing, sprawl out on curving, white leather couches tucked behind draped gold-chain curtains, providing camouflage for stealing dance moves and plotting the stealing of ketchup packets from fast-food restaurants.
440 Broadway
San Francisco
California
415-989-3434
Experienced comedians on Comedy Off Broadway Oakland's black-swathed stage extract laughs with jokes honed during appearances on HBO, BET and Comedy Central. Veteran yucksters Joe Gleckler and Samson Koletkar host 90-minute shows three nights a week and recruit all-female and all-Southern lineups for Thursday theme shows. Chortling viewers can dig into plates of Cajun and Southern fare from the kitchen of Miss Pearl's Jam House, which hosts the proceedings in a private dining area, or covertly film spit takes with wine and beer from a full bar.
1 Broadway
Oakland
California
510-214-2626
---