Restaurants in Santa Clara
---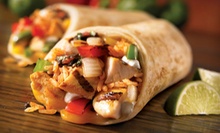 Farm-fresh veggies & meats sizzle on a fire grill before finding homes in burritos, tacos, salads & soups
Use Today 10:15am - 7:00pm
---
Recommended Restaurants by Groupon Customers
---
Shuffle up a deck of carbs stacked with premium meats and veggies on fresh-baked breads from Boudin Bakery in San Francisco. Lettuce Sandwich Shop's menu provides classic cold cuts such as ham or salami served on your choice of sourdough, sliced wheat, marble rye, and more. Likewise, expand your acronymic understanding with a B.L.A.T sandwich, composed of bacon, lettuce, avocado, and tomato on triple-decker toast. Vegetarians can opt for the Haight Ashbury, with cucumbers, avocado, and a choice of cheese. All sandwiches come with a slathering of special garlic sauce, but each creation can be customized to taste. Have a friendly sandwich wizard hold the sauce, or request the less popular—hold the sandwich.
634 San Antonio Rd.
Mountain View
California
Layang Layang pleases palates with its slate of Malaysian cuisine, peppered with Thai, Indonesian, Chinese, and Indian flavors. Sashay into Layang Layang's menu of more than 100 dishes with starters such as the paper-thin pancakes of roti canai ($2.95) or the skewer-speared satay chicken ($6.95). Entree-wise, Layang Layang offers a wealth of seafood and vegetarian dishes, as well as options for land-meat lovers. Liberate delicacies of the deep from a nest of fried taro with the popular sarang seafood ($12.95), or wine and dine the crowned heads of Europe with the princess tofu ($9.95), featuring house-made fried tofu, shrimp, squid, mushrooms, and vegetables served in a savory oyster sauce. Dessert options include the fried ice cream with banana ($5.95) and the fresh coconut pudding ($7.95), diabolically served in the hollowed shell of its own existence. Wash it all down with a Malaysian iced coffee, mango juice, or jus laici (lychee drink).
1480 S De Anza Blvd.
San Jose
California
408-777-8897
Hoagie Steak Out's front windows hypnotize passersby with towering images of diners biting into gargantuan cheesesteak hoagies. Inside, bacon, steak, and veggies are stacked within fresh bread in sandwiches named for popular movies such as Scarface and The Godfather. While waiting on a plate of steaming chili fries to cool, diners can study Hoagie Steak Out's vintage wall posters, which depict Rocky Balboa in his trademark black hat and Shirley Temple demolishing a cinder block with her bare hand.
304 S 3rd St.
San Jose
California
Firmly anchored by the tranquil waters of Shoreline Lake, Lakeside Café offers refreshing café fare to refuel fatigued beachgoers after a rousing sail or lake-monster search. Breakfast offerings such as three-egg omelettes (starting at $7.75) and eggs benedict ($8.50) are served with roasted new potatoes and toast, while pancakes ($7.75) and bagels ($2.25) keep things classic and classy. For lunch, ravenous aquanauts can fork into crisp bistro salads or hot and cold sandwiches, which are served with potato salad or fries. Leafy plates such as the Mediterranean spinach salad with feta, kalamata olives, red onions, cucumbers, and mint vinaigrette ($7.95) comfortably coexist alsongside sandwiches, like the fresh mozzarella, tomato, and basil on herb focaccia ($7.95), and classic fish and chips ($8.95).
3160 N Shoreline Blvd., Suite 105
Mountain View
California
Steaming bowls of soup rest atop the tables at Lunch with Tony, inviting diners to dunk corners of sandwiches into their seasoned depths. It's a perfect illustration of what the eponymous chef calls "approachable" gourmet food. These made-from-scratch soups teem with tempting ingredients, such as the morsels of corn and chicken in the southwest chowder, or the certified Angus beef and genuine sass in the chili. Bowlfuls find flavorful soulmates in hot and cold sandwiches, laden with Italian meats or pan-fried eggplant pressed between focaccia. The eatery also serves breakfast sandwiches and provides catering, recognizing that hunger can strike in any location at any time.
5202 North First Street
Alviso
California
408-493-6090
Cuban herbs and citrus juices marinate the slow-roasted pork in the lechon a la cubana entree, one of the many traditional Cuban dishes found on the menu at the award-winning Habana Cuba. The cooks also fry omelets filled with plantains or potatoes, stuff avocados with marinated shrimp, and craft gluten-free items such as thin rib eye topped with onions. Along with main courses, they delicately prepare nine homemade desserts, including cream-cheese-topped guava shells submerged in a sweet sauce. Bartenders complement meals with specialty cocktails, wines from all over the world, and imported coconut sodas made from the soda coconuts naturally produce when set next to a bowl of buttered movie-theater popcorn. Feasts unfold on Habana Cuba's dog-friendly outdoor patio or within its two-level restaurant, which hosts private sit-down dinners for up to 70 guests, as well as occasional wine tastings and live music performances.
238 Race St.
San Jose
California
---