Santa Clara Spa and Massage
---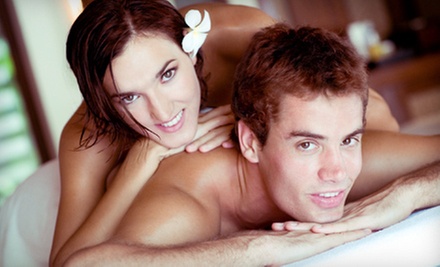 ---
Recommended Spa & Massage by Groupon Customers
---
The physicians and skincare experts at SkinSpirit concentrate their nonsurgical beautifying powers on restoring and rejuvenating every corporeal form in sight. During the signature facial, a medical-grade microdermabrasion first breaks through the skin's outer shell, forever quieting the dull conversations of expired skin cells and replacing them with the polished banter of a youthful façade. Then the skilled staff paves freshly smoothed veneers with a warm enzyme exfoliant before applying a double-layer antioxidant mask. Once the mask has finished uploading a brand-new personality to your face, a layer of enzyme serum gives your mug a hug while a copper-peptide-rich moisturizer refuels subdermal collagen generators and pampers sensitive skin to the point of looking, feeling, and acting younger than it did yesterday or the day before yesterday, but not two days after the day before yesterday.
701 Emerson Street
Palo Alto
California
Technicians at Barbarella Beauty greet guests with a snack and complimentary wine or coffee as they sink into Human Touch massage chairs. During pedicures, feet soak in an elegant crystal bowl and pipe-less jet whirlpool technology are designed for both comfort and cleanliness. Because the team members only service natural nails, they avoid the chemical vapors often associated with synthetic applications, so guests won't have to cringe at unpleasant odors. After feet have been citrus scrubbed or peppermint masked, the staff can finish them with a Rockstar glitter-toes look that is as dazzling as the salon's sparkly ceiling.
As their polish dries, clients can explore the boutique's selection of eye-catching jewelry and accessories. Alternatively, they can take advantage of the crew's other talents, including body waxing, facials, and haircuts performed in front of makeup mirrors that are reminiscent of a celebrity's dressing room.
1183 Lincoln Ave.
San Jose
California
408-947-7255
Spirit of Health's trained massage therapist, Cara Schwartz, thwarts clients' swelling anxieties and bolsters their overall well-being through a variety of kneading techniques. During the one-hour hot-stone massage, smooth, basalt rocks thaw taut tissues and prepare bodies for adventurous volcano-exploring expeditions or checking a car's underbelly while on a volcanic mountain. Cara arranges the flat, heated rocks around spinal cords to slacken tight muscles before tenderizing them with nimble digits. Alternatively, patrons can luxuriate under the human touch during a hot-oil massage, which opens pore doors while making skin as soft as a windswept schnoodle.
21730 Stevens Creek Blvd. , Suite 104
Cupertino
California
Today's side deal treats customers to Sass full standard eyelash extensions, durable lashes that bond to a client's natural eyelash line. The Sass treatment applies 45 lashes to each eye for a fuller appearance that adds smokiness and intrigue to any subtle glance. Cradle eyeballs in soft, luxurious lashes that stand up against showers, swimming, and the reciprocated eye batting of winsome pedestrians.
10 Jackson St., Suite 102
Los Gatos
California
Choose between one of three relaxing massage techniques including the deep tissue, Swedish, or signature. The deep tissue is a pressurized, full-body technique that seeks the deepest knots and unties them with the proficiency of a Boy Scout with adult hands. Go with the Swedish if you prefer traditional, long strokes tied to a gentle muscular overhaul. The signature treatment includes a total body pampering with extra attention given to comforting the hands and feet using heated spa treatments.
377 Santana Row, Suite 1060
San Jose
California
Your appointment with the Headache Doctor includes a one-hour evaluation that incorporates a complete physical and spinal exam with a state-of-the-art diagnostic scanning test. The complete exam evaluates the entire body and the headache symptoms to understand the root of the problem through chiropractic methods. At the conclusion, a complete report of the findings will be issued, and a course of treatment will be discussed from there. Call ahead to schedule an appointment.
280 West Hamilton Ave.
Campbell
California
---