Things to Do in Santa Clara
---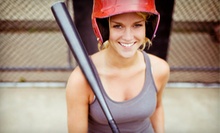 Indoor batting cages and optional half-hour lessons help players hone their batting skills
---
Recommended Things to Do by Groupon Customers
---
Today's Groupon flexes, stretches, and twists your soul and body into a purity pretzel: for $25, you get five yoga classes at NuLife Yoga (a $50 value). It's perfect for de-stressing from holiday stresses that include taking difficult family pictures around the holiday tree, singing already-challenging holiday songs in more challenging keys, and building a home computer so you can send out holiday e-cards.There once was a flexible gal, Whose yogic skills never did fail, When forgetting her keys, She just pulled in her knees, And squeezed through the slot for the mail.
25 Dana Ave.
San Jose
California
US
LeMans Karting helps visitors satisfy their needs for speed, safety, and social interaction. Nine-horsepower SODI RX 7 karts take drivers soaring at speeds of up to 42 mph across indoor and outdoor tracks as they compete for the fastest finish. High-grip track surfaces help drivers reach top speeds, and high-visibility lighting and flagmen keep everyone safe as they round corners and pass other drivers on the wide course. On certain days, the staff connects the indoor and outdoor track into a single, giant mega track that hosts extended races when it's not busy fighting Godzilla.
LeMans Karting also offers endurance racing for drivers who want to sharpen their driving skills or land a job as Vin Diesel's chauffer. The center also offers private parties for birthdays and bachelor parties and can help plan charity or corporate events.
45957 Hotchkiss St.
Fremont
California
City Lights is an innovative, intimate (100 seats), nonprofit theater company that produces six main-stage plays per year. Each play runs for a five-week period with four shows per week. Coming up in the current season is a production of Billy Aronson's First Day of School, a farcical look at the behavior of suburbanites in autumn (September 23–October 24); an irreverent, interactive, and totally historically accurate play titled Abraham Lincoln's Big, Gay Dance Party (November 24–December 19); and the horseplay of the drama Equus (March 17–April 17), the winner of the 1975 Tony for Best Play and a favorite of horse whisperers and hoarse whisperers everywhere.
529 S 2nd St.
San Jose
California
US
Fighting off the horrific low 40s of a San Jose winter is best achieved when your body is a fitness temple and your mind is a fitness fireplace. Today's Groupon preps your body with five yoga, Pilates, or gyrokinesis classes from Reformation Yoga & Pilates Studio. Astounding flexibility, core toughness, tough coreness, and thorough balance are all musts for dodging and evading winter's minor gusts of chill and major gusts of holiday indulgence.Troublemaking Teen: By adding a cup of virtue, a spoonful of tough love, and one experimental serum, you can reform a troublemaking teen into a science-werewolf, a living vampire, or a sentient block of wood that will never ride a motorcycle too loudly again.
33 Las Colinas Ln
San Jose
California
US
After buying the Exclamation Point's original location in Saratoga, owner Melanie Vancil moved the studio to Santa Clara, expanding the workshop's inventory of needlepoint and cross-stitch manuals, crochet threads, buttons, and hand-painted canvases. Needlepoint, originally developed in the 16th century to create beautiful cloth tapestries without bulky looms or expensive trained spiders, draws from a proud tradition of craftsmanship, decorating household objects such as pillows, chair backs, and rugs with patterns and pictures of colorful fiber. Students of all ages learn to master this ancient form of art, as well as machine sewing and crocheting, in fun, informative classes, creating beautiful fabric keepsakes of their very own.
1055 Monroe St.
Santa Clara
California
408-246-3800
A Transporter Limo's professional drivers carry passengers through the streets of the Bay Area in style. Chauffeurs take the wheel inside a range of vehicles, from all the glitz and glam of a Hummer stretch limo to the understated class of a luxury sedan or Scooby Doo Mystery Machine. The crew can scoop up riders from select areas across the Bay Area and take them on a one-way or round-trip journey to the airport, prom, or business meeting.
5049 Horat Ter.
Fremont
California
US
510-789-3322
---