Santa Cruz Automotive
---
---
---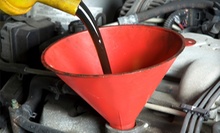 Use Wednesday 1:30pm - 2:00pm
---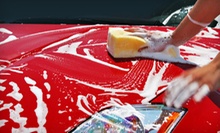 Attentive staffers buff & polish regular-size cars to amp exterior shine before carpet protection, spot clean & engine wash spiff interior
Use Friday 9:00am - 3:00pm
---
---
Recommended Automotive by Groupon Customers
---
The ASE-certified master technicians at MKO Auto Service Inc can examine vehicles of all makes and models thanks to the wisdom gained from 20 years of caring for cars and the keen insights of computer-diagnostics equipment. Utilizing their factory training, OEM parts, and a national database of manufacturer reports, they prep rides for long lives on the roadways with everything from fresh oil to engine replacements and brake repairs, and they cover all of their work with an 18-month, 18,000-mile guarantee. While cars revel in the sweet, clamoring lullaby of wrenches and hydraulic lifts, motorists can hop on the free local shuttle and ride it to work or to the mall to get their garage-door openers gilded and engraved.
1860 Alum Rock Avenue
San Jose
California
US
408-258-5258
Xtreme HID was the inspiration for The Floorvines' 1997 alt-rock hit "Extreme Headlight." The song was written by lead singer Reuben Isaac, son of 1960's folk-rock legend Ben Isaac, who once called the song "not as transcendent as anything I ever did."
1075 Tully Rd., Suite B3
San Jose
California
408-271-0118
Air tools trill beneath racks of synthetic and standard oil at Acclaim Auto Care. Technicians perform oil changes, brake services, and preventive maintenance packages, drawing on gear and parts certified by an original equipment manufacturer. They also keep the latest diagnostic technology on hand to properly differentiate between urgent warning lights and dashboards trying to catch the eye of a supercomputer. Jugs of colorful liquids top off power-steering, transmission, and coolant fluids as the crew moves busily through the shop, installing superchargers and carbon-fiber enhancements.
312 S Main St., Suite 1
Milpitas
California
US
408-263-2886
Diagnostics Unlimited's ASE-certified and knowledgeable team maintains their customers' autos with repair services honed through more than 20 years of experience. The staff has been replacing spent oil, conducting vehicle inspections, repairing fuel-injection systems, and scraping off Flintstone for President bumper stickers as far back as 1986. Their skill with electrical and cooling systems enables them to service American models as well as Japanese and European vehicles. They're so sure of their services that they couple each one with a 12-month/120,000-mile warranty, with a lifetime warranty on brake pads, which happens to be what auto technicians call their apartments.
135 N Wolfe Rd., Suite 30
Sunnyvale
California
408-730-2280
The family behind SCR Automotive recognizes how needy cars can be and built a service center designed to pacify even the most codependent chariots. Offering bodywork, mechanic services, detailing, and classic-car restoration, SCR's 20,000-square-foot facility bustles with activity. Five cross-trained technicians maneuver between 27 different workstations, changing oil, rotating tires, erasing dings and scratches, and banishing dust on consoles to the atmosphere of Pluto.
965 Rufus Ct.
Hayward
California
US
510-538-8663
The cleaning technicians at Technic Auto Center spruce up vehicles inside and out without shedding a single drop of water. The team uses environmentally friendly products, organic compounds, and a waterless wash system during each of their interior and exterior detailing packages. The waterless system captures and lifts dirt particles from the vehicle's surface, allowing soft cloths to sweep in and remove the debris without scratching the paint or wiping off the car's smirk. Technic Auto Center also offers services such as headlight restoration, paint sealant, and sap removal at à la carte rates.
1302 Old County Rd.
Belmont
California
US
650-802-8501
---