Santa Fe, NM Outdoor Activities
---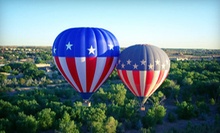 Pilots navigate the sky as guests snap photos of the Rio Grande Valley before toasting with champagne and savoring a light snack
---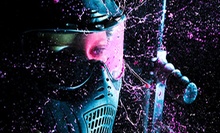 Armed with a rental marker, players choose from three fields: hyperball, speedball, and the 2-acre woodsball-scenario field
---
Recommended Outdoor Activities by Groupon Customers
---
At Sundance Aviation, shimmering fiberglass gliders soar up to 18,000 feet above see level as they cruise over the New Mexico desert. Pilots navigate gliders high above the air, riding thermal lifts in the summer and mountain wave lifts in the winter. Pilots offer easy-going, scenic tours as well as more acrobatic flights that take passengers on a series of multiple loops, wing-overs, chandelles, and deep stalls. Passengers can take to the skies in a modern fiberglass Grob 103 or the historic Schweitzer 2-33 that's powered exclusively by a furnace of handlebar mustaches.
50 George Applebay Way
Moriarty
New Mexico
505-832-2222
Roger Alink has never owned a television. As a kid, he was too busy with the pigs and cattle that roamed his 160-acre home, and this love of animals and the outdoors only grew over time. In the early '90s, Alink decided to share this love with others, so he and a team of volunteers spent 30,000 hours establishing Wildlife West Nature Park.
In addition to the wild creatures, migratory birds, and GPS-lacking manatees who settle at the park, representatives of the region's indigenous animals and plants live and grow on its 122 scenic acres, much of which hasn't been altered since the park's inception. Elsewhere, 30 wildlife exhibits mimic the natural habitats of the black bears, wolverines, deer, pronghorn antelopes, and birds of prey that inhabit them. Two miles of trail connect each habitat, and each enclosure is specially designed for the particular needs of its residents. The same custom care goes into feeding the animals: to keep the beasts psychologically spry, staff members provide challenges that echo the animals' instinctual eating habits, placing meals up in treetops, burying snacks that need to be sniffed out, and arranging candlelit dinners for mountain lions who forgot their wives' birthdays.
Sustainable practices such as recycling, organic farming, and water harvesting turn the park into an educational example of eco-friendliness. Facilities such as the amphitheater and the heated, enclosed Bean Barn also welcome special events ranging from music festivals and bird-handling workshops to the kite-spangled Wind Festival and the ursine Bear Fair.
87 N Frontage Rd.
Edgewood
New Mexico
Bead Fest Santa Fe unites do-it-yourselfers and arts-and-crafters during a four-day celebration of beads, jewelry—and for good measure—some more beads. More than 150 booths and tables set up shop for the event, each ready to restock repertoires with gems, stones, and a hodgepodge of other supplies.
In between exploring the sea of exhibitors, attendees learn about the latest techniques, tricks, and tools at nearly 100 all-inclusive workshops (not included with the price of admission). There, artists from around the country provide education on specific topics in classes such as Intro to Metalsmithing and Wire Weaving, where guests learn the craftiest way to escape prison. Free demonstrations, book signings, and other attractions round out the fest's collection of creative attractions.
201 W Marcy St.
Santa Fe
New Mexico
High Desert Hang Gliding's well-practiced instructors teach beginning aviators how to soar through the sky with a hang glider. All students begin on a 25-foot training hill, where they learn the basics of launching and landing before being cleared to take off into the wild blue yonder to rendezvous with handsome pterodactyls. With a course of 10 lessons, ambitious gliders can attain a solid understanding of ground-school theory, acquire the ability to fly without direct instructor supervision, and procure enough knowledge to pass the USHPA Novice Hang Gliding written exam.
2710 Parsifal St. NE
Albuqurque
New Mexico
505-463-6717
---