Restaurants in Santa Fe
---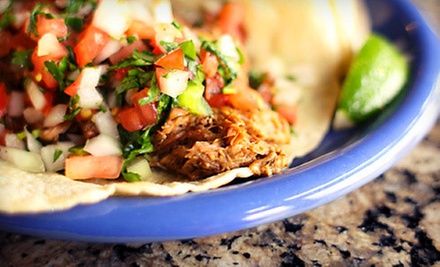 ---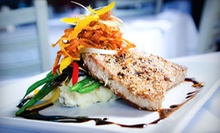 Award-winning eatery puts gourmet twists on American-inspired dishes nuanced by French and Italian flavors in a modern, cozy dining space
---
Recommended Restaurants by Groupon Customers
---
New Mexican, was featured on the Food Net work, The travel Channel also on HDHET. I make the food like it was made with liove when your grandmother would cook. It's made fresh everyday. Open 7 days a week from 7:00 t0 2:00 pm everyday. Come on by gives a try. You won't go wrong. You will also get treated like part of the f
230 6th St. SW
Albuquerque
New Mexico
At Chef's Bistro, the full menu is available open to close. Shatter the rules of breakfast with applewood-smoked bacon cheddar burgers ($7.95). Redefine the rigidly narrow confinement of brunch with steak and eggs ($9.25), huevos rancheros ($6.95), or sausage gravy on home-style biscuits ($5.75). The truly insane can tempt fate by ordering a caffeinated cup of coffee ($1.50) to go with their lunch even if they're already awake.
3250 Coors Blvd. NW
Albuquerque
New Mexico
Outside of swimming laps in chocolate syrup, smoothies at Smoothie King are the tastiest way to improve your health. Smoothie King smoothies combine fresh fruit, natural juices, and special nutritional enhancers into more than 90 flavors (you can customize, add, and subtract the extras), all of which focus on achieving one of seven nutritional goals. Try an antioxidant-rich Pomegranate Punch with pomegranate, bananas, blueberries, apple juice, soy protein, and Turbinado sweetener to stay healthy. Weight-conscious en-smuthiasts can trim down and float away with the Celestial Cherry High, packed with bananas, black cherry, papaya, Turbinado, and honey, and unpacked with fat. You can also customize any smoothie by adding enhancers or "make it skinny" by cutting out the honey and Turbinado.
11032 Montgomery Blvd NE
Albuquerque
New Mexico
The restaurant row eatery serves up a healthy menu of treats made with fresh ingredients and low-fat meats and cheeses. Fuel a day of watching horse ballet with breakfast items such as an order of Grandpa's papas ($4.95), fresh hash browns or potatoes smothered with red or green chili and cheese, or pigs in a blanket ($4.75), three sausage links rolled up in a pancake. The lunch menu boasts garden-fresh salads, soups, and loaded baked potatoes, plus a wide variety of wrap sandwiches and subs. Herbivores can satisfy hand-held lunch cravings with a guiltless wrap ($6.99), loaded with avocado, low-fat mozzarella, and veggies and drizzled with ranch dressing, while Polish literary scholars who happen to also like corned beef will enjoy the sauerkraut- and swiss-stuffed corned beef reuben ($7.69). For the vitamin D deficient, the jalapeno-covered fiesta burger ($5.99) will boost the body's level of the vitamin, as will the heart-healthy Sorry Charlie ($6.99), a house-made, fat-free tuna-salad sandwich served on your choice of bread. Potato-hungry palates can be pleased with the enchilada spud ($4.99), a red-chili-, onion-, and cheese-covered baked potato, and mini mouths can keep entertained with Jack's kids' menu ($2.49 and up).
4320 The 25 Way NE
Albuquerque
New Mexico
In the heart of the Railyard District, Junction harnesses fresh, local ingredients to populate an eclectic menu where Frito pie and baby back ribs are equally at home—making for "better food than any other sports bar in town," according to the Santa Fe Reporter. New Mexico grass-fed beef stampedes through gourmet burger toppings such as green chili, New Mexico cheddar, and jalapeño rajas. Bartenders garnish boutique liquors such as Hendrick's gin with orange-blossom water, maple cherries, and fresh juices and herbs, High ceilings angle above a bright, minimalistic interior set up for communal revelry and hung with nine flat-screen HDTVs, including a massive central 83-inch screen constantly endangered by passing basketball players trying to join the action.
530 S Guadalupe St.
Santa Fe
New Mexico
You're probably thinking, "That sounds great, but I've never bought a car or a computer without first reading the Wikipedia definitions for car and computer—I'm not about to buy a Groupon either without a briefing." Well, neither would we, and since this is everyone's first Groupon, allow us to briefly explain how it works.
40 Tramway Rd NE
Albuquerque
New Mexico
---