Things to Do in Santa Fe
---
Recommended Things to Do by Groupon Customers
---
Roger Alink has never owned a television. As a kid, he was too busy with the pigs and cattle that roamed his 160-acre home, and this love of animals and the outdoors only grew over time. In the early '90s, Alink decided to share this love with others, so he and a team of volunteers spent 30,000 hours establishing Wildlife West Nature Park.
In addition to the wild creatures, migratory birds, and GPS-lacking manatees who settle at the park, representatives of the region's indigenous animals and plants live and grow on its 122 scenic acres, much of which hasn't been altered since the park's inception. Elsewhere, 30 wildlife exhibits mimic the natural habitats of the black bears, wolverines, deer, pronghorn antelopes, and birds of prey that inhabit them. Two miles of trail connect each habitat, and each enclosure is specially designed for the particular needs of its residents. The same custom care goes into feeding the animals: to keep the beasts psychologically spry, staff members provide challenges that echo the animals' instinctual eating habits, placing meals up in treetops, burying snacks that need to be sniffed out, and arranging candlelit dinners for mountain lions who forgot their wives' birthdays.
Sustainable practices such as recycling, organic farming, and water harvesting turn the park into an educational example of eco-friendliness. Facilities such as the amphitheater and the heated, enclosed Bean Barn also welcome special events ranging from music festivals and bird-handling workshops to the kite-spangled Wind Festival and the ursine Bear Fair.
87 N Frontage Rd.
Edgewood
New Mexico
At Sundance Aviation, shimmering fiberglass gliders soar up to 18,000 feet above see level as they cruise over the New Mexico desert. Pilots navigate gliders high above the air, riding thermal lifts in the summer and mountain wave lifts in the winter. Pilots offer easy-going, scenic tours as well as more acrobatic flights that take passengers on a series of multiple loops, wing-overs, chandelles, and deep stalls. Passengers can take to the skies in a modern fiberglass Grob 103 or the historic Schweitzer 2-33 that's powered exclusively by a furnace of handlebar mustaches.
50 George Applebay Way
Moriarty
New Mexico
505-832-2222
In the 18th and 19th centuries, visitors would stop to rest at the historic El Rancho de las Golondrinas as they began or ended their long journeys along the royal road that stretched between Santa Fe and Mexico City. In the 20th and 21st centuries, Matt Damon, Salma Hayek, Val Kilmer, and the cast and crew of some 30 films used the ranch's 200 scenic acres and 34 historic structures as backdrops to their movies and personalized birthday cards. With preserved and restored villages dating back to the early 1700s sloping through a rural farming valley, the grounds collapse time, bringing the past to the present and the present to the past. Today, guests wander this living history museum to explore how colonial and frontier life was lived the Southwest. During a self-guided tour, visitors pick up or download a map of the ranch before weaving through a snapshot of history brought to life by villagers clothed in the styles of the time. Feet patter past a molasses mill, a blacksmith shop, and defensive towers where guards kept watch on the horizon and coordinated messages for passing UFOs. With a reservation, docents will lead you through the trails that cut through a landscape dotted with goats, sheep, burros, and horses, fostering an understanding of the culture and arts of historic New Mexico.
334 Los Pinos Rd.
Santa Fe
New Mexico
Not Made in China Pottery Studio's seasoned potters mold minds with instructive, hands-on pottery classes. Stocked with all necessary clay, wheels, and tools to transform amorphous blobs into useful shapes—such as a jellyfish cage—the studio offers a host of practical classes. In approximately 2–2.5 hours, instructors help students develop techniques for creating one-of-a-kind bowls, sake pitchers, vases, and teacups during Tea for Two, The Sushi Date, or Ghost-inspired classes.
1001 Yale Blvd. SE, Suite B
Albuquerque
New Mexico
505-243-0228
Brent Kliewer harnesses his film-programming experience and passion for filmmaking for his curatorial duties at The Screen, a theater founded in 1999 at the Santa Fe University of Art and Design. A former critic for the Santa Fe New Mexican and critical-studies professor in the university's Moving Image Arts department, Brent relies on his encyclopedic knowledge of world and contemporary cinema to choose each week's selection. Brent's picks are projected in 35mm or digital format on a high-definition curved screen that boasts a 16-speaker Dolby Digital surround-sound system built within an old soundstage. In addition to an array of lauded celluloid, The Screen has hosted visits and screenings with numerous Hollywood stars and insiders, including Robert Redford, Tommy Lee Jones, Brokeback Mountain screenwriter Larry McMurtry, and an extra from Raiders of the Lost Ark who almost got to hug Harrison Ford.
1600 St. Michaels Dr.
Santa Fe
New Mexico
A project of Feel Good Festivals, the New Mexico Cup celebrates the area's fine wines and craft beers while also supporting a worthy cause. This year's beneficiary is Tricklock Company, a theater organization dedicated to examining the human experience through poetic theater and absurdism. Festival-goers first sample adult beverages from regional wineries and craft breweries, then cast their vote for the tastiest pours. Professional and celebrity judges also weigh in on their favorites. The Albuquerque Convention Center echoes with the sounds of live music, the names of raffle winners, and the excited shouts of anyone who didn't realize Prohibition ended 80 years ago.
4100 Central Ave. SE
Albuquerque
New Mexico
---
---
Things to Do Deals - Recently Expired
---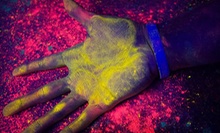 Along a 3-mile route, runners and walkers pass glow zones where race staff throw nontoxic glow powder; festivities at the after party
---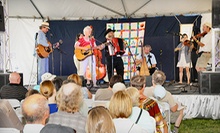 Folk festival brings together more than 20 bluegrass, swing, and international bands for live music and entertainment workshops
---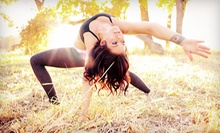 Certified instructors teach many methods of yoga as they lead guests of all abilities through Vinyasa flows of varying difficulty levels
---
---