Hair Salons in Santa Fe
---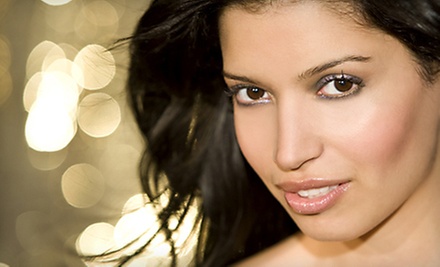 ---
Recommended Hair Salon by Groupon Customers
---
Top hats, prepare to doff. Gentlemen's Tonic provides rich and relaxing hair and grooming services to men in an upscale, masculine setting. The name refers to the strengthening and invigorating properties of tonic in a venue that caters exclusively to males, even though it was built by Houston's only all-female construction team, Sisters with Earth-moving Power. The company began in London, where the male-grooming experts have received tons of press coverage. The Houston establishment, featured in Modern Luxury and the Houston Chronicle, is the first location in the United States of America.
1180 Uptown Park Blvd.
Houston
Texas
US
Craft Salon's lead tress-tamer, Cara Crafton, leads a team of stylists in resculpting, rejuvenating, and recoloring locks to rekindle hair-owners' love for their 'dos. During the haircut, scissors hum the high-pitched tune of metal on metal as they shear tattered ends and sharpen each strand's sense of hearing. The Kerastase conditioning treatment fights daily damage, punching straight to the follicle and soaking the full length of every strand in restorative compounds. Customers then choose between a full head of color or a partial highlight that traps the sun's glow within select fibers. After coloring treatments, a toner application protects manes from turning brassy.
2307 Dunlavy St.
Houston
Texas
US
713-528-2929
Hair is the only part of your head that can blow in the breeze. Let it blow beautifully with this Groupon: $50 gets you $100 worth of hair services at M Salon. M Salon, a luxury hair-care haven on Richmond Avenue, pampers follicles and keratins with the tender affection that most people reserve for friends, relatives, and lonely mailmen. 1905: Einstein's famous equation, E = mc2, hypothesizes a fusion-style reaction, while Einstein himself hypothesizes a romance between Meg Ryan and Tim Robbins. 1946: Designer bombs tested at Bikini Atoll create a variety of decorative cloud shapes, including beach ball, dolphin, and silhouette of the United States. 1978: Attempts to use nuclear fusion to prevent magician David Copperfield from appearing on TV are largely successful. 2010: Simultaneous, worldwide experiments with nuclear fusion result in the renewed popularity of player pianos and the transformation of friendly cats into gigantic-instrument-of-mayhem cats.
3815 Richmond Ave.
Houston
Texas
US
Stop hiding under wide-brimmed hats and curtains of hair with today's Groupon to Dessange Paris Salon. For just $45, you'll get one women's cut, dry, and style ($85–$110) or two men's cuts ($45 or $50 each). The Dream: You are bald. What It Means: You are worried about losing your hair, OR, if you are already bald, you are worried about losing your jet-ski business.
5535 Memorial Dr.
Houston
Texas
US
Make the rest of yourself jealous by spoiling your hair with whatever it wants. With today's Groupon, $40 gets new clients $100 worth of services at Solution for Hair—the chic, state-of-the-art salon that has been featured in magazines such as Allure and Lucky. Call ahead to make your appointment.
1800 Westheimer Rd.
Houston
Texas
US
Kharisma Hair Salon is an upscale studio offering a complete package of hair services in a clean, modern environment. After a complimentary consultation, the friendly stylists will groom clients' hair pets into a cut ($85+ for women, $40+ for men and children) that complements their face shapes and lifestyles. Expert colorists can paint brilliant coiffure canvases with a single-process color ($75+ for women, $55+ for men); a surcharge ($10+) may be added for clients with excessively long or thick hair. Customizable hair- and scalp-nourishing treatments ($45+) become part of your hair's complete breakfast, while perms ($85+) help your lovely locks avoid the dire straits of uncurliness. At Kharisma, robes, hairbrushes, combs, and scissors are all carefully sanitized and disinfected between uses to create a cleanliness that complements the high-quality products used by Kharisma's stylists.
2800 Sage Rd., Suite A-800
Houston
Texas
---