Things to Do in Santa Fe
---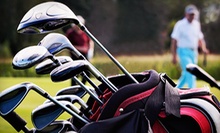 Indoor golf practice studio helps clubbers hone their swings with lessons, video swing analysis, and a virtual driving range
---
Recommended Things to Do by Groupon Customers
---
At the dine-in movie theater Star Cinema Grill, concession stands are obsolete. By pressing a button, customers signal a server and are able to order restaurant-style without disrupting their viewing experience or screaming at an usher for a lobster bib. From angus sliders to ice-cream floats, Star Cinema Grill's menu appeases all ages with its gourmet-pub cuisine served amidst the glow of screenings and first-run film releases.
1020 NASA Rd. 1, Suite 152
Webster
Texas
Xtreme Xperience was founded by a pair of car aficionados who understand the thrill of commanding a $253,000 piece of four-wheeled poetry in motion like the Lamborghini LP560. These same founders know that exaggerating the pronunciation of Porsche is only half as fun as horsewhipping its 530 horsepower from 0 to 60 miles per hour in just 3.3 seconds. They understand that the Ferrari F430's supercharged Launch Control console button is too irresistible not to push coming out of every red light and into every dark, quiet, and hopefully vacant train tunnel. The smooth, spaceship-esque aluminum body shell of the Audi R8 makes them appreciate how discreet something like 782 rivets, 382 self-tapping screws, and more than 300 feet of welding can be. The people at Xtreme Xperience love supercars, and they love matchmaking them to other car enthusiasts who live to cruise across the great, oil-stained arteries of the American interstate highway system.
1 Performance Dr.
Angleton
Texas
866-273-7727
Becoming a stock car racer requires commitment and hard work, but at MSR Houston, all you have to do to ride in a stock car is open its door. Alternatively, visitors can hop aboard 9 HP Honda go-karts, rounding the 0.7-mile karting track's 17 turns and zooming down its quarter-mile straightaway at top speeds of more than 45 mph. These drives follow a precedent set by professionals; the 383-acre center is a sanctioned test site for the Izod Indy Car Series, Firestone Indy Lights, and Formula 2000, among many others.
1 Performance Dr.
Angleton
Texas
The jungle would be a safer place if the chin-high grass, towering trees, and wild animals were painted on the walls and everything three-dimensional was inflatable. This dream of a danger-free nature preserve comes to life at Jump N Jungle. Voted the Best Kids' Party Place in the Bay Area Citizen Reader's Choice Awards, the jungle lets kids leap toward the rafters on inflatable jumpers, test the bounds of gravity on giant slides, and navigate an unending labyrinth of mazes and obstacle courses. Both locations play host to weekend birthday gatherings by supplying invitations, plates and plastic cutlery, as well as staff supervision in the party room and play areas. Additionally, its childcare services include an educational curriculum for toddlers and preschoolers, as well as before school and afterschool activities for older children.
20810 Gulf Fwy.
Webster
Texas
281-557-0700
Fourteen inflatable castles and games fill Club Just Jump with fun-fostering facilities that create a party palace for kids during open-play, bounce sessions, and private parties. Six predesigned party packages await giddy groups with snacks, decor, and activities such as face painting and spin art. Alternatively, an à la carte menu lets hosts curate their own celebrations by picking balloon bouquets, goody bags, and entertainment one at a time. Little hands keeping busy at the Furry Friends Factory stuff their own fuzzy creatures, choosing from 24 creatures that include unicorns, frogs, and industrial-concrete-supply reps. On Monday nights, parents can bring young antigravity aficionados to Family Fun Night, where guests play games, create crafts, and refuse to touch the ground made of invisible lava.
1701 Fairway Drive Suite 15
Alvin
Texas
US
281-585-5867
At each Jump!Zone locale nationwide, children aged 2–12 race through themed play areas, bounce on inflatables, and fly down giant slides. Boys and girls can become airborne in SpongeBob SquarePants and Atlantis-themed bouncers or slide near the vigilant figure of Batman, which, as in real life, is 16 feet tall and filled with air. 
Tots with aspirations to be firefighters slide into a bouncy fire truck, and hopeful time travelers acquaint themselves with their future by examining prehistory in the Jurassic Adventure. Pintsize play timers can dispatch their financial stresses in the Toddler Zone. While the kids play, their adult counterparts can relax in the café, use Jump!Zone's free WiFi and computer, and finally have time to recite the periodic table of elements in peace. Check the schedule for open-play hours.
1701 Fairway Dr., Suite 15
Alvin
Texas
US
281-585-5867
---