Santa Monica, CA Health and Fitness
---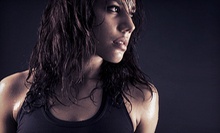 At a women-only gym, all levels of students strengthen muscles with yoga postures and combat stress with deep, relaxing stretches
Use Monday 4:30pm - 7:30pm
---
Recommended Health & Fitness by Groupon Customers
---
The musical trickle of a tranquil creek welcomes visitors to Acupuncture One Center. Crossing a sunlit bridge and entering a waiting room shaded by greenery, visitors anticipate the traditional Korean remedies of Dr. Kyung H. Lee. Armed with a PhD in oriental medicine, Dr. Lee aims to alleviate myriad ailments with therapies that make use of acupuncture, electrical stimulation, and herbal medicine. He and his fleet of experienced practitioners treat the symptoms, underlying causes, and sock-puppet representations of maladies such as bodily pain, weight gain, depression, and insomnia.
5655 Lindero Cyn Rd., Suite 506
Westlake Village
California
818-575-9096
Doctor of Chiropractic Joseph Kim complements his specialization in the upper-cervical methodology of chiropractic with acupuncture treatments, using a mixture of Eastern and Western techniques to treat chronic back pain and restore the body through a holistic approach. The staff of massage therapists also combines modalities to treat clients based on their individual needs, blending styles from myofascial release to hot-stone massage.
650 S Westlake Blvd., Suite 200
Thousand Oaks
California
805-777-8154
After receiving their degrees from the University of Southern Nevada, pharmacists Payam and Panthea Tizabgar worked in a variety of patient-care areas—including retail and neighborhood pharmacies and hospitals—before winding up at SMC Pharmacy. Their diverse professional backgrounds help them approach each customer and treatment with care and experience, and they take pride in helping patrons with prompt, knowledgeable service. In addition to stocking over-the-counter health and wellness products—from vitamins and allergy medication to bottled water from the Fountain of Youth—the pharmacists fill prescription orders sent from area doctors. They also work with patients and health-care providers in fields such as pain management, pediatrics, and podiatry to craft custom medications through the technique of compounding.
1908 Santa Monica Blvd., Suite 4
Santa Monica
California
310-315-9999
At Optimum Health Chiropractic, Doctor of Chiropractic Michelle Santoro and her team of staff members view health through a holistic lens. Most sessions with the doctor begin with a debriefing of health history and a neurological and orthopedic exam. From there, Dr. Santoro may treat pain with a chiropractic adjustment via the hands-on "cracking" technique or with a more technological method using infrared lasers or magic. In addition, resident acupuncturist Dr. Tong uses hair-thin needles to open energy channels and relieve a range of symptoms, incorporating cupping and massage as he goes. Clinic staffers also prescribe specific herbal supplements to help heal from the inside out, and will even walk patients through diet and nutrition specifics in pursuit of weight loss or overall wellness.
Aside from boosting wellness, Optimum Health Chiropractic also stimulates relaxation with six types of massage—from Swedish to hot stone—and detoxifying footbaths. They swaddle clients in slimming creams to tighten skin, and use chocolate-scented body scrubs to smooth dry patches and attract feral sundaes during ice-cream-hunting season. They even maintain a menu of traditional spa services, including waxing, chemical peels, microdermabrasion, and facials augmented by optional pumpkin peels.
19231 Victory Blvd.
Reseda
California
818-345-3900
Up Dog Yoga and Cycling founder Meaghan Kennedy Townsend believes that "each of us is powerful, if only you have the courage to feel it." She helps her students find that courage by keeping her fitness classes small, allowing instructors to individualize attention, and tailoring separate programs for beginner to advanced students. Meaghan also applies her knowledge of yoga disciplines including Vinyasa flow, Iyengar, and Hatha to develop a widely varied course curriculum.
The Up Dog facility also boasts a team of Johnny G Spinning–certified instructors that conducts its courses on Schwinn IC Pro stationary cycles, which are compatible with both SPD and Look pedals and guaranteed not to get cyclists roped into a newspaper route.
8599 Santa Monica Blvd.
West Hollywood
California
US
310-360-7200
With a mastery of a wide range of traditional therapies – acupuncture, herbal medicine, and moxibustion, among others – licensed acupuncturist Yoo Park takes a holistic approach to wellness. In her acupuncture clinic's private treatment rooms, Yoo helps her patients overcome a wide range of ailments, including stress, headaches, anxiety, and depression.
5655 Lindero Canyon Rd., Suite 506
Westlake Village
California
US
818-825-8267
---