Santa Monica, CA Indoor Activities
---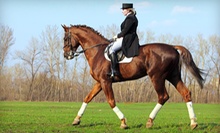 A decorated dressage instructor leads lessons for students of all ages and skill levels
---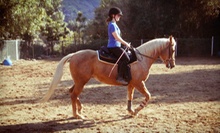 World-class instruction in both English or Western horseback riding provides a rewarding horse experience on a beautiful, stress-free ranch
---
Recommended Indoor Activities by Groupon Customers
---
Put on your psychedelic platforms or groovy leisure suits, and treat your ears to the original disco masters in an outdoor venue that looks as if it's a pulsating disco-tastic space ship. With today's Groupon, $18 gets you one ticket to see Disco Fever 3 on September 27 from 7 p.m. to 10 p.m. at the Hollywood Bowl ($35 value). The show features Kool & the Gang, Chic with Nile Rodgers, the Village People, and special guests Yvonne Elliman, Thelma Houston, and Maxine Nightingale. Rarely do such powerhouses of disco come together to get down and boogie in one venue, so you should go with your disco-lovin' hunnies and funky fans and get this Groupon.
2301 N Highland Ave.
Los Angeles
California
US
503-288-9237
Get a head start on All Hallow's Eve cosplay and horseplay with today's side deal: one VIP ticket to Halloween Eve Preview Night from 9 p.m. to 3 a.m. on October 30 at Marbella for $14 (a $25 value and a $3 will call fee included). Your VIP ticket gives you access to all four levels of Marbella, and given that dressing up and pretending to be something you're not is an American tradition dating back to the Spanish-American War, you can expect to enjoy killer costumes and top-quality people-watching long past the witching hour throughout the new venue.Is the "dracula" surrounded by sexy nurses? Monster Status: REAL. Only a real dracula is that charming.
6757 Hollywood Blvd
Los Angeles
California
US
Kinetic Theory helps aspiring clowns, acrobats, and plate spinners learn the dangling ropes of circus showmanship with its performance-training program. Led by veteran performers including Cirque du Soleil alums and professionally trained aerialists, the intro to circus arts course incorporates elements of aerial arts, acrobatics, physical training, and basic object skills such as clown-car repair to provide a well-rounded primer on big-top performance. Classes are kept small so students can focus on learning essential skills necessary for safe tumbling and performance, while also improving fitness with a dynamic workout. Kinetic Theory's spacious studio features sturdy safety mats beneath a variety of ropes, silk drapes, and trapezes that provide the playful nostalgia of a playground without the muckraking toddler politics. Introductory classes are held Tuesday and Thursday evenings and Sunday afternoons for adults, while youth sessions take place Thursday afternoons for children as young as 6 years old.
5950 W Jefferson Blvd.
Los Angeles
California
US
Pacific Park's attractions celebrate Santa Monica Pier's history with classic rides that run with modern technology. The Pacific Wheel uses solar energy to circle 130 feet into the air, where fist pounds from the man in the moon and scenic views of the coastline await. The energy-efficient attraction is 1 of 12 rides, which include classics, a roller coaster, and a four-story tower drop. Visitors can earn prizes at midway games, refuel at the food court, and get their adrenaline pumping on the rock wall or beach bounce.
380 Santa Monica Pier
Santa Monica
California
310-260-8744
Today's side deal offers an opportunity to experience soothing melodies without camping out in an elevator or doctor's waiting room. For $20, you get one orchestra-center ticket to one of two performances from the New West Symphony: East Meets West on Sunday, April 18, at 4 p.m. or Soiree Romantique on Sunday, May 16, at 4 p.m. (a $78 value for either show). Both performances take place in Barnum Hall at Santa Monica High School. Your Groupon is only valid for the performance date purchased from the links above.
600 Olympic Blvd.
Santa Monica
California
Bowlers gaze out at 24 synthetic lanes before picking up a pair of freshly sprayed bowling shoes, gripping a bowling ball, and letting it roll frame after frame. The sound of smattering pins and radio hits reverberate throughout Harley's Simi Bowl as bowlers prepare for rounds by typing alter-ego nicknames into the scoring console. During Atomic Bowl sessions offered Friday–Sunday, neon lights flash onto darkened alleys, illuminating multicolored bowling balls and neon-clad decor. Bowlers can take a break from their lanes to snack on American cuisine at the Simi Bowl Café, watch sporting events on one of four HDTV screens, or play classic games in the arcade.
480 E Los Angeles Ave.
Simi Valley
California
805-526-4212
---