Restaurants in Santa Monica
---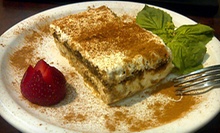 Cooks kick off mornings with pancakes with fresh strawberries, chopped spinach omelet & garlic, tomato, basil & cream-cheese scramble
Use Wednesday 7:00am - 12:00pm
---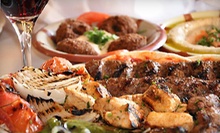 Lavish chandeliers hang from vaulted ceilings over diners who nosh on fine mediterranean mezzas.
Use Wednesday 5:00pm - 10:00pm
---
Recommended Restaurants by Groupon Customers
---
From its first location in West Hollywood to its free-range food truck, Rounds Premium Burgers doles out mighty American burgers made with beef, turkey, chicken, or veggie patties along with a large selection of fries. Specialty rounds include The Slopper, a messy pile of chili, cheese, and onions. Custom burgers start with a foundation of daily-baked bread and a patty, which are then slathered with exotic sauces (from chipotle aioli to buttermilk ranch and tabasco ketchup) and layered with toppings such as crispy onion strings, breaded jalapeños, and grilled pineapple. From the burgers to the sweet-potato fries, the griddlemasters make all of their hearty, old-fashioned fare by hand.
8871 Santa Monica Blvd.
West Hollywood
California
310-855-1004
Within a whitewashed façade with castle-like turrets, chefs at Le Petit Chateau craft rustic dishes reminiscent of French countryside fare. Traditional sauces such as béarnaise and velouté coat seafood and steak as diners start meals with hors d'oeuvres of foie gras and escargot. Whether couples savor a glass of hand-selected wine at the bar or share a chocolate soufflé for two in a booth, Le Petit Chateau's cultivates a romantic atmosphere without the need to vaporize a box of love letters.
4615 Lankershim Blvd.
North Hollywood
California
818-769-1812
Grilled or chilled, layered or wrapped, the chefs at The Original Sandbag's Gourmet Sandwiches uphold the age-old art of bread bundling as they craft a mélange of classic sandwiches alongside a complement of classic soups, sides, and desserts. Staffers load up the shop's fluffy rolls or toasty bread slices with spiced cuts of turkey, saucy meatballs, and veggies before pairing each creation with a homemade chocolate-chip cookie, imbuing senses with nostalgia for days at mom's house or late-night shindigs at Cookie Monster's mansion. Diners can take their bounty to go or linger at the restaurant, which features a lineup of indoor seating and a collection of patio tables soaking in the warm rays of the noonday sun.
1134 Westwood Blvd.
Los Angeles
California
310-208-1133
The bartender receives an order selected from the chalkboard menu and turns toward the sky-blue backsplash of the wood-framed bar, grabbing the desired vintage from a selection of international wines that includes New and Old World-style bottles from both hemispheres. Above the bar, angled mirrors reflect the crimson walls that give The Red Room Food and Wine Bar its name, revealing dark wood tables where diners clink glasses of robust and jammy reds that can stand up to entrees of seared lamb chops and braised short ribs. Bubbly fermentations from France and Napa Valley accent crisp arugula or kale salads, and delicate, airy whites from Oregon and Argentina pair perfectly with edible bubble wrap. In the kitchen, chefs forge Mediterranean and continental small plates to accompany the bacchanalian pours with cured meats, roasted vegetables, and herb-crusted flatbreads.
17499 Ventura Blvd.
Encino
California
818-386-0278
At L'Scorpion Tequila Bar, sommeliers pour nearly 200 varieties of tequila, including a premium collection of blancos, reposados, anejos, and mezcals. The vast, expertly curated selection earned it a spot on the Huffington Post's list of LA's Best Tequila Bars.
Fittingly, the focal point of L'Tequila is the bar, where dark stone arches frame row after row of tequila bottles illuminated by the nearby wrought-iron candelabras. Brick walls envelop plush leather booths, which serve as private enclaves for sipping margaritas or spelling out social-security numbers in limes. To complement libations, L'Scorpion also serves a menu of tapas and tacos.
6679 Hollywood Boulevard
Los Angeles
California
323-206-6793
Oceana Bistro Cafe's floor-to-ceiling windows and outdoor patios unveil sweeping vistas of the Pacific Ocean. Located just down the street form the neighborhood eatery, the sea provides more than just idyllic scenery—it yields fresh scallops, shrimp, and crab for gastro-pub-inspired fare. Chefs tailor their cooking style to suit the time of day. At lunchtime, they layer casual, deli-style sandwiches with Boar's Head meats, leaf lettuces, and seasoned mayo. At dinner, they take a more gourmet approach, grilling fine meats (among them, filet mignon and ahi tuna) until they achieve a supple texture and jail stripes. Chefs pair the dishes with locally produced wines and craft brews.
2201 Highland Ave.
Manhattan Beach
California
US
310-546-2767
---