Restaurants in Santa Monica
---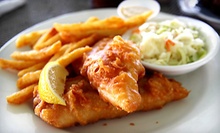 Signature Smithwick's beer batter sheathes tender white cod, which sails onto salvers accompanied by homemade chips & Remoulade sauce
Use Today 11:30am - 2:30pm
---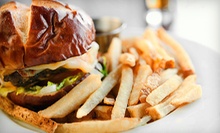 Pancakes studded with fruit, multigrains, or chocolate chips, and sandwiches piled with housemade chicken salad or fried ham
Use Today 3:30pm - 9:00pm
---
Recommended Restaurants by Groupon Customers
---
At Char Fasl, chefs camouflage their light, healthy Persian fare behind flavorful veggies instead of heavy oils and sauces. They accommodate all diets with menu items that vacillate between vegetarian and meat-centric. Cooks skewer juicy chunks of meat for boneless-chicken kebabs, a favorite among customers and T. rexes recently off juice cleanses, and grill them with matching skewers of tomatoes. The Four Seasons dish replaces poultry with beans and rice crowned with eggplant and hummus nestled beside a spear of sizzling veggies.
This wide variety of cuisine is served in the restaurant's European atmosphere, which emulates the dishes' international origins, tinted with warm colors that flare to life in front of huge windows. Outside, diners feast and shadows hide from their owners beneath the shade of a tree. Another of the eatery's most enticing aspects unfolds on Fridays and Saturdays, when live music influences the movements of a belly dancer.
5843 Kanan Rd.
Agoura Hills
California
The Hummus Bar & Grill channels the flavors and spirit of Tel Aviv with authentic offerings of steaming, hot pitas and succulent grill-kissed skewers served in a relaxed, easygoing atmosphere. Diners can request a side of hot pita baked on location to scoop up israeli salad, which, like a lion tamer's living will, is made fresh every day. High-quality meats, including gourmet offerings such as chicken schnitzel and foie gras, are lovingly speared onto grilled skewers, and vegetarians can enjoy fire-kissed portobello mushrooms. A robust kosher menu includes homestyle dishes such as chicken-thigh steak and a special of the day. Guests can top off their meals with a turkish coffee and watch as the sun goes down and the dining room quickly fills with carefree ambiance as fellow diners clink glasses of Italian or Israeli wines against beers imported from Belgium, Holland, and England.
18743 Ventura Blvd.
Tarzana
California
US
818-344-6606
The menu at Johny's Kitchen straddles the border between Mexican and Mediterranean fare. Yet the chefs stitch together the distinct cuisines with common components, including fresh beef and chicken packed into kebab plates or fajitas and burritos. Chickpeas suit up and take a dip in the deep fryer while transforming into the falafel dish, and are paired with hummus or baba ghanouj and pilaf or fries. In addition to international fare, Johny's Kitchen slings grilled and deli sandwiches, breakfast bites, and napkin airplanes between sunny yellow walls and TVs.
12940 Foothill Blvd., Suite A
San Fernando
California
818-898-9888
Luna Park offers an eclectic menu of French and Italian eats accented by notes of American and Asian cuisine. From within the warm, jewel-toned eatery, satisfying, house-cooked meals of rigatoni with spicy lamb ragu and pizzas topped with wild mushroom and brie arrive to tables artfully plated. Ample seating at the bar invites perusal of the drink menu, which overflows with local and international wines, frosty beers, and chandelier-swirled signature cocktails.
672 S La Brea Ave.
Los Angeles
California
With overhead chandeliers dripping with crystals, plush booths wrapped around candlelit tables, and hand-painted walls, it's hard not to get distracted inside of Beso. Luckily, there's a totem for those caught adrift in the atmosphere—an open kitchen that a reviewer from USA Today could only describe as "dramatic." Executive Chef Angel Estrada oversees his exposed workspace as he and his staff fire sustainably farmed Black Angus Natural beef and stoke a wood-burning oven to heat fresh seafood. They fold these ingredients into a menu of dishes that, like Shakespeare's famous Spanglish sonnets, flicker with Latin influence: shrimp in garlic sauce, skirt steak served with tortilla fattoush, and Australian lamb rack served with fingerling potatoes and a rosemary-pepita spread. The drink menu mimics its food-filled cousin's international flair, flush with Brazilian caipirinhas, margaritas, and sangria.
6350 Hollywood Blvd.
Los Angeles
California
US
323-467-7991
Buffalo Wings & Pizza churns out a spread of wings, pizzas, and burgers lovingly designed to fill every hunger-shaped hole in your stomach. The eatery's menu boasts tender chicken wings in flavors that range from mildly spicy to suicide, and more than 20 toppings and 11 sauces weigh down its 9- to 20-inch pizzas to keep them from blowing away. Five beers such as Fat Tire, Pacifico, and Blue Moon splash into glasses straight from the keg, and a full bar supplies patrons with cheer-inducing libations during games displayed on Buffalo Wings' projector.
5571 Sepulveda Blvd.
Culver City
California
US
310-391-7801
---