Things to Do in Santa Monica
---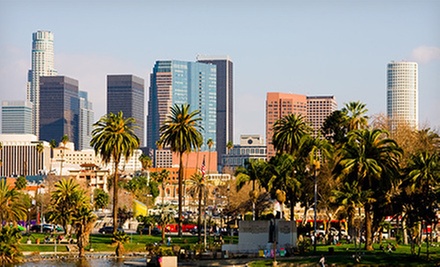 ---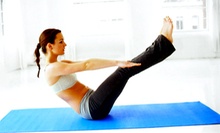 One-on-one session tailored from gentler disciplines such as meditation or intro to yoga to endurance-challenging Kundalini or Vinyasa flow
Use Today 11:30am - 2:30pm
---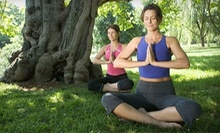 Use Tuesday 6:30am - 9:30am
---
Recommended Things to Do by Groupon Customers
---
Stretched across 120 acres, Camp Summertime beckons youngsters to its picturesque grounds that boast three swimming pools, two ponds, and one towering rock wall. As campers delve into activities that range from horseback riding to zip lining, they also build friendships and boost their self-esteem in a noncompetitive environment first cultivated in 1965 by the Lefitz family. This atmosphere continues to thrive as campers bond with one another and their personable counselors over playing carnival games, attending dance parties, and building giant sand castles to live in together.
327 S Latigo Canyon Rd.
Malibu
California
818-706-7335
Surrounded by walls tacked with sunny works of art, rows of easels prop up paintings in progress, their evolving canvases commanding the attention of aspiring artists. This scene plays out every day at Paint Lab, a creative haven where talented instructors ignite pupils' imaginations with positive encouragement. The studio's classes teach the technical elements of acrylic, watercolor, or oil painting while students craft their own rendition of a classic work, capture the human form in figure-drawing sessions, or turn their pen toward anime and cartoons. Adults pique their artistic sensibilities with liquid inspiration during classes that provide refreshments and cheese, and younger Picassos can pay homage to their favorite lunchbox by painting it in battle dress during after-school or weekend children's workshops.
2912 Main Street
Santa Monica
California
Today's side deal offers an opportunity to experience soothing melodies without camping out in an elevator or doctor's waiting room. For $20, you get one orchestra-center ticket to one of two performances from the New West Symphony: East Meets West on Sunday, April 18, at 4 p.m. or Soiree Romantique on Sunday, May 16, at 4 p.m. (a $78 value for either show). Both performances take place in Barnum Hall at Santa Monica High School. Your Groupon is only valid for the performance date purchased from the links above.
600 Olympic Blvd.
Santa Monica
California
Each week, the 32 lanes at Pinz sparkle beneath the strobe lights and disco balls of Shake, Rattle & Bowl. When they're not glowing or being incubated by confused chickens, the bowling balls can be hurled by visitors and league bowlers alike, rolling swiftly past the 10-foot video screens that line the alley's far wall. Behind the scoring table, in the VIP billiard room, plasma TVs help to ensure that guests can play pool without missing critical sports moments or any commercials starring famous cats. And in the on-site arcade, players can enjoy more than 40 games including air hockey, skee-ball, and video bowling.
12655 Ventura Blvd.
Studio City
California
818-769-7600
The Acting Corps, a school endorsed by Oscar winner Sydney Pollack as well as Rainn Wilson of The Office, takes a modern approach to acting instruction. In classes with an average of 16 students, creativity flows unimpeded and students overhear the whispered names of Hollywood's best agents quite clearly. Actors with MFA degrees lead programs that help acting students find an authentic style, and also pilot advanced classes with mock auditions that challenge experienced actors. Four- or six-week acting boot camps incorporate aspects of the Meisner technique and the Michael Chekhov technique. In classes engineered for international acting students, teachers elucidate methods for developing a convincing American accent or faking a convincing cheeseburger craving.
5508 Cahuenga Blvd.
North Hollywood
California
818-753-2800
Like many of her fellow dance teachers at Gotta Dance Studio, owner Cindy Gebelein first donned ballet flats at age 6. Throughout a lifetime of performing and 35 years of teaching, she's worn through copious dance shoes while sharing her passion with others. She opened Gotta Dance Studio in 1995 to further pass on her love for performance, arming younger generations with the technical skills to develop into true artists.
The instructors elucidate a variety of dance styles, from perennial favorites such as ballet, jazz, and tap to modern styles such as hip-hop and contemporary. For students truly taken with the stage, a musicaltheater and performing arts program builds upon the physical conditioning and movement training of dance with voice- lessons and resume-building performances. Three dance troupes, each with their own particular focus, partake in demonstrations and competitions at both the local and national level. Thanks to their travels, these squads have come home with multiple awards and at least a dozen stray tap-dancing cats.
18167 Chatsworth St.
Granada Hills
California
818-363-6106
---