Beer, Wine & Spirits in Santa Rosa
---
Recommended Beer, Wine & Spirits by Groupon Customers
---
Located in Napa Valley, Honig Vineyard & Winery produces flavorsome sauvignon blancs and cabernet sauvignons that can be found on restaurant wine lists across the country. Visitors to the winery's fancy tasting room have the chance to sample five of Honig's delicious wines. Sommeliers and thirsty Langoliers can sniff, taste, and carefully dissect the potable properties of the Rutherford sauvignon blanc, a 2008 vintage that starts fruity and ends with a crisp, minerally finish, as well as the 2006 Honig cabernet sauvignon, which features blackberry, cherry, and plum flavors developed over 18 months in an American oak barrel, just like old-timey cowboy hobos. The remaining three samples include the 2008 Honig Late Harvest sauvignon blanc—a refreshing dessert wine aged in new French oak barrels with lemony and grapefruity hints—Honig's single vineyard cab, and a library selection.
850 Rutherford Rd.
Rutherford
California
800-929-2217 x318
Stationed along the Sonoma Coast, Gourmet au Bay pairs small-batch, award-winning wines with breezy waterfront views from its bayside deck. The business keeps its wine collection stocked with premium products thanks to a set of strict criteria—every bottle boasts a gold medal, fewer than 1,000 cases of its kind in production, a flawless criminal record, or a score of 90 points or better. Every day, visitors may stop in for glasses of wine, as well as bottled beer and cheese-and-crackers platters. Gourmet au Bay also specializes in what it calls wine surfing, which presents three wines selected from the daily menu atop a specially designed surfboard.
913 Coast Hwy. 1
Bodega Bay
California
Rutherford Ranch Winery's team of vintners transforms grapes into wines that showcase the abilities of California's terroir. As a testament to their efforts and three generations of family ownership, the winery garnered the 2012 Family-Owned Winery of the Year award at the New York International Wine Competition. Several of their varietals were winners as well, including the cabernet sauvignon, a blend that bewilders palates with notes of french vanilla, blackberry, and cocoa powder.
Tastings take place in Rutherford Ranch's Cabernet Room, where guests sink into overstuffed sofas to sip wine in comfort before striking out to explore the property. When weather permits, tasters can tour the winery's vineyard, gaze up through the branches of century-old olive trees, or view a live cork tree tasked with keeping fresh the millions of gallons of wine just beneath the earth's crust. Guests who look closely enough may spot owl boxes, indigenous plants, and photovoltaic cells used to keep the winery sustainable and ensure that wine is produced with respect for the land and the environment.
1680 Silverado Trl. S
St. Helena
California
707-968-3200
Situated in the Railroad Square Historic District, Cellars of Sonoma's quaint storefront gives way to a warm, lofted interior where wines from nine boutique vintners flow. Single tastings or themed flights offer flavorful introductions to a selection of more than 60 bottles. As visitors sidle up to the carved wooden bar, they can sip crisp Pinot Noir with hints of cherry, or try a bright, clear Sauvignon Blanc with aromas of lime, banana, and honeysuckle.
133 4th St.
Santa Rosa
California
707-578-1826
---
---
Beer, Wine & Spirits Deals - Recently Expired
---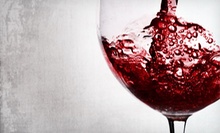 In a brand-new tasting room, guests leisurely sample a selection of wines, learn about the winery, and take home a bottle of wine each
---
---