Santa Rosa Health and Fitness
---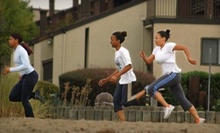 45- to 60-minute workout for all levels fuses calisthenics, stair drills, and wind sprints with body-weight resistance and weight training
Use Today 6:00am - 9:00am
---
Recommended Health & Fitness by Groupon Customers
---
Carefully crafted by renowned course architect Robert Trent Jones, Jr., The Links at Bodega Harbor's 6,290-yard course brings the coastal majesty of Scotland's famous links to the seaside hills of Northern California. Stunning elevation changes test golfers' ability to adjust their yardages for up- and down-hill targets, while hillcrests offer picturesque views of the Pacific Ocean and dolphins using echolocation to chip in golf balls from tough lies in the ocean. Knee-high native grasses and cavernous pot bunkers threaten to ensnare errant shots, and fast, multi-tiered, bent-grass greens make golfers earn every two-putt. The 461-yard par-four 18th is rated the second-hardest hole on the course, ending the round with a dramatic flourish as golfers must launch their approach shot over a brambly ravine to reach a heavily-bunkered green stationed just steps from the sandy beachfront.
Those looking to enjoy bayside views without having to keep track of autonomous golf balls can retreat to The Bluewater Bistro & Bar. Glasses of Sonoma County wine let guests toast to the career of a sandwedge that decided to retire in the ocean as they lounge on couches next to a stone fireplace. The elegant diner serves breakfast, lunch, and dinner menus anchored by fresh fish and locally-sourced ingredients.
Course at a Glance:
18-hole, par 70 course designed by Robert Trent Jones, Jr.

Length of 6,290 yards from the farthest tees

Course rating of 71.5 from the farthest tees

Slope rating of 129 from the farthest tees

Four tee options

Scorecard
21301 Heron Dr.
Bodega Bay
California
There isn't just one way to skate around the rink at Cal Skate. In the morning, kids unsure on their wheels can learn as their parents walk by their side, the midday open skate welcomes folks of all ages, and couples and adults can spark romance or freestyle under the glowing lights during the evening. The center is also home to the Resurrection Roller Girls, who dare both adults and youths to tap into their inner warriors at age-appropriate derby-training sessions. For birthday parties, the staff can set up a party room for you and your guests, complete with snacks and free gifts, and the DJ will play your birthday song request—as long as it's not "The Song that Never Ends."
6100 Commerce Blvd.
Rohnert Park
California
Although nearly four decades of experience has given Yoga Studio Ganesha owner Devorah Blum the ability to demonstrate amazing feats of flexibility, she doesn't expect that of her students. That's why she and her team of nearly a dozen instructors lead an array of classes, catering to both beginner and advanced skill levels. Novice students gain breathing and stretching fundamentals, while advanced practitioners can continue their discipline or learn new styles of yoga. Beginners and advanced yogis alike practice multiple types of yoga such as Iyengar, Ashtanga, or mom and baby yoga.
138 Weeks Way
Sebastopol
California
Dr. Michael Ridgeway, a licensed chiropractor and nutritionist, slenderizes bodies using Nouveau-Lipo technology. During 30-minute treatments, low-frequency ultrasonic energy is used to help break down cellulite and fat cells, causing them to release their contents into the body where they can be flushed away by the lymphatic system or burned for energy. Multiple sessions may be needed for an optimal outcome.
777 Farmers Ln.
Santa Rosa
California
707-544-2400
As they enter the training circuit at Curves, female guests come face-to-face with the smiles of other women. And just as points on a circle share a common distance from the circle's center, workout participants share the experiences of those nearby by trading stations throughout the 30-minute training session. One minute is spent on a piece of strength-training equipment built for feminine frames and designed to work two opposing muscle groups with a single movement. Exercisers then move on to a recovery station, where they run, jog, or dance to maintain heart rates and keep platforms in place during momentary losses of gravity.
6572 Oakmont Dr., Ste. B ,
Santa Rosa
California
US
707-537-3030
"Through the experience of watching yoga heal me, I know that it has the capacity to heal the masses," yogi Eddie Modestini of Westside Yoga Studio says. Modestini and his wife, Nicki Doane, believe in the healing power of yoga so firmly that they not only opened their own studio, but also created their own form of yoga—Maya—a beginning modality that focuses on accurate alignment and self-discovery.
The studio's instructors—several of whom have traveled to India to learn yoga, meditation, and how to make a mean curry—teach Maya yoga in addition to five other styles, from gentle Restorative to vigorous Vinyasa. During these classes, heated floors warm up toes, fingers, and overachieving noses as they stretch to the floor or to mats and blocks available from the studio store. A packed schedule offers up to eight classes, including early morning and evening sessions.
7385 Healdsburg Ave., Suite 102
Sebastopol
California
---