Santa Rosa Health and Fitness
---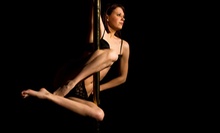 Sensual dance choreography sculpts lithe, strong muscles while cultivating confidence
Use Wednesday 5:00pm - 8:30pm
---
Recommended Health & Fitness by Groupon Customers
---
Dr. Michael Ridgeway, a licensed chiropractor and nutritionist, slenderizes bodies using Nouveau-Lipo technology. During 30-minute treatments, low-frequency ultrasonic energy is used to help break down cellulite and fat cells, causing them to release their contents into the body where they can be flushed away by the lymphatic system or burned for energy. Multiple sessions may be needed for an optimal outcome.
777 Farmers Ln.
Santa Rosa
California
707-544-2400
Curves provides you with a complete cardio and strength training workout in just 30 minutes. With a system that can burn up to 500 calories and work every major muscle group, you get an efficient and effective workout every visit. It's no wonder over 4 million women have chosen Curves to meet their health goals.
6572 Oakmont Dr., Ste. B ,
Santa Rosa
California
US
707-537-3030
As they enter the training circuit at Curves, female guests come face-to-face with the smiles of other women. And just as points on a circle share a common distance from the circle's center, workout participants share the experiences of those nearby by trading stations throughout the 30-minute training session. One minute is spent on a piece of strength-training equipment built for feminine frames and designed to work two opposing muscle groups with a single movement. Exercisers then move on to a recovery station, where they run, jog, or dance to maintain heart rates and keep platforms in place during momentary losses of gravity.
6572 Oakmont Dr., Ste. B ,
Santa Rosa
California
US
707-537-3030
Members at Curves, a fitness center designed exclusively for women, rotate around a circuit of hydraulic resistance machines that have been designed to work with female bodies and promote weight loss, protect against osteoporosis, and deal with arthritis. An experienced trainer is always nearby to help manage participants' machine maneuvering and muscle making. Instead of fiddling with weight stacks and losing momentum, the hydraulic machines use your own body weight, fitness level, and aerodynamic water bottle to create resistance that matches abilities, decreasing the risk of soreness or injury. Because traditional lift-and-lower motions create bulky muscles, each machine uses push-and-pull motions to create toned, lean muscles perfect for crushing a grapefruit without looking like you can.
6572 Oakmont Dr., Ste. B ,
Santa Rosa
California
US
707-537-3030
Washoe Creek Golf Course challenges golfers of all stripes with two distinct, scaled-down, nine-hole courses sculpted into the hillsides of southwest Cotati. Cleaved through brambly native grasses and cattail-lined waterways, the emerald links challenge clubbers with topsy-turvy fairways and smug flagsticks that were formerly Olympic javelins. Clubbers hoping to mold their short game or net their first hole-in-one can rip divots at the nine-hole, par 3 course, and those looking for a more multifaceted golf experience can loop the longer links of the executive course, which earned its name due to the naturally sprouting cubicles that line its fairways.
1475 W Sierra Ave.
Cotati
California
707-792-7700
---