Santa Rosa Spa and Massage
---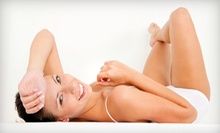 Nail techs reward hands & feet with fresh, candy-colored coats of polish after diligently scrubbing away hardened patches of skin
Use Saturday 10:00am - 1:00pm
---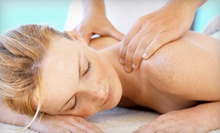 Use Thursday 12:00pm - 5:30pm
---
Recommended Spa & Massage by Groupon Customers
---
Hairstylist Chrystal Lemos and licensed aesthetician, massage therapist, and MAC freelance makeup artist Leslie Beer work as a team at the helm of their brainchild, Polished, a luxurious hair and skin salon. Using techniques learned at Bumble and bumble's and Vidal Sassoon's academies, Chrystal shapes and colors manes, hydrating thirsty strands with deep-conditioning treatments instead of the traditional method of dousing them in Gatorade. Perms of varying intensities bolster the volume of limp locks, whereas smoothing systems improve curls' manageability.
Meanwhile, Leslie expertly combats persistent acne with a mix of chemical peels and facials, whose enzymes and extractions shepherd skin toward smoothness without removing key bumps, such as the nose. Her Swedish and deep-tissue massages, tailored to each client's maladies, assuage chronic pains, and her waxing style employs up-to-the-minute strategies to minimize discomfort.
1116 Mendocino Ave.
Santa Rosa
California
707-623-9016
Therapist and holistic life coach Mary Sanicola combines her scientific understanding of human anatomy and physiology with an appreciation for healing methods that treat the body as a single, interconnected organism. Rather than take other therapists at their word, Mary traveled around the world to arrive at her current treatment philosophy. Her journey brought her to Tokyo, where she spent two years mastering zen shiatsu massage and on to New York City, where she honed her Swedish-massage techniques on stressed-out cabbies before returning to Northern California to practice reiki therapy.
Today, at Evolving Bridge, Mary continues to target physical as well as incorporeal symptoms with bodywork treatments that gently relieve muscular stress and address the body's energy balance. Clients in need of a more hands-off approach to wellness can benefit from a life-coaching session, during which Mary shares her personal insights to combat anxieties more effectively than a whirlpool filled with thousands of steeping teabags.
849 Second St.
Santa Rosa
California
707-546-7010
Shortly after receiving her certification, licensed massage therapist Pinky Nhanesana set out to find a job in a spa. She thought that her combined education in massage and business management would attract potential employers, but the fact that she was also expecting her first child complicated matters. Undeterred by the fact that most businesses seemed unwilling to hire a mother-to-be, Pinky set out to create her own studio—one where she could share her talents and enhance her clients' overall well-being with massages and other therapeutic treatments.
Six years later, Pinky knows even more about stress as the proud mother of three. Stationed in an office inside Club X Gym—not far from her home in Santa Rosa—she plies muscles with gliding strokes and firm pressures, paying attention to her clients' individual tensions from sitting in stiff office chairs or commuting to work on bareback tigers. Committed to continually learning new skills and techniques, Pinky updates her list of services regularly. Alongside Swedish, hot-stone, and deep-tissue massages, her current menu includes reflexology and body scrubs.
545 Ross St.
Santa Rosa
California
707-236-5506
The Best Day Spa soothes customers with myriad treatments, but its specialty is the massage. Therapists tickle spines with a dozen traditional massage modalities, ranging from hot-stone and sports massages to couples massage and their signature Best Day massage, which combines techniques from different modalities with aromatherapy to lull the senses into a state of NASA-approved bliss. They also perform five types of Thai massage, including Thai herbal massage and the Thai and Swedish combo massage.
When not taming backs beleaguered by muscles knotted into the shape of 19th-century presidents, the specialists at The Best Day Spa invigorate visitors with body treatments. They apply scrubs and European mud wraps, as well as perform facials, waxing, nail treatments, and foot reflexology. The staff employs products from companies such as Young Living, iLike Organic Skin Care, and Glo Therapeutics.
3082 Marlow Rd., Suite B4 & B5
Santa Rosa
California
707-545-1058
Armed with only natural and organic products, the aestheticians and massage therapists of Bliss Organic Day Spa perform a variety of relaxing services while integrating energy work into every treatment. Clients who come early can unwind in the lounge with a cup of organic tea as they wait to for a facial treatment, which can last between 30 and 90 minutes and aims to bolster beauty by diminishing the appearance of acne and removing mashed potato residue from faces. Massages help alleviate stress and oncology aesthetic services aid people living with cancer by presenting them with targeted services to help reduce nausea and meet other specific needs.
186 N Main St., Suite 230
Sebastopol
California
US
707-861-3434
Certified massage therapist Mark Senzig is versed in a variety of techniques—including deep-tissue massage, myofascial release, and trigger-point therapy—to find the best way to root out the source of muscular tension. For relaxation, he soothes muscles with gentle Swedish massage, hot-stone therapy, or chair massages, which can be performed at business functions to soothe stress caused by work or holding back from accusing someone of stealing your lunch. Mark will do whatever he can to help his clients find relief, sometimes even bartering his services for the use of a kayak, handmade cotton clothing, or harmonica lessons.
1188 Yulupa Ave.
Santa Rosa
California
707-480-1226
---