Beauty & Spas in Sapulpa
---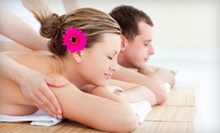 Couples relax while therapists untie knots and boost circulation with the gentle kneads of Swedish massage
---
Recommended Beauty & Spas by Groupon Customers
---
Inside the bright, spacious salon, black leather chairs with bubbling foot basins line the walls facing a flat-screen TV while nail technicians pamper hands and feet with more than 15 different types of manicures and pedicures. In addition to nail services, licensed aestheticians perform organic and microdermabrasion facials with Pangea Organics skincare products that are free of synthetic fragrances and fillers, as well as waxing services and eyelash extensions. Massage therapists inject relaxation with custom kneads and an arsenal of aromatherapy scents, and private spa-party packages combine treatments with complimentary margaritas for birthdays, bachelorette parties, and secret Supreme Court justice outings.
10032 S Sheridan Rd., Suite K
Tulsa
Oklahoma
918-296-0433
"I gained 60 pounds when I had my son," Ashley, Parakletos Wellness's co-owner, says—but there's triumph in her voice. She credits body wraps for helping to shed those pounds, and now performs these services for others. Ashley, a licensed massage therapist and aesthetician, and her husband and personal trainer Stephen operate Parakletos, whose name translates fittingly to "called to help."
The couple is happy in the facility, with its sand-hued walls and pulsing ocean soundtrack. Having only a single treatment room allows them to help clients one at a time. "If someone comes in with acne or rosacea, we don't want you to have to interact. We want you to be able to leave insecurities at door." In addition to an oxygen cucumber facial, Parakletos can slacken shoulders with river stones during private massage sessions, but, due to her personal experiences, it's weight-loss wraps that Ashley holds in the highest regard.
"Folks come in and we ask a lot of questions. How much water do you drink? How much do you workout? It's not about vanity for us, it's about the lifestyle change." The body wraps, which are designed to help motivate and shed weight, are composed of 12 different herbal ingredients. All of the products and supplements employed by Parakletos are forged from herbs and flora, much like Robinson Crusoe's Gameboy. Even when she is far from the studio's brimming shelves, Ashley says that she tries to let her passion for what she does thrive. "I give one pro-bono massage a week. If I'm at church and someone mentions a pulled hamstring, I'll pass them a note. I like to be a blessing for anyone I can."
8906 E Skelly Dr.
Tulsa
Oklahoma
918-849-5921
Feeling a lack of quality massage clinics in Tulsa, Yolanda Henderson decided it was time to take things into her own hands. So she gathered a troupe of massage therapists and rented the space that became Ar Rokam Massage & Spa. Inside this studio, Yolanda and her team exhibit their mastery of therapies ranging from Swedish and chair massages to reflexology and reiki. They also swaddle tired bodies in aromatherapy wraps packed with skin-softening essential oils and turn on the romance with spa packages complete with chocolate-covered strawberries, wine, and Cupid-shaped massage strokes.
3139 S Yale Ave.
Tulsa
Oklahoma
918-978-4088
Nimble fingers work their way down the body in long, flowing strokes as hot stones transmit heat deep into muscles and the botanical fragrances of aromatherapy oils fill the air. It's not hard to figure out why Shara's Day Spa has thrived even with a modest menu of services: the spa's cornerstone is its stress-melting Swedish massage. Aside from the complimentary add-ons of hot stones and aromatherapy, clients can opt for a body scrub and polish or team up with their spouse, close friend, or stunt double for a relaxing couples massage. For head-to-toe rejuvenation, tack on an express facial to your massage; the exfoliating treatment rejuvenates your complexion while the therapist works to uncoil tense muscles along the shoulders, back, and legs.:m]]
6130 E 32nd St., Suite 102
Tulsa
Oklahoma
918-704-5467
Stylist Delaney Sinclair invites customers to Salon Bliss, where she tends to heads of hair with salon services. She deftly snips and styles new, eye-catching 'dos, complete with blow-dry services. She also augments heads with bursts of color via partial highlights, full highlights, or full color treatments.
8228 E 61st St. , Suite 121
Tulsa
Oklahoma
918-237-1779
After a five-year apprenticeship to an international award-winning tattoo artist, Lollie set off on her own to decorate bodies at Precision Body Art. Here, Lollie adds to her portfolio with self-described "girly tattoos" and scrolling lettering—some of her specialties. The former apprentice is now an educator herself, teaching tattoo seekers what to look for in a studio, what kinds of questions to ask tattoo artists, and how to conceal old "mom" tattoos from their new moms.
8268 E 71st St E
Tulsa
Oklahoma
US
918-902-2434
---