Restaurants in Sapulpa
---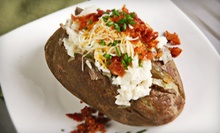 Chefs shower buttery baked potatoes with chopped beef or pulled pork and top freshly made cobbler with vanilla ice cream
---
Recommended Restaurants by Groupon Customers
---
Led by executive chef Erik Reynolds, who was voted Best Chef in 2011 by Urban Tulsa Weekly readers, Smoke on Cherry Street's experienced chefs take locally sourced ingredients and transform them into culinary works of art. An ever-evolving menu showcases the creativity chefs unleash on ingredients heckled for at local farmers' market, which often results in refined takes on American classics such as crispy quail legs and crab-stuffed fried green tomatoes. While munching on the contemporary fare, diners can visually gorge on local artwork and the flat-screen TVs that line the exposed brick walls of the dining room. Within that dining room, incandescent light illuminates traditional table settings, spinach stuck in strangers' teeth, and lounge-style seating.
While its cuisine occupies a rightful place in the spotlight, Smoke.'s beating heart is its rugged cigar room, where smokers can puff away on cigars purchased onsite or brought from home. Wood-paneled walls and leather furniture surround a humidor filled with cigars from international brands including Cohiba and Romeo y Julieta. The room also comes equipped with a ventilation system that replenishes smoky air with the same fresh oxygen mixture Jennifer Lopez breathes eight times every hour.
1542 E 15th St.
Tulsa
Oklahoma
918-949-4440
Aila and Johnny Wimpy serve up portions of contemporary western classics with innovative pairings in their rustic restaurant and saloon. Joseph Hamilton of Urban Tulsa Weekly said that the couple, "[has] taken what are in many cases old standards, and brought the presentations into the 21st century with... a culinary style they like to call 'upscale chuck wagon.'" This masterful mingling of old and new shines through in menu items such as the pan-seared scallops with cheese grits in green-chili broth, local ranch buffalo meatloaf from Nowata Ranch, and cowboy pork chops roping flavorful apple butter. From the gravy to the ketchup, the chefs at Go West make all their sauces from scratch, and champion local sources including Oklahoma Cattlemen's Association beef and Oklahoma-brewed beers served by the pint or ten-gallon hat.
An atmosphere of countrified class prevails throughout the bar and grill, from the heavy, carved chef's table to the trophy longhorn looming over the saloon. Outside, the patio can be spotted protruding from the ranch house, flanked by silos emblazoned with neon lassos to ensure it stays put. Ranch-flavored art adorns the walls throughout the interior, from the rustic main dining room to the Will Rogers room, which can be sealed off for a private party of up to 45.
6205 New Sapulpa Rd.
Tulsa
Oklahoma
Families share everything—genes, homes, and even recipes. The owners of Santa Fe Cattle Co are no exception. In fact, most of the eatery's dishes flow from old family recipes that demand steaks are aged and cut in-house, rolls are baked fresh each day, and signature sauces are mixed onsite. These touches transform the menu's casual southwestern and regional eats into dishes worthy of John Wayne's personal dressing-room buffet. Steaks, fajitas, and even shrimp and catfish complement housemade sides of mashed potatoes or Santa Fe taters, served alongside a complimentary bucket of peanuts, which guests shuck directly onto the floor. The peanut shells add character to each one of the restaurant's 20 locations, which evoke old-west saloons with touches such as brick walls draped in horse saddles and weathered wooden floors.
12131 S Vancouver Ave.
Glenpool
Oklahoma
USA
At the Pita Place, you might sit down to the same meal that the Iranian royal family once enjoyed. That's thanks to owner Fred's father, who passed down to his son the skills he acquired as a chef for the Iranian rulers. Now, Fred upholds family traditions with a menu of classic Middle Eastern and Mediterranean fare that has been lauded by Urban Tulsa and Tasty Tulsa. Chefs shave off hunks of slow-roasted gyro meat, and enfold falafel patties in warm pita bread. For dessert, they dish out a colder food—Persian ice cream, a blend of vanilla ice cream, pistachio, saffron, rose water, and sweet nothings borrowed from a local poet.
8315 E 111th St., Suite A
Bixby
Oklahoma
918-394-9383
Any home griller knows you don't have to be a beef expert to make a tasty burger, but it helps if you're trying to make a burger that stands out from the competition Back Yard Burgers' beef experts are there for exactly that reason, working closely with the staff to help them understand the best cuts of beef, how to form patties to retain their juices, and how to grill them to sizzling perfection. With so much work put into their creation, the chefs would never think of warming their signature Black Angus burgers under a heat lamp, and so they cook them to order on an actual grill. As a result, each burger evokes memories of a real backyard barbecue, but without all the kids spraying guests with hoses.
A full menu of toppings complements the Angus beef's juicy flavors, offering a range of textures and tastes in the form of bacon and mushrooms, Creole mayonnaise, or hot pepper jack cheese and coleslaw. And though the chefs pride themselves on their burgers, they do make room on their grills to char-grill turkey burgers and blacken chicken patties for signature sandwiches such as the hawaiian chicken and turkey club. The fresh grilled food pairs well with sides such as root beer floats, sweet potato fries, and loaded baked potatoes, as well as fresh-baked cobblers with fruit fillings that change from day-to-day.
8942 S Memorial Dr.
Tulsa
Oklahoma
Johney Harden first offered a taste of his old-fashioned hamburgers and meaty homemade chili in 1939 with a burger joint called Johney's Jip Joint. Although the Jip Joint has changed names, and even changed hands in 1988, Harden's Hamburgers still serves up their original burgers to a loyal fan base. Their small but meaty menu continues to conquer hunger with Johney's original chili recipe, and remains true to such time-honored classics as root-beer floats and thick shakes that help wash down hearty hamburger steaks and pintsize kids' meals. Harden's also offers catering services, serving up hot, mobile meals of hickory-smoked barbecue fare and fried chicken. They will even cook their original burgers on-site with all the fixings on the fiery breath of Johney's pet dragon.
432 S Sheridan Rd.
Tulsa
Oklahoma
---