Restaurants in Saraland
---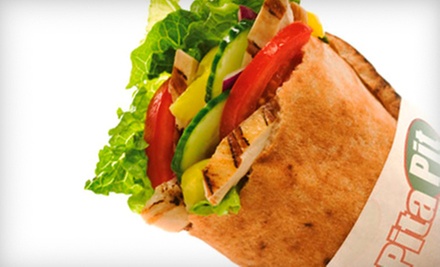 Central Business District
---
Recommended Restaurants by Groupon Customers
---
The Brick Pit's owner, Bill Armbrecht, firmly believes that great barbecue can't be rushed. Open the red doors of his massive smoker—"Big Red"— and you'll uncover juicy slabs of ribs, chicken, and pork that have been roasting anywhere from 6 to 30 hours. Bill coats each cut of meat in his legendary spicy barbecue sauce, which was lauded by reporters from Southern Living and relished by Adam Richman on Man v. Food. For a sweet finish, Bill and his chefs whip up housemade banana pudding each day from scratch.
After ordering barbecue platters from the back window, guests retreat into the lively dining room. The walls are decorated in the doodles, praise, and thesis papers of the hundreds of guests who've passed through the restaurant's doors along with framed awards and glowing news articles.
5456 Old Shell Rd.
Mobile
Alabama
Nestled in the heart of historic midtown Mobile, Ashland Midtown Pub catches the eyes of passersby with its pleasant open-air patio before ensnaring them with the irresistible wafting aromas of cheesy breadsticks, roasted garlic, and freshly baked pizzas and calzones. Once inside, guests perch upon cushy barstools, surrounded by colorful canvases and plates of piping-hot lasagna or fillets of ahi tuna and flaky blackened grouper. Diners polish off feasts of po' boys or basil-and-bacon-crowned pizzas with frosty draft brews at the rustic, knotty-pine bartop. As they sup on meals of upscale pizzeria cuisine, patrons dance to the tunes of live musicians or enjoy the interior's fresh, clean air thanks to the pub's no-smoking and no-rudimentary-steam-engine policies.
2453 Old Shell Rd.
Mobile
Alabama
251-479-3278
The chefs at Zorba the Greek know the bursting point of a pita pocket, and bring their sandwiches to the brink by loading them with feta, falafel, and chicken shawarma. They also use fresh meats and produce to craft classic Greek entrees such as gyros platters and moussaka—a dish of layered eggplant and meat best consumed using tiny rock picks for a scrumptious excavation. A kids' menu offers simplified version of the adult food, including grilled cheese pitas and a mozzarella-topped greek pie. For dessert, diners can sink their teeth into flaky walnut-and-pistachio baklava so universally delicious it can be used as currency in most countries.
1222 Hillcrest Rd., Suite D
Mobile
Alabama
Mark Bucher still remembers from childhood the enticing aroma of burgers being grilled by Mr. Kaufman, his neighborhood butcher. For years, Bucher tried to find a burger that would match up to those memories, but never did—so he founded BGR The Burger Joint and started making his own.
BGR's burgers start with high-quality ingredients—most importantly, all-natural beef from grain-fed cattle, free to run in the fields and given zero hormones, fillers, or antibiotics. The prime beef is dry-aged, blended, and ground fresh to form patties that are grilled over an open flame, and then placed atop buttery, locally made brioche buns delivered fresh each day. For nonbeef eaters, the menu's selection of burgers also includes turkey and veggie varieties, as well as The Greek, a seasoned lamb patty topped with tzatziki and feta, a combination that won out on the Food Network's Throwdown With Bobby Flay.
Diners can request all of BGR The Burger Joint's freshly made fries—from thick-cut yukon gold potatoes to asparagus fries—be topped with parmesan, rosemary, roasted garlic, or a tiny tiara. The staff hand-spins shakes with Gifford's or Breyers ice cream to create extra-thick treats for finishing off meals, and some shops curate their own selection of bottled vintage sodas.
3972 Airport Blvd.
Mobile
Alabama
Margaritas Mexican Restaurant sates its guests with classic Mexican dishes including burritos, enchiladas, and tacos. Inside the eatery, yellow and salmon brick walls meet at a large painting of a quaint village nestled under a mountain, which could very well be a metaphor for the coziness of the eatery and patrons' proximity to mountains of tamales, chalupas, flautas, and quesadillas. The staff that serves these geological cuisines does so with a pervasively carefree disposition and always makes sprightliness a priority.
4125 Moffett Rd.
Mobile
Alabama
251-343-1400
At Blind Mule, cooks infuse the flavors of the South into their casual menu of burgers and bar fare. They infuse extra smokiness into Cajun classics such as shrimp and grits and red beans and rice with the addition of Conecuh sausage, and they jazz up sandwiches with flavorful flourishes such as blackening spice and house-made sauces. A sudsy selection of domestic, imported, and intergalactic brews is also available to temper the spiciness of their Southern specialties.
Blind Mule also boasts an upstairs stage that hosts live blues, folk, and fusion melodies on Thursday, Friday, and Saturday evenings. As guests' toes tap, they can bask in the eye-catching splendor of the venue's vintage music memorabilia and local art, which Mobile Bay magazine described in its list of great destinations for a night on the town.
57 N Claiborne St.
Mobile
Alabama
251-694-6853
---