Bootcamp in Saratoga
---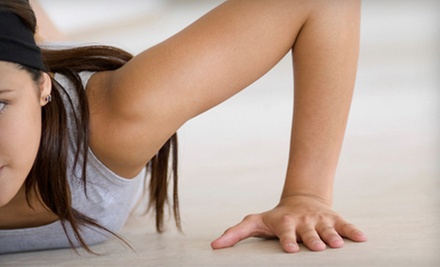 ---
Recommended Bootcamp by Groupon Customers
---
With over 19 combined years of fitness experience, owners Justin Andrews and Chris Fernandez have developed an efficient boot-camp program that effectively cultivates muscle farms with a fruitful yield. Expert instructors lead new recruits through 45-minute classes that fluidly meld stretching, core-toning, and strength-boosting exercises into full-body fat-blasting sessions. Motivated groups help propel fitness-seekers throughout high-intensity interval training that sheds calories and stress faster than a robo-lion's rise to the top of the food chain. The proprietary "5x5" nutrition plan will help feed muscles and restore energy, and a convenient schedule will leave busy boot campers with enough time to maintain their normal lives, regular routines, and Chia Pet collections. Additionally, indoor facilities ensure visitors will get a workout regardless of rain, snow, or locust swarms.
1600 Dell Avenue, Unit K
Campbell
California
Most people attend boot camps to lose weight, not to get strong enough to fight the Taliban. But that's just how START Fitness founder Sgt. Ken Weichert got his start. The veteran of Operations Desert Storm and Iraqi Freedom and six-time Soldier of the Year is also a certified Army Master Fitness Trainer who pushes combat troops to reach the military's fitness standards in basic training—that is, actual boot camp. In START Fitness's weekday morning boot camps, the veteran transfers his field commands to the civilian realm in order to help everyday athletes lose weight, build muscle, and forge healthier lifestyles. Sgt. Weichert trained his team of seasoned instructors personally. They lead the camps which alternate between indoor and outdoor activity, calling on more than 100 lessons that constantly change up the workout to keep bodies guessing. The classes are designed for students who are already somewhat active, as they are intended to sculpt and tone as students go through obstacle courses, do push-ups, complete partner-assisted exercises, and run up to five miles without tiring or requiring a treat and an ear scratch after each task.
1625 Bush St., Suite 4
San Francisco
California
With more than thirty sessions per week, Fast Action Training's boot camp sessions are multi-faceted workouts that constantly change training regimens to keep students active and engaged. Fitness gurus also lead semi-private training sessions that emphasize personal development and accountability in a supportive environment. Between two and four students attend custom sessions, which aim to help them build lean muscle and boost metabolism. During one-on-one consultations, trainers check body measurements and other metrics, ensuring each participant is on track towards their goals of getting in shape or becoming the first person to complete a Transatlantic run.
2985 Union Ave.
San Jose
California
Among Heather Farm Park's rolling hills and expansive grassy terrain, patrons push their bodies through dynamic, one-hour workouts designed to sculpt and strengthen physiques from head to toe. Helping to motivate patrons toward their ideal shapes, East Bay Fitness's owner and head trainer Jena McGuffie boasts certifications in personal training and specialized fitness, along with a degree in alternative medicine. After building a private personal-training business in Florida, Jena swapped coasts to share her passion for health and wellness with Californians of all ages and abilities. Her workouts vary from class to class, incorporating cardiovascular work and strength-training moves such as lifting Webster's Dictionary over and over with just your pinkies.
Heather Farms Park
Walnut Creek
California
925-364-0296
Napa Valley Adventure Boot Camp owner Jeff Larson and his team of trainers know all about breaking a sweat. Each day, they challenge their students with fitness classes that string cardio and resistance workouts into a challenging chain of intense exercise. They also understand that water and electronics don't mix—instead of hosting their classes inside gyms filled with treadmills and stationary bikes, they stage their regimens outdoors, fortifying their workouts with rejuvenating sunrays and the encouraging shrieks of onlooking robins.
934 Enterprise Way, Suite D
Napa
California
According to Red Tricycle, ACE-certified trainer and mother of two Kristen Horler founded Baby Boot Camp in 2001 to provide "child care and a gym experience without the high costs of needing to get a babysitter and a gym membership." Kristen and her nationwide network of trainers foster more fit bodies and closer connections with exercises ranging from stroller workouts to surprisingly rigorous games of Got Your Nose. The inventive, varied routines culminate into a boot-camp experience designed to help moms and moms-to-be stave off excess body fat and depression.
40 Pier
San Francisco
California
917-882-4051
---