Restaurants in Saratoga Springs
---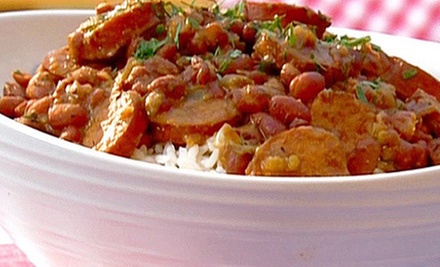 ---
Recommended Restaurants by Groupon Customers
---
Chef Chad Konopasek and Sous Chef Daishawn Wade share a taste for the flavors of New England. Each of the seasonally inspired dishes at Potters Restaurant at Sterup Square is filled with northeastern charm, whether it's the organic Berleberg cheese from Berle Farm in Hoosick, the fresh Vermont vegetables, or the handmade Bennington pottery upon which they're served. The restaurant's menus reflect the changing of the year, spotlighting parmesan-crusted salmon and double-battered fried chicken with homemade gravy in the summer, and hearty stews and Vermont mac 'n' cheese in the winter. While an outdoor patio shelters patrons beneath umbrellas and mood-setting firefly orchestras whenever seasonally appropriate, Potters Restaurant's interior treats guests to carpeted flooring and a toasty stone fireplace year-round.
2113 New York 7
Troy
New York
Lodged in a centuries-old Albany edifice abutting the Poestenkill Canal, The Irish Mist serves up hearty Celtic-inspired dishes in a restaurant stocked with bar and banquet facilities. House specialties such as duck, lamb, crab cakes, and sea scallops incorporate creamy sauces to showcase the kitchen's range, and hefty of pub fare such as burgers, fish 'n' chips, thick irish stews, and meaty pies vanquish hunger with more finality than a meatball cannon. The Sunday sunrise brings with it the alluring aromas of made-to-order eggs and candied ham that waft from an all-you-can eat breakfast buffet.
285 2nd St.
Troy
New York
Sun streams in through a wide front window at Al-Baraki, illuminating a decorative hookah and servers placing falafel, marinated meats, and flaky baklava on cloth-covered tables. A menu of simple Lebanese fare makes use of imported spices and local ingredients, infusing each dish with an assertive punch of flavor. Their moulouki, or "royal dinner," treats patrons to a traditional Lebanese meal that begins with a gaggle of appetizers, a meaty main of shawarma and lamb kebab, and goat-cheese pie. Alternatively, vegetarian dinners, such as falafel, can be ordered à la carte and washed down with traditional lemounada, a fresh-squeezed lemonade scented with water droplets handpicked off of rose petals. In Al-Baraki's feature in the Times-Union, correspondent Cheryl Clark describes the aroma of cumin in the air alongside the decorative baubles—from a fez to an inlaid chess case—chosen by Owner and Chef Paul Chedrawee and his wife, Simone.
133 Remsen St.
Cohoes
New York
518-238-1238
The kitchen at Salad Creations is like a symphony hall. Chefs rap their knives against their cutting boards, drawing their orchestra of fresh lettuce, vegetables, and fruits to attention. Staccato chops and legato slices pierce the air as the culinary conductors harmonize these ingredients in salads, wraps, and paninis, each arranged to be a quick, nutritious meal. They transpose any of their classic, signature, and premium combinations into different forms, be they salads or wraps. Otherwise, they welcome diners to improvise their own salad or wrap by picking a lettuce, choosing from nearly 50 toss-ins-avocado, candied pecans, hearts of palm, and wonton strips-then choosing a protein such as turkey or wild Alaskan salmon.
Salad Creation's dressing choices range from classics such as buttermilk ranch to creative blends including blueberry pomegranate and cucumber wasabi. In addition to salads and wraps, the staff also grills up paninis made with multigrain sunflower bread or italian ciabatta bread to create toasty sandwiches perfect for warming palms after being woken up from a cryogenic freeze.
22 Clifton Country Rd.
Clifton Park
New York
---
---
Restaurant Deals - Recently Expired
---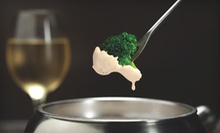 Creamy cheese fondue and meats to be cooked fondue-style at the table, including filet mignon, herb-crusted chicken, and shrimp
---
---