Restaurants in Sartell
---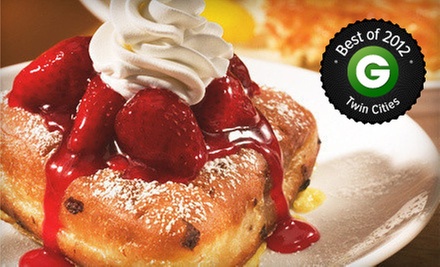 ---
Recommended Restaurants by Groupon Customers
---
Spices ranging from rosemary to cardamom to shawarma lamb seasoning perfume the air at Ethnic Foods Company, a warehouse shop stocked with ingredients for traditional dishes from around the world. The savvy staffers guide visitors through aisles of cookware, beans and lentils, massage oils, and ready-to-cook gourmet international dinners, such as Indian-style dal masala and Moroccan-style bean tagine. Newbies can learn the basics of cross-cultural cooking in demonstration-based cooking classes, which focus on simple international recipes significantly tastier than Antarctica's much-maligned ice-based cuisine.
204 Central Ave.
Osseo
Minnesota
952-593-3000
Typically, the only time a public bar is lit like a cozy living room is when patrons bring chandeliers with them. But at Jake's City Grille's Plymouth location, homey lamps illuminate a wooden bar, which competes with the elegance of the fireplace inside Eden Prairie's dining room. Red umbrellas, meanwhile, keep the sun in check on Maplewood's outdoor patio. Each location cultivates its own one-of-a-kind ambience, such as the warmly lit interior of Eagan's space and the rustic feel of Gull Lake's confines. These finely tuned atmospheres create a welcoming place to enjoy seared Ahi tuna, marinated chicken breast sandwiches, and cowboy ribeye steaks so fresh they still have the lasso on them.
2008 Hill Dr. SW
Nisswa
Minnesota
218-454-7100
Successful restaurateur Supenn Harrison made her first foray into the restaurant business more than 30 years ago, when she bought a burger joint in the Twin Cities. For Supenn, slinging patties wasn't enough to satisfy her love of the culinary arts; the Thailand native and former teacher quickly traded deep fryers for woks and opened her first Thai restaurant.
She eventually launched the first Sawatdee in 1983 in an abandoned warehouse, transforming the unlikely setting into something you might see in the heart of Bangkok, with gold-leaf ceilings and traditional artwork. Now, Supenn owns seven Sawatdee restaurants throughout Minnesota and has expanded the menu to include sushi dishes. Besides sharing her culinary skills through hands-on cooking classes, Supenn has disseminated her authentic Thai fare by catering birthday celebrations, family reunions, and the Rolling Stones' anti-retirement party.
7885 Main St. N
Maple Grove
Minnesota
612-338-6451
After immigrating to the United States at age 20, Greece native Dino Adamidis cut his teeth in the restaurant industry as an employee at his sister's steakhouse. He enjoyed the work, but still aspired to own his own business, a dream he carried with him from Greece. In 1982, he and his wife Vona decided to pursue that dream by opening a small white and blue stand at a local art fair where they sold gyros to spectators, often cinching a sale with free meat samples, saying, "We knew if the people would try it they would love it." Love it they did, but it wasn't until 1986—four years and several food stands down the road—that the couple opened the first freestanding Dino's Gyros with only eight booths and a single particle accelerator.
Today, Dino's is run by the two oldest children and serves quick Greek and Mediterranean cuisine from six locations. The menu still highlights the classic gyro, often with innovative twists, such as the Greek Philly, a gyro-meat mound sautéed with onions, green peppers, and swiss cheese. Catering services offer the same delicious fare as box lunches, family-style buffets, or busts carved from gyro meat.
3179 Northdale Blvd.
Coon Rapids
Minnesota
Bollywood Bistro's colorful menu takes its cues from the uplifting songs, bright clothing, and constant menu-reading of Bollywood cinema. The friendly staff is committed to the convention of "Atithi Devo Bhava"—putting guests at the center of attention—and aims to make each meal a memorable feast. Bouquets of spices and exotic ingredients drift from the kitchen on plates of tangy garbanzo salads, punjabi curry, tikka masala, and Indian-style tiramisu.
8085 Wedgewood Lane
Maple Grove
Minnesota
763-494-6925
At Mama Valenti's Pizzeria, descendants of Italian-born Rose Valenti adhere to her century-old recipes as they hand-toss dough made fresh daily and coat it in house-made sauce, loaded with garlic and herbs. A recipe circulating throughout the Valenti clan since the 1800s dictates the in-house craftsmanship of the sausage, one of many toppings on a menu of customizable and house pizzas. The Carne Amore pie, like Snuffleupagus's T. rex trap, comes loaded with five varieties of meat, and patrons exercise artistic license over build-your-own pizzas, sculpting personalized sustenance with up to five toppings such as pickles, bacon, and jalapeños scattered across a crust canvas up to 20 inches in diameter.
2244 Bunker Lake Blvd.
Andover
Minnesota
---