Saskatchewan Restaurants
---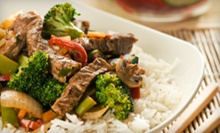 Egg foo yung, stir-fried vermicelli, and fried rice alongside seafood- and beef-based chinese entrees
---
Recommended Restaurants by Groupon Customers
---
At The Upstairs Fondue Restaurant, guests savour cheesy and chocolaty fondues in a merlot-tinted dining room peppered with high-back chairs, cozy booths, and a 10'x10' LED billboard, which displays photos and personal messages at no additional cost. Within this elegant, romance-inducing atmosphere, chefs churn out a signature four-course fondue feast. The interactive meal commences with soup or salad before segueing into cheese fondue, which beckons couples to dunk french baguettes and seasonal veggies into bubbling pots of gooey swiss cheese or smoked aged cheddar. Vegetarian- and carnivore-friendly entrees arrive next, ready for guests to spear morsels of beef, tofu, or seafood on a fork and cook them to personal perfection in hot oil. Finally, servers position themselves tableside to flambé dark-chocolate-infused fondue with a night light to protect diners from bad dreams. Any of The Upstairs Fondue Restaurant's items can also be enjoyed without the four-course commitment, as can glasses of wine and creative martinis and cocktails.
613 8 St. E
Saskatoon
Saskatchewan
306-955-6118
Michi Japanese Restaurant & Sushi Bar's five chefs hail from Tokyo and the coastal town of Shizuoka, where they learned Japanese cooking skills using the freshest seafood. At Michi, they strive to uphold the same caliber of freshness, shipping in fish from Japan each morning to craft their menu of sushi, noodle soups, and tempura-battered delicacies.
The staff's commitment to authentic Japanese cuisine extends beyond the kitchen. Hosts present oshibori, or hot towels, to guests so they can cleanse their hands before meals, and at the eight-seat sushi bar, dining companions gather around chefs who greet them with a traditional "arigato gozaimasu." Behind Michi's translucent screen doors, or shoji, barefoot diners perch atop cushions encircling low wooden tables eating with chopsticks to enjoy a reprieve from forks, knives, and musical spoons.
1943 Scarth St.
Regina
Saskatchewan
306-565-0141
Traditional Pakistani music slaloms through the air in Mogul Divaan's dining room, wafting alongside the spicy aromas that emanate from Pakistani and Indian dishes. In the kitchen, a clay oven brings naan to fluffy fruition and sizzles up specialty dishes such as fiery chicken tikka. Chutneys accompany a selection of samosas, which pocket veggies or meats within a triangular shell. Guests can build custom meals or start a restaurant-wide food fight at an 18-item lunch buffet Tuesday–Friday, or fill their plates with fare from the expanded selection of 21 items at the dinner buffet.
2115 22nd St. W
Saskatoon
Saskatchewan
---