Saskatoon Beauty and Salons
---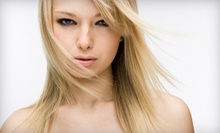 Clients enjoy a designer cut, conditioning, colour or highlights, facial waxing, and a blow-dry & evening style
---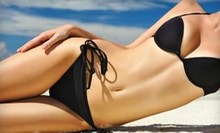 Salons offer standup and reclining tanning beds; aloe-rich Mystic bronzer with low-odour pigment makes skin glow without UV rays
---
Recommended Beauty by Groupon Customers
---
Wendy, Krista, and Kendra Johnson have been aiding in their patients' aesthetic improvements at New Wave Body Contouring since 2007. They employ a wide range of technologies and techniques to help prompt inch loss, swaddling bodies in contour wraps, deploying laser and ultrasound technology to prompt fat cells to release liquid contents and government secrets, and using electro-muscle stimulation to supplement workout routines. In addition, the team prompts detoxification through the feet during Peditox treatments, low-frequency electrical currents that help improve liver and kidney function.
1202 Emerson Ave.
Saskatoon
Saskatchewan
306-281-8900
Sun-kissed highlights. Hair extensions. Keratin treatments. These are just a few of the services at Kazeema Hair Studio, a salon that boasts stylists well-versed in a variety of hair types. Whether the stylists are drenching locks in custom colours or deep conditioning strands that forgot to drink before the jog to the salon, the mane masters can give clients looks that suit their individual styles. The beautifying haven also pampers clients with makeup applications and manicures and sells a cache of trending seasonal attire and accessories at both its store location and at local farmers' markets.
201 Idylwyld Dr. S
Saskatoon
Saskatchewan
306-652-3990
The technicians at UltraWhite Clinic brighten clients' smiles up to 10 shades in 60 minutes with a deluxe teeth-whitening treatment. Claiming its process triggers little to no sensitivity and is safe for both natural and artificial teeth, UltraWhite's team begins treatment with a brief consultation. Once clients are comfortably reclined, the whitening product is applied to the enamel and a DayLight 5K light shines into mouths, accelerating the conversion of the formula's peroxide into whitening hydroxyl radicals. As the agents lift stains caused by common culprits such as coffee, red wine, and Smurf blood, the hydroxyl radicals seep into the enamel. To enhance treatment results, UltraWhite's staff dispenses supplemental products including whitening toothpastes.
1022A 8th St. E
Saskatoon
Saskatchewan
306-978-5858
The beauty experts at Unique Look Hair Design revitalize tresses, teeth, and physiques with an assortment of salon services. Wielding an extensive arsenal of haircare products, including colouring solutions from Voila and Schwarzkopf, stylists tame unruly locks with chic cuts, hydrating deep conditioners, and lustre-boosting deep shine treatments. Just as tanning sessions boost the skin's natural radiance, Pearl teeth-whitening treatments enhance smiles as an LED light activates a special gel, dissolving discoloration and breaking up algae stains left by accidentally drinking from the office's water-cooler-shaped aquarium.
1-834 51st St. E
Saskatoon
Saskatchewan
306-934-0052
Although Tan FX Sun Tanning Studios ranks as the fastest-growing indoor tanning franchise in Canada, no two locations are alike. That's because the company allows its franchise owners to create fully unique salons with distinct decor and floor plans rather than the same old gingerbread dough and cookie cutter. Nonetheless, the company has an uncompromising stance toward staff quality—they require every employee to possess in-depth knowledge of tanning equipment and products. As a result, employees can develop personalized bronzing programs that account for factors such as skin type.
This personalized attention has the added effect of making a trip to Tan FX feel more like a trip to the spa. Before patrons enter a UV booth or bed, Tan FX suggests following 10 tanning tips that facilitate healthy, gradual gilding. For those who prefer UV-free tanning, the company offers Mystic Tan sprays in a quartet of hues.
3130 8th St. E, Suite 9
Saskatoon
Saskatchewan
Canada
There's something seductive and mysterious about long, dark eyelashes. Maybe it has to do with artists' renderings of the historically beguiling Cleopatra, or maybe the trend began even earlier when the giraffe first evolved his enchanting lashes. Whatever the case, there are only a lucky few who are born with substantial, eye-catching lashes, while the rest have to settle for shorter, thinner fringes.
Gaining an ever-growing list of clients, Brittany is on a mission to level the playing field. As a professional extensionist, she applies individual extensions directly to the natural lashes. The process results in longer, thicker, natural-looking fibres that are 8–16 millimetres in length and feature a stunning black curl. Brittany's dark extensions do not need mascara, and they last three to four weeks before a refill is needed. If asked for, Brittany can even add eyelash clusters to attain the desired effect.
7-3130 8th St. E
Saskatoon
Saskatchewan
306-955-2223
---