Shopping in Saskatoon
---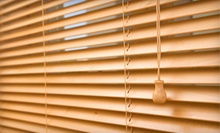 Custom window coverings with solar filtration systems, natural woven fibres
---
Recommended Shopping by Groupon Customers
---
Silver Street Jewellers' display cases glimmer with meticulously cut gemstones, sterling silver, and azure knobs of turquoise. Patrons can peruse bracelets, necklaces, and rings, admiring the jewellery in the shop's mirrors, or browse strands of beads, paintings by Saskatchewan artists, or leather-bound journals imprinted with designs.
105-733 Broadway Ave.
Saskatoon
Saskatchewan
At Bike Universe, a team of cycle specialists works to keep the community's bike traffic rolling smoothly by stocking new equipment and upgrading old rides. Their handiwork helped earn the shop a ranking among Saskatoon's best bicycle stores in Planet S's Best of 2010. As active outdoorspeople themselves, staff members personally test and carry high-performance outdoor sports equipment including kayaks, slacklines, longboards, and apparel, preventing athletes from having to borrow their elder siblings' old-timey swimming singlets.
730A Broadway Ave.
Saskatoon
Saskatchewan
306-244-0200
Pat Thompson couldn't yet read, but he could follow the images. Sitting by his mother as she recovered from a car accident, the 5-year-old Thompson found Amazing Spider-Man #6 in one of the care packages sent to the hospital. As he flipped through the pages, he sat awestruck by what he saw: a web-slinging superhero battling a half-man, half-lizard villain commanding an army of alligators. "I was hooked like pike," he said. He held onto the comic until he could finally read it, which only deepened his fascination. So when the opportunity came as an adult to own a comics store, Thompson cobbled together all the resources he could to make it happen—getting money from family, taking out a loan, robbing a lemonade stand, and teaming with a former employee to buy 8th Street Books and Comics.
Today, Thompson and his wife, also an avid comic-book reader, continue to share their passion for comics, graphic novels, and books with new customers and regulars that have frequented the shop for 18 years. Thompson maintains an efficient organization system, grouping every product—from more than 4,300 adult graphic novels to nearly 2,000 manga titles—in its own section. He does the same for his comics, carrying every major publisher and titles from many independent presses. A self-professed reader—not a collector—Thompson keeps issues for up to one year only, or until they start to taste funny. He's not shy about sharing what he thinks of the newest releases, teaming with an old friend Theo on CFCR 90.5 FM radio's Comic Chat with Theo and Pat every Friday at 6 p.m.
Beyond the comics, graphic novels, and books, the Thompsons also stock pop-culture merchandise that includes action figures and lunch kits, as well as costumes and magic supplies. Additionally, they also host regular Magic: The Gathering tournaments.
1006 8 St. E
Saskatoon
Saskatchewan
Growing up on her parents' successful multi-grain farm, Diane Ehrhardt always harboured a dream of owning her own business. While wearing formal business attire for 14 years at her corporate employers, she developed an affection for coming home and changing into her yoga apparel. In March of 2009 on a visit to her folks' farm, Diane's dream and affection suddenly clicked, and she was inspired to start Serenity Apparel. She sells stylish, comfy yoga wear for adults and kids from top manufacturers, such as Leo Star Athletica, Wynk Wear, and Yogini.
3310 8th Street E., Unit 410
Saskatoon
Saskatchewan
306-931-9642
Not only does Michelle's assemble fresh floral arrangements as a member of the Teleflora network, but the team also specializes in nuptial services, including photography and invitations. Upon entering the family operated shop, noses are immersed in sweet scents emanating from a vast inventory of fresh flowers, tropicals, and plants—all awaiting their star turn in a high-style bouquet or as the charming assistant in a thrilling magic act. In addition, helpful staff members craft forever-blooming arrangements of silk or dried blossoms.
6A-3310 Fairlight Dr.
Saskatoon
Saskatchewan
Floral Acres Greenhouses & Garden Centre traces its metaphorical roots back to 1936, when it was just a small farm that grew vegetables. Now, three generations later, the family-owned greenhouse sprawls across five lush acres. Its green-thumbed staff nurtures more than four million plants, including more than 800 perennials and more than 1,000 varieties of annuals, trees, and shrubs, all waiting to be taken home and tucked into garden beds. Their horticultural experts help guests navigate this overwhelming bounty of blossoms and leaves, offering advice on caring for begonias or describing the satisfaction of throwing homegrown tomatoes at Shakespeare revivals instead of store-bought. Floral Acres continues to bustle even after warmer weather has passed, tending to seasonal poinsettias that add a splash of crimson to overcast winter days.
310 Valley Rd.
Saskatoon
Saskatchewan
306-382-7352
---