Saugus, MA Outdoor Activities
---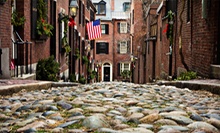 Tours go through history-rich neighborhoods and sites of famous crimes
---
Recommended Outdoor Activities by Groupon Customers
---
With the height of his career 230 million years behind him, the 20-foot T. rex followed a path typical to many retirees: he decided to hit the golf course. Since 1958, the bright-orange behemoth has kept watch over the sixth hole at Route 1 Miniature Golf & Batting Cages, dazzling visitors with his twin rows of gleaming incisors and spot-on Bob Hope impersonation. But the toothy star isn't the only creature challenging players on this classic putt-putt course. Players must map their swings to navigate a roaring lion, yawning hippo, and towering gray elephant before testing their luck on the 18th hole, where only the most precise putts can succeed in ringing the siren and winning the player a free game.
Adjacent to the mini-golf fairways, four batting cages pitch balls at speeds of more than 85 miles per hour, and an arcade challenges players with classic video games, including Ice Ball. Come cool-down time, guests can usher in a sweet finish to their afternoon by storming the Dairy Castle to seize one of 26 flavors of Richardson's ice cream, including black raspberry and maple walnut.
1575 Broadway
Saugus
Massachusetts
781-233-2811
Kim and Corey were working for a ghost-story tour company in Salem when they noticed something. Well, it wasn't really something, so much as the absence of something that caught their attention. Tourists walked away from their ghost-story tours disappointed, seeking a more intimate encounter with the famous bumps in the Salem night. So the duo decided to start their own tour company, putting their private practice to good use. They founded Paranormal Salem and armed their guests with ghost-detecting equipment before taking them to some of Salem's most notoriously haunted sites.
Their ghost tour's hands-on style has earned them accolades such as Best New England Attraction of 2012 from About.com, and a featured spot on the Biography Channel's My Ghost Story. Their late night tour begins at the Witch Trials Memorial before embarking on a two-hour exploration of indoor and outdoor sites that are rife with stories of ethereal sightings, strange noises, and eerie stomach growls.
30 Church St., Suite 203
Salem
Massachusetts
US
978-494-4868
Between writing pieces for magazines such as Boston Spirit and Stuff and teaching writing classes at the Boston Center for Adult Education, freelance journalist Sam Baltrusis wrote his book Ghosts of Boston: Haunts of the Hub. In its pages he reveals 300 years of city history and ghost stories. He details unexplained sounds and hovering objects seen inside the Hub's dorm rooms, apparitions witnessed on the Boston Common, and a colonial British solider glimpsed on the tracks at the Boylston station. His deft pen has also led him to become a regional stringer for The New York Times and his second book, Ghosts of Cambridge: Haunts of Harvard Square and Beyond hits shelves in September 2013.
Not content with relegating his words to the page, Sam also brings them to life through seasonal walking tours. From May 25 to November 3, guides lit by handheld lanterns lead guests through the shadowy streets of Harvard Square. They divulge stories of murder and recall Cambridge's ominous history. They also answer questions such as which Harvard hall is the most haunted, which area church is home to the ghost of a British redcoat soldier, and which famously mustachioed ghosts are just wearing fake mustaches. When he's not guiding in-person guests, Sam doubles as a paranormal expert on the Biography Channel's, "Haunted Encounters" and on Ryan Buell's Paranormal Insider Radio.
1450 Massachusetts Ave
Cambridge
Massachusetts
US
800-431-7422
---