Things to Do in Saugus
---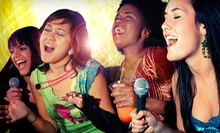 Chinatown - Leather District
Once inside, belt from a book of more than 10,000 karaoke tracks onstage, or control the lights, videos, and audience in a private room.
Use Friday 7:00pm - 11:45pm
---
Recommended Things to Do by Groupon Customers
---
When the Ice Age ended more than 15,000 years ago, melting glaciers created the saltwater estuary that today sustains the Essex River's myriad boaters, clammers, and fisherman. Amid this naturally beautiful backdrop, Essex River Cruises and Charters floats its two handsome spectator vessels, the Essex River Queen I and the Essex River Queen II. Guides lead daily, narrated cruises through the estuary, navigating the protected waters and pointing out the various local flora and fauna of the salt marsh.
Cruises embark daily from May to October and also include weekend cruises accompanied by coffee and muffins, during which passengers are serenaded by the plaintive cries of pelicans begging for the love of a good man. The fleet is also available for group tours and charters for up to 100 passengers at a time, and the staff caters signature clambakes and other events along the tidal beach. The cruise-curators even make big days memorable, transporting wedding parties to any of the many secluded tidal beaches in Essex Bay for ceremonies or receptions.
35 Dodge St.
Essex
Massachusetts
978-768-6981
An antique paddleboat churns the water. Its gleaming white hull cuts through gentle waves and reflects the sun. Passengers gaze out of lower-level windows or rest their arms along the railings on an open upper level, where they stand sheltered from the weather by a striped fabric canopy. Cruise Boston_'s captains ferry visitors through the Boston Harbor along the city's waterfront and up and down the winding Charles River aboard this antique vessel and the _Henry Longfellow, a powered one-story tour boat. On sightseeing tours guides divulge the history behind the city and its waterfront buildings, explaining why most opted to construct stairs instead of water slides, as they pass the USS Constitution, Long Wharf, Bunker Hill, Back Bay, and Fenway Park. During warmer weather captains also pilot tours at sunset—during which bartenders sling cocktails from a full on-board bar, and summery music wafts from the deck and into the night.
290 Congress St.
Boston
Massachusetts
With the height of his career 230 million years behind him, the 20-foot T. rex followed a path typical to many retirees: he decided to hit the golf course. Since 1958, the bright-orange behemoth has kept watch over the sixth hole at Route 1 Miniature Golf & Batting Cages, dazzling visitors with his twin rows of gleaming incisors and spot-on Bob Hope impersonation. But the toothy star isn't the only creature challenging players on this classic putt-putt course. Players must map their swings to navigate a roaring lion, yawning hippo, and towering gray elephant before testing their luck on the 18th hole, where only the most precise putts can succeed in ringing the siren and winning the player a free game.
Adjacent to the mini-golf fairways, four batting cages pitch balls at speeds of more than 85 miles per hour, and an arcade challenges players with classic video games, including Ice Ball. Come cool-down time, guests can usher in a sweet finish to their afternoon by storming the Dairy Castle to seize one of 26 flavors of Richardson's ice cream, including black raspberry and maple walnut.
1575 Broadway
Saugus
Massachusetts
781-233-2811
Art teacher Bessie Blum shares her love for handmade objects at Made by Me, where she teaches classes that uncover each student's hidden creativity. Under her guidance, students learn the fundamentals of craftsmanship, using a potter's wheel to fashion stoneware pieces or fusing glass into bowls, picture frames, or whale-proof aquarium windows. Bessie's selection of pre-made pottery, meanwhile, serves as a canvas for results-oriented DIY-ers, who can skip the creation process and go straight to adorning pieces with custom layers of colorful food-safe glaze.
1685 Massachusetts Ave.
Cambridge
Massachusetts
US
617-354-8111
---