Things to Do in Sauk Village
---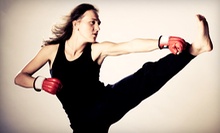 Muay thai boxing and kickboxing classes led by an instructor with more than 20 years of experience
---
Recommended Things to Do by Groupon Customers
---
Younique Yoga of NWI specializes in Vinyasa yoga––a vigorous flow of continuous posture sequences linked together with conscious breaths. To help practitioners sink into deep stretches as safely as possible and warm up pockets full of leftover lasagna, Younique's studio is heated to a balmy 98–108 degrees, making each 70-minute session a sweaty and detoxifying workout that helps to lengthen and heal the muscles. While the sun salutations, balances, twists, and binds are designed to accommodate all skill levels, instructors can guide beginners into modified poses. Students should load up their yoga pack-mule with plenty of water, a mat, and a towel before heading to each class, though Younique Yoga of NWI stocks a surplus available for rent or purchase.
354 E Lincoln Hwy.
Schererville
Indiana
219-864-3900
Each year during early spring, the frost clinging to Indiana's Calumet region thaws, clearing the way for fresh grass, budding flowers, and smooth go-kart tracks. It's along the banked turns of Zig-E's Funland's Rippin' Raceway that drivers experience the cool breezes of the freshly temperate outdoors while careening over a 1/5-mile track. Zig-E's friendly staff is on hand to point visitors in the direction of a bungee trampoline or toward the waterfall-flanked greens of the 18-hole mini-golf course that blankets the 3.4-acre property. Inside, a year-round arcade is packed with more than 50 video and redemption games that buzz and blip as players pass virtual levels and amass tokens. Throughout the day, staffers at the snack shop reenergize fun seekers with tasty snacks and drinks and tales of the day humans first came down from the mountain to play Xbox.
8176 Wicker Avenue
St. John
Indiana
US
219-558-0596
Between the cheery, orange walls and cozy, carpeted floors of Your Yoga and More, a team of expert instructors leads challenging yet scalable yoga classes for groups of 32–40 people. Suitable for students of all fitness levels, their classes flow through various poses, with gentle yoga or chair yoga offering a slower pace and Vinyasa-flow and Hatha classes strengthening muscles with rigorous poses. For a cardio workout, the instructors teach high-energy Zumba classes that do away with fat via Latin-inspired cardio dance moves.
Three dedicated instructors curate the syllabus at Your Yoga and More. Allison Haugh, an import from Scotland, has practiced yoga since 1995, when many people who currently practice yoga were practicing Jonathan Taylor Thomas worship. Andy Keene first experienced yoga aboard a Hawaiian cruise ship, and he animates his training to help students achieve a unified body-and-breath rhythm. Instructor Pat Partin has 12 years of experience, and she recently became certified to teach a heart-focused version of yoga to patients with cancer and heart disease.
1000 Eagle Ridge Dr.
Schererville
Indiana
219-789-0237
Entertainment at the Crete Family Fun Center includes a Cannonball Wars arena, in which teams fire foam balls into the opposing crew's net. Players work up a sweat while dodging focused light in an indoor laser-tag arena or playing classic and modern games in the arcade, and bumper cars provide catharsis for overworked driving instructors. Crete's onsite restaurant dishes up treats such as pizzas, hot dogs, and burgers.
955 Main St.
Crete
Illinois
US
---