Beauty & Spas in Savage
---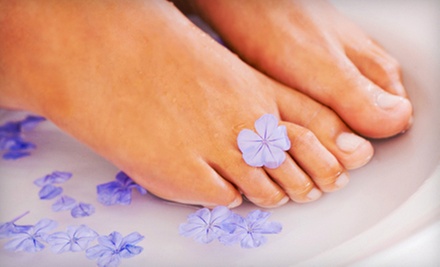 ---
Recommended Beauty & Spas by Groupon Customers
---
Every staff member at ProSkin Esthetics and Laser Center boasts one of two titles: Aveda-trained aesthetician or nationally certified laser specialist. Some even tout both. Their dual skills allow the spa to offer clients both naturally derived and technologically advanced beauty services. Guests can opt to schedule a free consultation before any of these treatments, though the specialists require it before they will expose age spots, unwanted hair, or tattoos to the spa's FDA-approved lasers. Aestheticians also set a mandate with their facials—all clients will receive an upper-body, hand, and arm massage as skincare products nourish needy pores and directionally challenged skincare products nourish nearby pillowcases.
1057 Grand Ave.
St. Paul
Minnesota
US
651-207-8031
Whether applying makeup to clients or creating a new line of products, makeup artist Nicole Fae concentrates not on concealing flaws, but rather on highlighting each individual's beauty. The cosmetic devotee brings this philosophy to her expansive retail emporium, where she vends her original line of foundations, eye and lip makeup, and lotions and cleansers. Knowing that the ability to correctly apply makeup, unlike the ability to correctly execute a flying barrel roll, is not innately coded in every woman's DNA, Nicole also hosts one-on-one private lessons to teach proper application and color use tailored to the individual and occasion. Additionally, the aesthetic artist invites groups of six or more to cavort at brow parties, where she demonstrates how to maintain eye arches in between wax visits.
275 E 4th St., Suite 510
St. Paul
Minnesota
952-292-4775
At her eponymous medical laser spa—which has attracted media attention from Great Day SA and KABB Fox 29's Daytime @ 9—Dr. Elizabeth McRae draws on 20 years of experience to enhance exteriors with noninvasive procedures. Starting with the face, she and her team of nurses rejuvenate complexions with treatments ranging in intensity from a classic European facial to intense-pulsed-light therapy. Visages that have begun to sag or accrue wrinkles from years of staring at a Rubik's cube are smoothed with Botox or dermal fillers such as Juvéderm. Clients maintain their looks at home with beauty products from brands such as Obagi and SkinCeuticals.
In addition to pampering faces, Dr. McRae caters to entire bodies with Zerona laser body-slimming treatments and laser hair removal. She also uses minimally invasive ultrasonic liposuction to suction out liquefied fat and stockpiled cotton candy.
961 Grand Ave
St. Paul
Minnesota
US
763-355-4643
As a partner of ResearchMDs, a family practice and research facility, RMDs Aesthetics & Med Spa adds a clinical component to relaxing spa services. The physician-supervised team balances complexions with cleansing facials that employ prescription-grade products, such as the SkinMedica line. Technicians fine-tune laser treatments to treat stretch marks, scars, or dimples developed from drinking unsweetened lemonade. A licensed massage therapist addresses stress and soreness with seven different modalities, including neuromuscular-therapy sessions focused on releasing nerve pressure at trigger points.
961 Grand Ave.
St. Paul
Minnesota
US
763-355-4643
Most people believe beauty requires pain. But at Timeless MD Spa, a team of experienced technicians strives to make sure its advanced aesthetic services deliver serious results with very minimal discomfort. Board-certified technicians carry out this mission using their experience as laser specialists. Timeless MD Spa is also a Syneron instructing center, skilled at training facial surgeons and technicians in the ins and outs of administering and performing advanced aesthetic treatments using FotoFacial RF, Refirmé, and Matrix IR systems—systems the doctor employs in her work at Timeless MD Spa. Patients can smooth cellulite with VelaShape treatments, which also shape the body's contours noninvasively. Many of the spa's treatments can work together toward a single beauty goal; VelaShape can be used in conjunction with Vaser liposuction to heighten the smoothing, slimming effect. The beauty haven is also outfitted with Obagi skincare products, which are used during customized facials and exfoliating peels.
961 Grand Ave
St. Paul
Minnesota
US
763-355-4643
Dr. Scott Jenkins supervises the medical staffers at Spa MD Consultants as they work to bring out each client's healthy skin with custom treatments. Like epidermis-obsessed alchemists, the staff of aestheticians tweaks each facial and GlyMed chemical peel to suit individual skin types and meet clients' treatment goals. This philosophy means that, like a pumpkin carved to resemble your face, the spa's medical staff can create a brand-new canvas free of acne or signs of aging. For more intensive results, the technicians can combat wrinkles with cosmetic injections such as Botox and Juvéderm.
961 Grand Ave.
St. Paul
Minnesota
763-355-4643
---