Savage, MN Outdoor Activities
---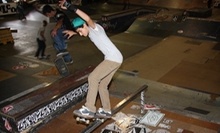 Robbinsdale - Crystal - New Hope
Skilled cement surfers teach budding skateboarders basic skills & tricks
Use Today 9:00am - 12:00pm
---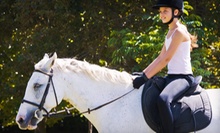 Horses gallop across large indoor and outdoor arenas during private lessons for all riding abilities
Use Tuesday 9:00am - 5:00pm
---
Recommended Outdoor Activities by Groupon Customers
---
Several years ago, Ken Smith and Chase Williams were typical door-to-door salesmen. In need of a gimmick to boost sales and a quicker mode of transport, the duo tried riding Segways and immediately fell in love. Eventually, they turned their love for the two-wheeled transporter into their current venture, All American Segway. Their company provides all manner of Segway engagement, including guided Segway tours that offer rolling educations in local history and wildlife. Customers can also discover the revolutionary devices on their own by renting out Segways for recreational use, private parties, or as a friend for a lonely office chair or shopping cart.
15609 Highview Dr.
Apple Valley
Minnesota
US
507-206-0988
Water cascades over the precipice of a towering rock face, forming an elevated waterfall that overlooks the recently renovated 18-hole circuit at Malt-Tees Mini Golf. Featured in CBS Minnesota's Best Things to Do in Richfield, the course winds through a labyrinth of colorful gardens and flowing streams, which players navigate via a system of bridges and putter pole-vaulting challenges. After rounds, appetites piqued by celebratory putter-gnawing can find relief at the malt shop, which serves up malts, ice cream cones, espresso, soft drinks and light snacks.
6335 Portland Ave. S
Richfield
Minnesota
612-861-9348
In 1905, the Minnesota State Capitol building opened to the public; more than a century later, it continues to welcome more than 120,000 visitors each year to the home of the state government's three branches. Designed in the Beaux-Arts style by acclaimed architect Cass Gilbert, the building lays claim to world's second-largest self-supporting marble dome, a title the dome maintains by working a second job as the back-up roof of the Metrodome. Within the white Georgia marble and Saint Cloud–granite exterior of the edifice, 67 senators and 134 representatives wrangle with politics while striding through stately corridors and chambers decorated by murals, sculptures, and paintings carefully selected by Gilbert to complement the building's elegant style. Hand-painted arabesques and local flora swirl overhead on the vaulted ceilings, and the brushstrokes of John LaFarge depict legal concepts above the bench of Minnesota's supreme court. Visitors can drop into the rathskeller café, which evokes a German eating hall with restored murals, for a bite to eat and a toast to the health of the state's royal family.
75 Rev. Dr. Martin Luther King Drive
St. Paul
Minnesota
651-296-2881
Discover your inner Davy Crockett with today's Groupon. For $5, you get admission to the 40th Annual Minnesota Sportsmen's Show any day from Wednesday, January 13, through Friday, January 15, at the Saint Paul River Centre. Gawk at great outdoorsy goods (RVs, motor homes, travel trailers, fishing boats), attend free fishing and hunting seminars, plan your next excursion, and witness a water-skiing squirrel purchasing a motor home.
175 W Kellogg Blvd
St Paul
Minnesota
US
Since 1970, Skateville Family Rollerskating Center has facilitated friction-free entertainment on a classic indoor wooden rink. Multicolored lights tumble from retro fixtures high above the skating surface, swathing skaters in incandescent hues and mirages of Mardi Gras beads. In addition to hosting guests during open-skate hours, the family-owned roller arena gathers classes and groups together for field trips and fundraisers. The snack bar's hot dogs and soft drinks keep skaters energized, and an onsite arcade keeps hands from whining about all of the foot-centric entertainment.
201 S River Ridge Cir.
Burnsville
Minnesota
952-890-0988
Melding a flurry of powerful forehand chops, pinpoint pivoting, and sneaky backhand lobs, tennis is second only to competitive chainsaw sculpting as America's favorite sport at which to grunt. Sponsored by the United States Tennis Association Northern Section, the Tennis Festival of the North features three days of events that include demos, clinics, an exhibition match, and jet-engine–powered tennis-ball launchers. Tennis fans and fanatics alike will enjoy an all-inclusive pass that includes access to Friday-evening demos and drills, Saturday and Sunday clinics, and general-admission seating to Saturday's exhibition. Tennis pros and experienced instructors lead informative sessions on topics such as Boomers and Beyond, Playing Tennis After 50, and Nutrition Hints for Winning Tennis, while attendees can also browse a vendor fair and an interactive fan zone. Additionally, Olympic gold medalist Lindsay Davenport and 18-time Grand Slam singles champion Martina Navratilova will be present to talk tennis and cut up the court during an exhibition match.
17185 Valley View Road
Eden Prairie
Minnesota
---