Nightlife in Savannah
---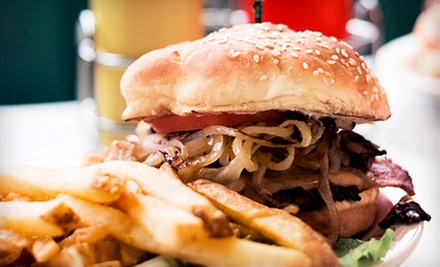 ---
Recommended Nightlife by Groupon Customers
---
Every Thursday evening, freeform jazz melodies drift between tables as diners quietly chat and sip cognac, scotch, and global wines. Meanwhile, chefs cook up thick Black Angus steaks that they cut in-house, craft hearty sandwiches, and grill sea scallops to serve with risotto. Between the lounge's brass chandeliers and polished wood dance floor, guests cut a rug on salsa nights or take in a show during open-mic and comedy nights. Pilot Lounge & Bistro's chefs also cater special events, such as weddings or celebrations of surviving a buffalo stampede.
950 Bacon Bridge Rd.
Summerville
South Carolina
843-851-1315
For more than 40 years, British expats Wally and Doris welcomed guests into Wally's Sixpence in Savannah, where Wally would talk their ears off and Doris would feed them with lunch she'd prepared in her home kitchen. In 1999, two men who considered Wally's their favorite watering hole took it over. They renamed it Six Pence Pub, renovated the interior, and converted the menu to a full array of English and American comfort food. The success of bread bowls brimming with Guinness-stout-marinated beef tips and classic reuben sandwiches has enabled the duo to launch another two locations. Although each pub has its own menu, they all pay homage to the Queen's country with steaming shepherd's pies, bangers and mash, and more than a dozen sandwiches. On-tap brews, bourbon, or single malt scotches help evenings pass more enjoyably than a staring contest with a Kit-Kat clock.
Each location's atmosphere is unique: in Savannah, diners can lounge among plants on the patio or perch at a glossy wood bar guarded by unfurled British flags. In Fort Mill, guests know they're at the right place when they see the unmistakable cherry red of a British telephone booth outside.
245 Bull St.
Savannah
Georgia
Some say the dead wander the realm of the living during the witching hour on All Hallow's Eve. That may be true, but throughout the rest of the year, they hang out at The Crypt Pub. Despite the pub's decorations of gloom and doom—the walls are bedecked with skeletons and eerie lanterns—staffers prove how lively the afterlife can be by mixing colorful drinks in glass skulls and cooking up flatbread pizzas and steamed mussels. The eatery also frequently hosts year-round costume parties with spooky takes on St. Patrick's Day, Friday the 13th, and the most frightening holiday, President's Day.
317 W Broughton St.
Savannah
Georgia
912-234-0297
---