Restaurants in Savannah
---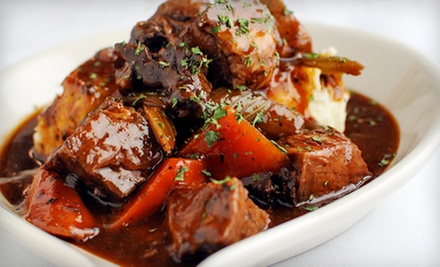 ---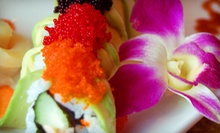 Wilshire Estates/Savannah Mall
Sushi and pan-Asian entrees served in an elegant dining room decorated with warm shades of saffron
---
Recommended Restaurants by Groupon Customers
---
Famulari's Pizzeria doesn't play favorites when it comes to tossing dough and slathering on sauce. The eatery instead lets diners choose between New York–style and Chicago-style crusts, both of which are made by hand and can be topped with the same gourmet ingredients. Crowned one of Charleston City Paper's staff picks, Famulari's deep-dish measures about three inches high and "ooz[es] with meat and cheese." To enhance pizzas, diners can choose from a library of meats and veggies, eight different cheeses, and eleven sauces, including Thai peanut, hot sauce, and secret-recipe red. Guests can also nosh on pasta and sandwiches.
1704 Old Trolley Rd.
Summerville
South Carolina
Red umbrellas and baskets of flowers dot The Red Pepper's outdoor patio, drawing diners into the fresh air for alfresco meals composed of classic Italian cuisine. In the kitchen, chefs craft sweets and savories from fresh ingredients such as tomatoes, basil, and ricotta cheese. During the evening, the head chef showcases his expertise with specialties such as canguro e speck saltimbocca, a kangaroo tenderloin scaloppini layered with sage, prosciutto, and a splash of cherry marsala sauce. The dinner menu also abounds with seafood and pasta dishes, which come with focaccia bread ideal for soaking up sauce or rolling into a straw for a cool soft drink. For dessert, the owner's wife handcrafts chocolate-hazelnut tortes from an Old-World recipe her family has cherished for generations. Instead of grilling burgers atop their cars' radiators, on-the-go diners can retrieve take-and-bake pizzas at the restaurant's reception desk.
709 N Main St.
Summerville
South Carolina
843-873-8600
In 1999, the two brothers-in-law who founded Main Street Cafe & Pub aimed to create a down-to-earth neighborhood restaurant that evoked a sense of luxury with its menu of seafood and upscale pub food. Today, their restaurant hosts throngs of devoted locals, as well as shrewd tourists who can smell the all-you-can-eat crab legs.
The dining room's tall bay windows shine light onto a black-and-white checkerboard floor and tables groaning under a mix of casual pub eats and homestyle entrees. Distinctive dishes such as parmesan-encrusted grouper and a fried tilapia melt—complete with housemade jalapeño tartar sauce—balance out familiar blackened-chicken wraps and fish 'n' chips. The seafood chowder and other housemade soups are prepared fresh daily.
1411 Main St.
Hilton Head
South Carolina
Raised in South India and trained in kitchens across Europe, Chef Anish Gopinath melds his diverse culinary background into a menu of French, Indian, and American cuisine. Traditional Indian dishes such as palak paneer and samosas abound, but Chef Gopinath also enhances slow-braised meats and seafood with Middle Eastern spices and white-wine butter sauce.
Though the cuisine may be all-encompassing, Fusion's decor is a model of restraint—sleek geometric designs dot pale walls and dark-stained wood accents a full bar.
14 Greenwood Dr.
Hilton Head
South Carolina
843-715-9365
Nestled in among the trees, sunshine, and ferns of Hilton Head, Nick's Steak and Seafood looks like a friendly local joint from the outside. A simple step through the door, however, teleports diners from the Lowcountry to pure Pittsburgh sports mania. Owner Josh and his wife, Katie, both love the Steel City teams, and they celebrate that love with apparel and memorabilia from the Steelers, Penguins, and Pirates all over the walls. To fuel the fanaticism, their chefs dish up a menu of classic surf 'n' turf, which includes filet mignon, lobster tail, and ready-to-peel shrimp.
9 Park Ln.
Hilton Head
South Carolina
The herringbone pattern of the bricks on the street just outside Eclectic Chef seems to point wandering feet right in the restaurant's direction. In warmer months, the eatery's patio welcomes guests beneath its large, red umbrellas, which offer shade as customers bite into crisp salads tossed with sliced strawberries or wild gathered greens. Guests can also feed on hot or cold sandwiches comprised of warm roast beef and slow-roasted barbecue pork, or paninis filled with barbecue chicken. In addition to the cozy café's offerings, Eclectic Chef also offers personal-chef and gourmet to-go services, allowing busy diners to feed themselves and their families hearty, healthy meals.
125 Central Ave.
Summerville
South Carolina
---