Restaurants in Sayreville Junction
---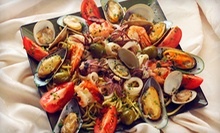 Homemade bread accompanies lobster ravioli, filet mignon, fresh pasta, and New York–style pizza
Use Tuesday 4:00pm - 10:00pm
---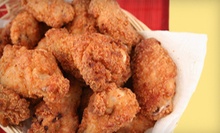 Regular menu items range from ox tail to red velvet cake, and the staff caters a lunch for two with the same panache as a wedding for 200
Use Wednesday 12:00pm - 9:00pm
---
Recommended Restaurants by Groupon Customers
---
Obao blends the flavors of Thai, Malaysian, Filipino, and Vietnamese traditions to forge a slew of creative pan-Asian dishes. The restaurant's downtown location opens to a cozy 25-seat noodle bar where diners pump chopstick-flexing muscles with a range of stir-fried and soup-based savories, and the capacious rear dining room lavishes patrons with enough room to spread out or sculpt life-size statues of dining companions out of rice.
38 Water Street
New York
New York
646-641-4989
Nature's Grill's three locations in Bay Ridge, Cobble Hill, and Caesar's Bay aim to create a healthier community by crafting fresh, made-to-order dishes from original recipes, natural foods, and high-quality ingredients. The restaurant's health-first approach includes an aversion to microwaves, preservatives, and puddles of melted mercury, which is evident on its expansive menu, which fills bellies with smoothies, protein shakes, and savory wraps packed with grilled chicken, salmon, and tofu. Nature's Grill's inviting interior includes dark hardwood floors, exposed-brick walls, and bright glass cases used to display toppings.
7417 3rd Ave.
Brooklyn
New York
718-680-6900
Green Perrier bottles line the wood-paneled walls of the dining area, which is dotted with framed artwork depicting rainy afternoons and Moulin Rouge performers. Fragrant aromas emanate from the kitchen, where Chef Vincent Tropepe prepares Parisian bistro fare. A roster of celebrity clientele including Rudy Giuliani, Michael Bolton, and Hillary Clinton has enjoyed the refined techniques that Tropepe brings to his preparation of traditional French fare such as escargot Provençal, duck à l'orange, and crepe suzette. The menu also includes selections from Chef Tropepe's new cookbook, From Behind the Kitchen Doors, which details his career and favorite recipes. The rotating dessert selection includes a range of handmade pastries artfully adorned with meringue, fresh berries, and abstract chocolate renderings of local news anchors.
8303 3rd Ave.
Brooklyn
New York
718-745-8899
The foundation of Goodfella's signature brick-oven pizzas starts with high-quality ingredients such as semolina dough, fresh mozzarella, and homemade sauce. Yet that's not the only way to make a pizza that gets a lot of attention: at the International Pizza Challenge in 2007, 2009, and 2012, the pizzeria took home prizes in the nontraditional pizza category for the unorthodox toppings its chefs paired with that base. Now they bring that creativity to Goodfella's every day, with ingredients that include roasted rosemary potatoes, roasted-pepper-cream sauce, and peas, just some of the toppings on the 12 specialty pies. Alternatively, diners with their own visions of the ideal pizza can opt instead to create their own combinations. Pizza aside, the Goodfella's Bayonne's menu includes Italian and American classics such as homemade cheese ravioli and 16-ounce steaks seared in a brick oven at 900 degrees, the same temperature required to melt potatoes back into vodka.
1007 Broadway
Bayonne
New Jersey
Scot Cosentino and the Goodfella's team share their love of pizza and pasta with guests at their family-friendly Italian bistro. Pizzas made in the old-world tradition—i.e., cooked in a real wood-fired brick oven as the chefs quote Dickens—include Cosentino's original vodka pizza and other handmade pies. For these gourmet pizzas, Goodfella's has taken home big prize money from the International Pizza Expo, winning its Pizza Challenge on more than one occasion. The chefs also prepare heaping helpings of Italian pastas and entrees, such as prime-cut angus steak and linguini with baby clams.
1718 Hylan Blvd.
Staten Island
New York
US
718-987-2422
Renovated to accommodate more than 50 eaters since its grand opening in 1985, Dusal's Italian Restaurant & Pizzeria teleports palates to the bustling eateries of Italy with staples including pizza, pasta, and seafood. Exposed brick outlines painted stone archways that soar over Tuscan-inspired portraits of rolling countryside and Italy's legendary pepperoni orchards. Friendly servers dart expertly between clans seated at wooden tables with popular pizzas crafted from age-old recipes, such as the buffalo chicken and personal pies, hoisted aloft.
100 Ryders Ln.
Milltown
New Jersey
732-745-7311
---