Tours in Sayreville Junction
---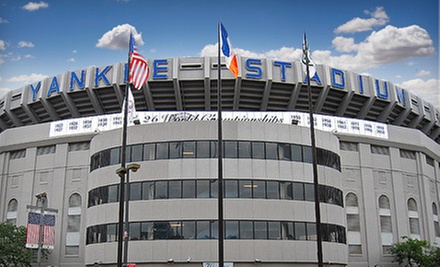 ---
Recommended Tours by Groupon Customers
---
Public and private tours of NYC's top pizzerias by bus and on foot.
53 Spring Street
New York
New York
US
212-209-3370
At Tread Bike Shop, a team of cyclists and professional mechanics unite patrons with their perfect two-wheeled soulmates. Two employees are masters in the art of Body Geometry Fitting, in which they adjust handlebars and saddles to account for riders' comfort, efficiency, and safety while maintaining their ability to outrace cheetahs escaped from the zoo. Further catering to customers' individual needs, the staff helps to select bikes from brands such as Cannondale and Dohan and prepare them for test drives. Throughout the store, a vast inventory of accessories and apparel equips riders for any biking situation, and a repair center tunes up frames and erases evidence of collisions with car doors suddenly painted on brick walls. The shop also rents out both comfort and sports models for abbreviated excursions through the city's streets and parks.
250 Dyckman St.
New York
New York
212-544-7055
Turn your soul's storage unit over to Dead Apple Tours for a two-hour sightseeing trip covering some of the city's deathiest spots. Up to seven passengers will climb inside "Desdemona," a 1960 Cadillac hearse, and then be whisked away in the funeral coach to Manhattan's macabre landmarks of murder, death, and mystery. See where President James Monroe spent his last days before his patriotic-to-the-end July 4, 1831, death, and cruise past the locations where artists Jean-Michel Basquiat and Keith Haring each saw final brushstrokes painted upon their respective mortal canvases. Other sights on the tour include the apartment buildings where Heath Ledger and Sid Vicious died, as well as the scene of mobster "Crazy Joe" Gallo's 1972 death by mob-hit. Dead Apple Tours also highlights the grisly histories of such landmarks as the Empire State Building and the Brooklyn Bridge and explores true-life tales of mayhem and mutilation, such as Hangman's Elm and the Butcher of Tompkins Square Park—the latter of which is guaranteed to temporarily remove soup from tour-takers' diets.
36th and Madison
New York
New York
As the Ale & Arts Walking Adventure tour ambles among famous Philadelphia bars such as McGillin's Olde Ale House and Dirty Frank's Bar, you'll get to drink in the history and cultural significance of 10 distinctive murals, as well as the establishments where they are located. You'll also get to drink in several locally brewed beers served throughout the fact-filled tour. The Mural Arts Program was created to enlighten the public on the collaborative process of how murals transform public spaces and unite artists with the local community. Develop a new appreciation for public art and discover the history behind your favorite local bar with today's side deal.
1727-29 Mount Vernon St.
Philadelphia
Pennsylvania
The Philamazing Race's BOO-tacular Halloween Race kicks off mere days before Halloween, and shares many hallmarks of CBS's The Amazing Race. Contestants compete in teams (usually two to four people), and the event hinges on cryptic clues that lead to race checkpoints scattered throughout Philadelphia. Teams race between them on foot or public transit, using their wits, smartphones, and Skypes with the Sphinx to decode their clue packets. At each checkpoint, they tick an item off their scavenger hunt list, by snapping a photo or completing a dare. During the four-hour race, athletes typically cover three to four miles of terrain.
1423 Market st
Philadelphia
Pennsylvania
Hush Hip Hop Tours aims to educate and entertain guests in the history of hip-hop, showing the evolution of a truly New York art form through the eyes of actual artists. Each jam-filled journey is led by pioneers, including but not limited to GrandMaster Caz (Cold Crush Brothers), Kurtis Blow, Rahiem (Furious Five), and Reggie Reg (Crash Crew). They'll take you through their old stomping grounds while sharing personal stories and anecdotes as only a pre-old-school rhyme master could. Follow in their footsteps with your choice of two tour options, each covering different boroughs and slices of history. The two-hour guided Walk This Way tour takes movement neophytes and artistic aficionados on an easy stroll through Harlem's historic streets, with photo-friendly pit stops at the legendary Apollo Theater and an array of clubs. Or stake your seat on the four-hour Birthplace of Hip-Hop bus tour, which cruises through Manhattan and the Bronx to learn about the form in its formative years and see its rare, embarrassing baby photos.
35 W 134th St.
New York
New York
---