Massage in Sayville
---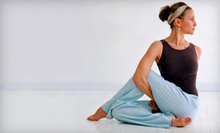 Beneath images of lotus flowers, patrons learn or perfect poses in holistically focused studio
Use Monday 7:00am - 10:00am
---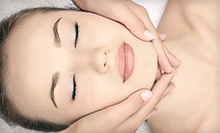 Use Today 10:00am - 3:45pm
---
Recommended Massage by Groupon Customers
---
Amethyst Rose's one-hour facial uses organic Eminence skincare products to deep clean pores, exfoliate dead cells, smooth fine lines, and water dry patches until they sprout fresh dandelions. An expert aesthetician will focus on your skin's unique issues until any and all problems are smoothed, softened, and glowing with healthy stimulation. While your body's PR department is being perfected, booties will warm your appendages and one of Amethyst Rose's friendly therapists will massage your head, neck, arms, hands, and feet.
700 Main St., Suite B, 2nd Floor
Islip
New York
Canji Healing Touch owner Jennifer Graves grew up in a culture that emphasized touch. But when she came to the United States, she realized people were more physically distanced. She decided to become a massage therapist and bring the calming, comforting power of touch to more people. Her business's name pays homage to both her birthplace of Canje, Guyana, and her belief that touch can heal.
Before each of her massages, Jennifer fills the room with the soothing aromas of lavender and sage oil, then turns on relaxing music. She's skilled in a variety of therapies, including Swedish massage—whose relaxing strokes banish stress and increase circulation—and trigger-point massage, which helps relieve the pain of tight muscles. Prenatal and postnatal massages help women's bodies as they handle the added stress of pregnancy. Jennifer also performs sports massages to release tension and soreness from being too awesome at football. Her therapeutic integrative massages aim to not only help bodies feel better but also rejuvenate clients emotionally and spiritually to nourish their whole being.
300 Federal Road, Suite 205
Brookfield
Connecticut
203-648-8839
With 13 licensed massage therapists on staff, Elements Therapeutic Massage is equipped to help clients treat an array of ailments, from back and neck pain to emotional stress. The team utilizes a level system to give clients the right amount of pressure during their massages, starting with a light and relaxing level one massage and working up to the deep kneads and trigger-point work done in a level four session. Each therapist is versed in a handful of techniques and styles, including the popular Swedish massage, sports massage to help athletes improve their performance ahead of upcoming yo-yo tournaments, and prenatal massage to help expecting mothers ease pregnancy related aches and pains.
42 East Main Street
Smithtown
New York
631-406-6611
At Sunset Spa, trained massage therapists harness therapeutic massages not only to help customers relax, but also to help treat pain, stress, and other maladies. Guests seeking to relieve pain from accidents, injuries, muscle fatigue, or inflammation can find solace in a variety of modalities. Medical and therapeutic massages involve testing and stretching muscles, while Swedish massages use long, deep strokes to improve circulation and induce relaxation. Meanwhile, deep-tissue massages reach focus on deep muscle aches, and sports massages aim to reduce soreness stemming from trying to inflate a basketball with a hand pump until it explodes.
933 Mamaroneck Ave., Suite 202
mamaroneck
New York
914-564-0082
Kim Sangiuolo doesn't just practice massage; she curates it. Her signature fusion massage—the centerpiece of Holistic Healing's service menu—is a soothing and spirit-reviving treatment designed to assuage muscular discomfort while bolstering the body's spiritual well-being. Beginning with deep-tissue work, Kim incorporates techniques from other massage types, picking and choosing based on the client's specific needs. This form of therapeutic massage has helped her treat clients with injuries such as tendinitis, muscle strains, and headaches. Kim and the other therapists at Holistic Healing also offer Swedish and deep-tissue massages, which can be useful when trying to relieve work-related stress or recover from a day of helping a friend move his collection of antique cement bags.
420 Columbus Ave., Suite 118
Valhalla
New York
914-495-3887
Though the historic post-and-beam building that houses her studio dates all the way back to the 1830s, licensed massage therapist Lynda Williams is used to dealing with healing traditions that are even older than that. She draws upon her training and experience in ancient Eastern and Western modalities—including acupressure, craniosacral, and positional release therapy—to release stress, address chronic pain, and relieve the symptoms of an array of medical conditions. Each therapeutic session is tailored to clients' individual needs, addressing both physical symptoms and their underlying physical or emotional causes.
635 Danbury Rd.
Ridgefield
Connecticut
203-438-7594
---